Rough sleeping rises by 30 per cent in one year, official figures show
The rise comes after the Government ended a major anti-homelessness programme that charities say was working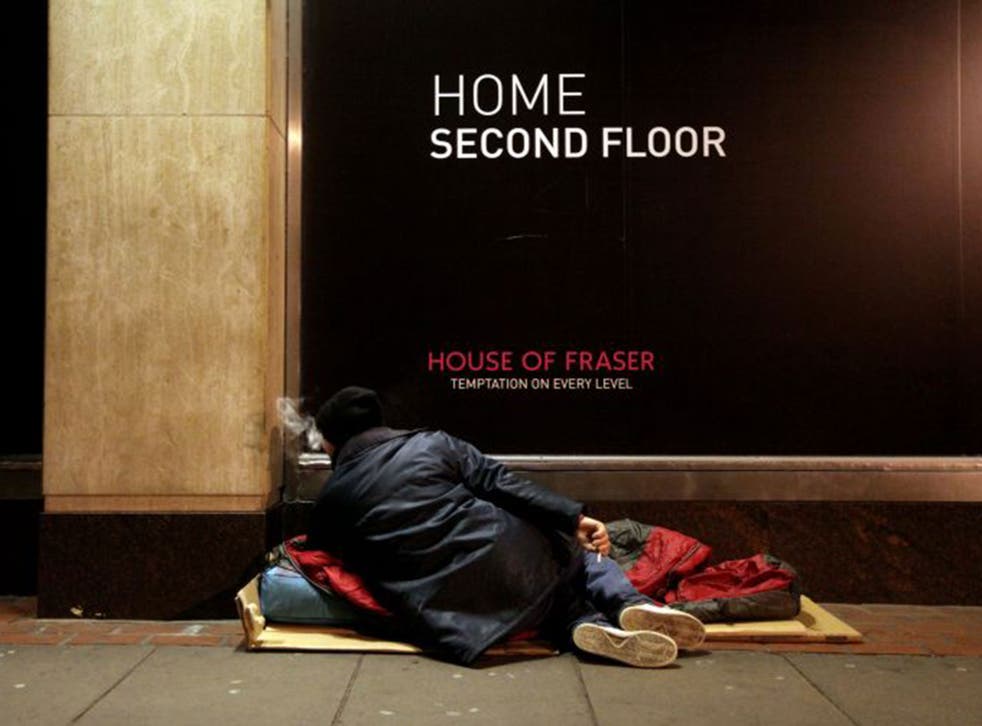 The number of people sleeping rough in England has surged by a third over the past year, new Government figures show.
Statistics released by the communities department show the number of rough sleepers up by 30 per cent over 2015, and a 102 per cent increase since 2010, when David Cameron first came to power.
3,569 people were estimated by councils to be sleeping rough on any one night last year, with the biggest increases in the south, east, and midlands.
The sharp rise in people sleeping on the street coincides with the Government's ending of funding for its "No Second Night Out" programme to prevent rough sleeping.
Charities say the lapsed scheme, introduced in 2012 but ended in March last year, helped over 64,000 people before its £20 million funding pot ran out.
Figures reported in January also show the rise in people without anywhere to live has gone hand-in-hand with an increased reliance on insecure privately rented homes.
The charity Shelter warned then that homelessness, distinct from rough sleeping, was on the rise because of increasing numbers of people being forced to leave their homes when a landlord decided to increase rent or stop renting a property.
A study by that charity found that a quarter of tenants have in the past been kicked out of their own home by their landlord through no fault of their own – a so-called "no fault" eviction.
Under the wildly deregulated private renting rules introduced in the 1980s, landlords do not have to give a reason to throw a tenant out of their home.
The Government says it is committed to a larger private rented housing sector.
Rick Henderson, chief executive of Homeless Link, an umbrella body representing homeless services, said the situation could have been even worse without the efforts of homeless charities.
What does five more years of the Tories mean for Britain?

Show all 8
"It is unacceptable that anyone has to sleep rough in Britain today – and even more shocking that the number of people in this situation has risen every year since 2010. Unfortunately, many homelessness charities have already seen their funding fall as demand for help rises," he added.
"Homelessness is costly and damaging to individuals and society, but we know that when national and local government have the right vision and strategy in place and invest in the right services, rough sleeping need not be inevitable."
John Healey, Labour's shadow secretary of state for housing said the figures were a "wake-up call" to the Government on housing policy.
"These figures are the starkest possible reminder of Conservative Ministers' five years of failure on housing. The number of people sleeping rough on our streets has doubled since 2010, and risen by 30 per cent in the last year alone," he said.
"People will find it extraordinary that in England in the 21st Century the number of people forced to sleep rough is going up – and this is only the tip of the iceberg.
"The first step Ministers must now take is to exempt homelessness accommodation and other specialist housing from the Chancellor's crude housing benefit cuts, which are set to close thousands of hostels and make the problem of rough sleeping even worse.
"Beyond that, these figures must be a wake-up call to Ministers to change tact and adopt a more balanced set of housing plans."

Marcus Jones, homelessness minister at the Department for Communities and Local Government, said the Government had protected funding to help with the issue.
"No one should ever have to sleep rough, which is why we have increased central funding to tackle homelessness over the next four years to £139 million.
"We have protected homelessness prevention funding and expect local authorities to provide quality advice and assistance to all those that approach them for help.
"Many rough sleepers have complex needs that include mental health difficulties or addiction, and we are developing a £5 million social impact bond that will help entrenched rough sleepers move off the streets."
Register for free to continue reading
Registration is a free and easy way to support our truly independent journalism
By registering, you will also enjoy limited access to Premium articles, exclusive newsletters, commenting, and virtual events with our leading journalists
Already have an account? sign in
Register for free to continue reading
Registration is a free and easy way to support our truly independent journalism
By registering, you will also enjoy limited access to Premium articles, exclusive newsletters, commenting, and virtual events with our leading journalists
Already have an account? sign in
Join our new commenting forum
Join thought-provoking conversations, follow other Independent readers and see their replies