Russian spy attack: EU expresses 'solidarity' with Britain after Sergei Skripal poisoning
'it is of the utmost importance that those who are responsible for what has happened see very clearly that there is European solidarity'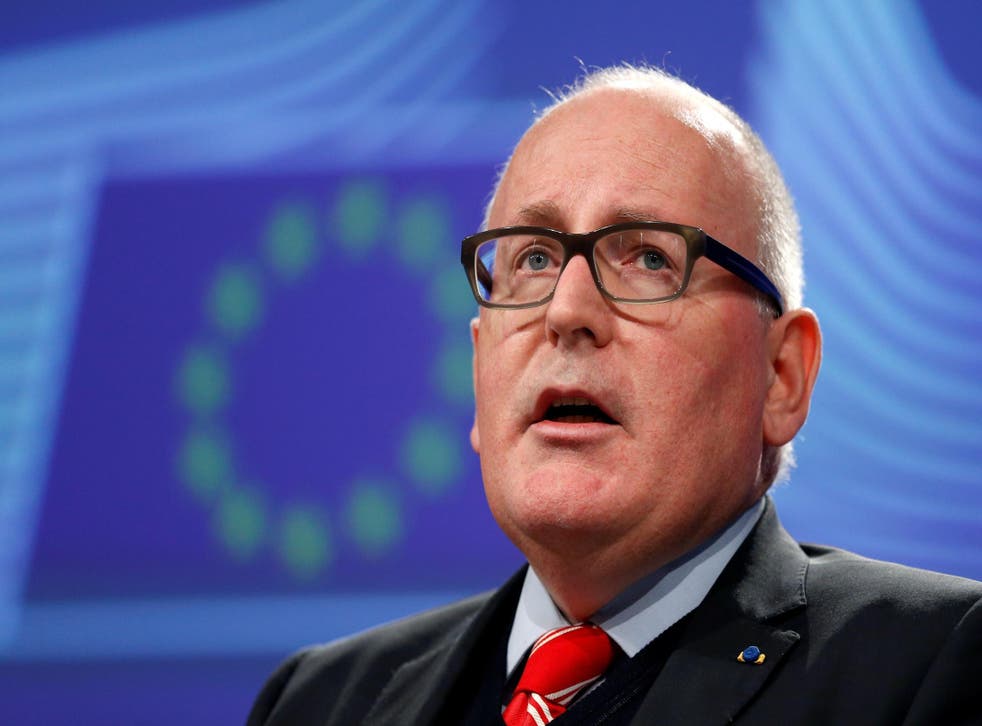 The European Union has expressed its "solidarity" with the British people and government after the poisoning of an ex-spy and his daughter on British soil, apparently using a Russian-made nerve agent.
Speaking in the European Parliament Frans Timmermans, the first vice president of the European Commission, said European countries and their leaders had a "collective responsibility" to help their ally.
He suggested the issue should be put on the agenda at the European Council summit in Brussels next week, where leaders will also discuss Brexit talks.
"If nerve gas was actively used against civilians in one of our member states, I believe that the European Council should in clear terms express its full solidarity with the British people and the British government in addressing this issue," Mr Timmermans said.
"I believe it is of the utmost importance that those who are responsible for what has happened see very clearly that there is European solidarity, unequivocal, unwavering, and very strong – so that those responsible are really punished for what they did.
"We cannot have nerve gas being used in our societies. This should be addressed by all of us and not just left to Prime Minister May and the British government. It is a collective European responsibility also under the OPCW [Organisation for the Prohibition of Chemical Weapons] rules."
Guy Verhofstadt, the Parliament's Brexit coordinator, added: "Ms May has said this is an attack against Britain as a country and I think a common reaction against Britain at the next European Council and countermeasures to be decided by the EU."
The UK Government has given Russia a midnight deadline to explain why a Russian-made nerve agent was used in the attack in Sailsbury on former Russian spy Sergei Skripal and his daughter Yulia Skripal.
The regular European Council meeting is scheduled for Thursday and Friday 22 and 23 of March.
Other countries and international bodies have also issued statements of support to the UK. Nato secretary-general Jens Stoltenberg said Britain was a "highly valued ally" warned that the poisoning was "of great concern".
Skripal attack aftermath – in pictures

Show all 15
German Foreign Minister Sigmar Gabriel said Berlin stood "in solidarity" with the UK and that links to Russia would be a "very serious matter". French president Emmanuel Macron spoke on the phone to Theresa May and the two leaders agreed to tackle "the wide pattern of aggressive Russian behaviour".
Boris Johnson, the Foreign Secretary said: "I've been very encouraged so far by the strength of support that we are getting".
Register for free to continue reading
Registration is a free and easy way to support our truly independent journalism
By registering, you will also enjoy limited access to Premium articles, exclusive newsletters, commenting, and virtual events with our leading journalists
Already have an account? sign in
Register for free to continue reading
Registration is a free and easy way to support our truly independent journalism
By registering, you will also enjoy limited access to Premium articles, exclusive newsletters, commenting, and virtual events with our leading journalists
Already have an account? sign in
Join our new commenting forum
Join thought-provoking conversations, follow other Independent readers and see their replies