British warships tracking Russian fleet heading for the Channel
'This is not a friendly port call,' says diplomat as two Royal Navy destroyers prepare to meet a Russian taskforce as it sails through the English Channel, reportedly heading for Syria
Adam Lusher
Thursday 20 October 2016 09:20 Comments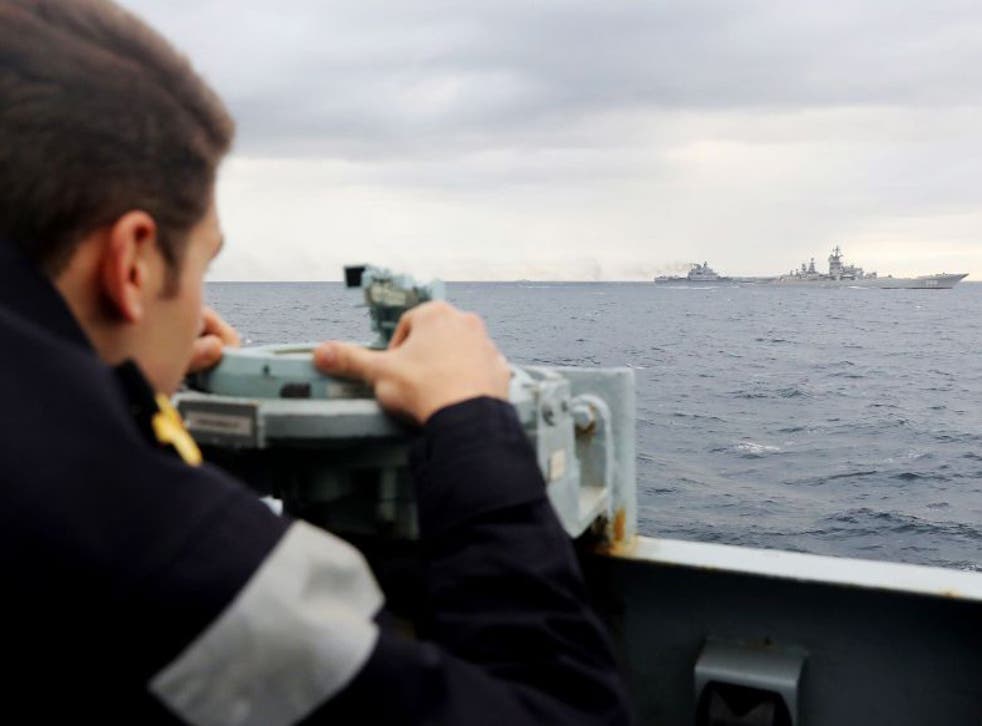 Royal Navy destroyers have been sent to 'man-mark' Russian warships that are on course to pass through the English Channel, reportedly heading towards Syria to support the final assault on Aleppo.
Type 45 destroyer HMS Duncan sailed from Portsmouth on Tuesday to monitor a task force that includes the aircraft carrier Admiral Kuznetsov, as it heads south from the Norwegian Sea towards the North Sea. Type 23 frigate HMS Richmond has also escorted the Russian fleet in the Norwegian Sea, north of the UK between Iceland and Norway. Two Russian corvettes, which are travelling north towards the UK from the direction of Portugal, are also set to be watched by the Navy, which is sending the Type 45 destroyer HMS Dragon to meet them,
A Ministry of Defence spokesman said: "When these ships near our waters we will man-mark them every step of the way. We will be watching as part of our steadfast commitment to keep Britain safe."
The northern fleet passed the Norwegian city of Bergen on Wednesday and will sail through the English Channel, past Gibraltar and into the Mediterranean Sea towards the Syrian coast, according to a senior Nato diplomat quoted by Reuters.
The anonymous source said the Russian warships are carrying fighter bombers likely to bolster the attack on the besieged Syrian city of Aleppo.
In pictures: Russian air strikes in Syria

Show all 19
The diplomat said: "They are deploying all of the northern fleet and much of the Baltic fleet in the largest surface deployment since the end of the Cold War.
"This is not a friendly port call. In two weeks, we will see a crescendo of air attacks on Aleppo as part of Russia's strategy to declare victory there.
"With this assault, it should be enough to allow a Russian exit strategy if Moscow believes Assad is now stable enough to survive."
It is understood that shadowing ships is regular business for the Royal Navy, being supported by RAF surveillance aircraft on this occasion.
Navy ships will continue to escort the Russian task group and provide a visible presence south through the North Sea and English Channel as the Russian fleet sails through, the MoD said.
The UK is working alongside Nato partners to monitor the warships.
Register for free to continue reading
Registration is a free and easy way to support our truly independent journalism
By registering, you will also enjoy limited access to Premium articles, exclusive newsletters, commenting, and virtual events with our leading journalists
Already have an account? sign in
Join our new commenting forum
Join thought-provoking conversations, follow other Independent readers and see their replies