Ruth Davidson challenges Theresa May to drop 'easy slogan' of cutting immigration to 'tens of thousands'
'The time for easy slogans is over. Let's treat the British public like the grown ups they are'
Rob Merrick
Deputy Political Editor
Tuesday 08 August 2017 13:08 Comments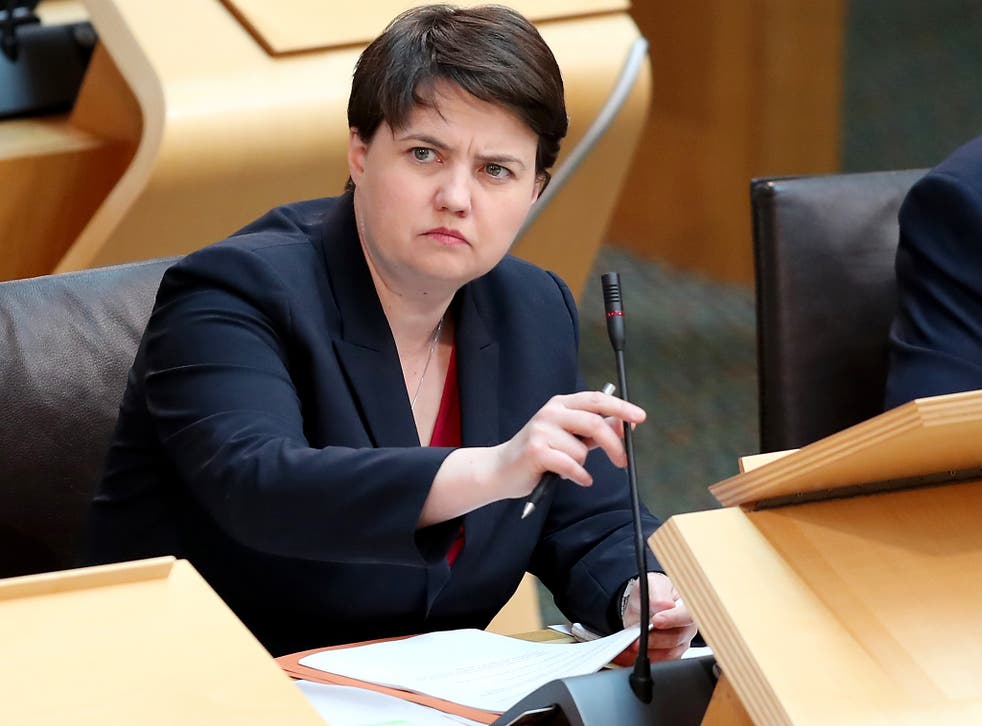 Scottish Tory leader Ruth Davidson has challenged Theresa May to drop her "easy slogan" of slashing immigration below 100,000 a year or damage the British economy.
The rising party star called on the Prime Minister to make a "Conservative case for immigration", suggesting the much-ridiculed "tens of thousands" ambition should be axed.
Ms Davidson warned that "with the country on the road to full employment, potential for growth is facing ever greater limitations" without the boost from immigrants.
"It is clear that, if we want Britain's economy to grow, in order to increase the tax receipts that fund our public services, we need to take action," she wrote in The Daily Telegraph.
"The time for easy slogans is over. Let's treat the British public like the grown ups they are and have the mature conversation we need," Ms Davidson added.
The Scottish Tory leader also became the latest Conservative big-hitter to call on the Government to take international students out of the immigration target.
The comments come after Ms Davidson, immediately after the June election, also challenged Ms May to think again about leaving the EU single market.
She is widely tipped as a future leader, after leading the Tories to big gains north of the border – while the party fell back disastrously in England and lost its Commons majority.
The pro-EU Open Britain campaign seized on the article as further evidence that the immigration target had lost support, after being missed year-after-year.
Labour MP and supporter Wes Streeting said: "When the leader of the Scottish Conservatives publicly opposes the Government's immigration policy, it is time for ministers to admit defeat.
"Cutting immigration in such a draconian fashion would hammer our economy and public services and make all of us worse off.
"The Government should listen to the voices of businesses, unions and members of their own party, and drop this damaging and unachievable target."
The Independent launched its Drop the Target campaign with Open Britain earlier this year in a bid to push the Government to dump the discredited "tens of thousands" cap.
In the article, Ms Davidson argued "there is nothing so Conservative as pulling your loved ones close and striving to build a better future for your family, which is what so many immigrants do".
"One in eight people living in the UK was born outside our borders and one in 12 current residents are not UK nationals," she wrote.
"That's 8.6 million husbands, wives, friends, workmates and neighbours who have moved to the UK from somewhere else. When we talk about this issue, we are talking about a huge number of lives."
Younger, urban voters, who have rejected the Tories, are "more likely to be either immigrants themselves, or have a number of non-British nationals within their family or social groups", she pointed out.
Ms Davidson wrote: "The British Government has failed to hit its self-imposed "tens of thousands" target in any year.
"Brexit is a big reset button and should – in theory – make that much easier to do so. But we have to ask whether the target continues to be the right one?"
Register for free to continue reading
Registration is a free and easy way to support our truly independent journalism
By registering, you will also enjoy limited access to Premium articles, exclusive newsletters, commenting, and virtual events with our leading journalists
Already have an account? sign in
Join our new commenting forum
Join thought-provoking conversations, follow other Independent readers and see their replies