Sadiq Khan compares Donald Trump's language to 'the rhetoric of Isis'
Comments come following President's retweets of Britain First posts and mutual criticism exchanged between the pair
Rachel Roberts
Sunday 21 January 2018 02:16 Comments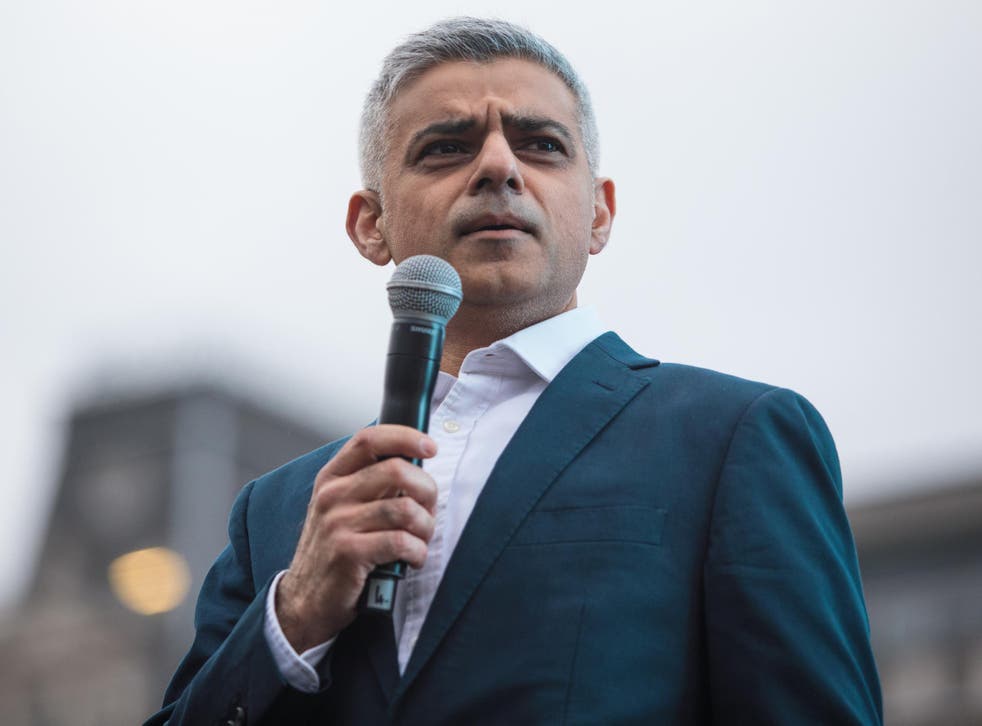 Sadid Khan has compared Donald Trump's Twitter attacks against Islam to the tactics used by Isis.
The Mayor of London, who has been on the receiving end of much criticism from Mr Trump, said the President's language was "very similar to the rhetoric used by so-called Isis/Daesh".
In an interview with the Intercept, Mr Khan said one of the things Isis wants is to see "an increase of Islamophobic attacks; they want a backlash against proud Muslims, proud westerners."
In November, Mr Trump controversially retweeted a series of Islamophobic posts from Jayda Fransen, the deputy leader of the far-right group Britain First who has been convicted of hate speech.
Pointing out that the phrase "Britain first" was shouted out repeatedly by Thomas Mair, the man who murdered his friend and fellow Labour politician Jo Cox, Mr Khan said: "One of the reasons I spoke out against his retweets was that he was amplifying a message of division and hatred, and he should be condemned for that."
He added that it "beggared belief" that the invitation for a state visit to the President from the Prime Minister had not been withdrawn following the retweets of Ms Fransen's posts.
Mr Khan stopped short of calling the President a racist in the interview, saying instead that he should not be granted a state visit because "there are too many things that he believes that we disagree with".
Speaking before the planned visit to the UK by the president was cancelled, the Mayor said he would wait and see what form the planned trip took before deciding whether or not to join the expected protest marches against it.
Donald Trump's first year: in pictures

Show all 29
The war of words between the President and the Mayor began during the US election campaign when Mr Khan – the capital's first Muslim Mayor – described Mr Trump's proposal to ban all Muslims from America as "ignorant".
Mr Khan spoke out when the President brought in his highly controversial travel ban on citizens of seven Muslim-majority countries, calling the policy "cruel and shameful".
Mr Trump later criticised Mr Khan for telling Londoners there was "no reason to be alarmed" at the sight of more armed police on the street following the London Bridge attack.
A planned working visit to open the new US embassy in London, where Mr Trump was expected to be greeted by huge protests, was cancelled earlier this month.
The US President was ridiculed for blaming Barack Obama for selling the embassy's current home for "peanuts", when the decision was in fact made by George W Bush's administration.
Boris Johnson claimed the UK should welcome Mr Trump today, calling for his administration to be shown "respect and recognition".
It comes as Mr Khan spoke to the Independent on Labour's chances in the upcoming local elections, with the party hoping to make further gains in London at the expense of the Conservatives.
Register for free to continue reading
Registration is a free and easy way to support our truly independent journalism
By registering, you will also enjoy limited access to Premium articles, exclusive newsletters, commenting, and virtual events with our leading journalists
Already have an account? sign in
Register for free to continue reading
Registration is a free and easy way to support our truly independent journalism
By registering, you will also enjoy limited access to Premium articles, exclusive newsletters, commenting, and virtual events with our leading journalists
Already have an account? sign in
Join our new commenting forum
Join thought-provoking conversations, follow other Independent readers and see their replies