Sadiq Khan warns Sir Bernard Hogan-Howe: 'I'll decide who is the next Met boss'
Labour's candidate is confident of winning May's election – and wants more power over the police and the NHS in London
Tom McTague
Political Editor
Saturday 13 February 2016 22:20 Comments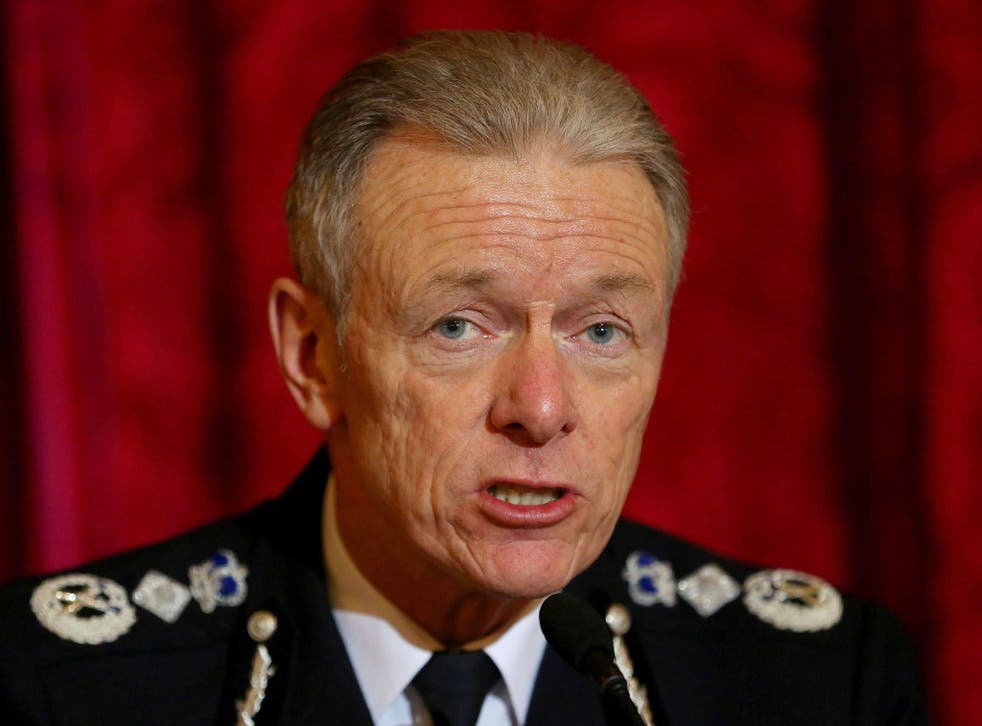 London mayoral frontrunner Sadiq Khan has fired a warning shot at the Metropolitan Police chief Sir Bernard Hogan-Howe that he may veto any extension to Sir Bernard's contract if he is elected Mayor in May.
Speaking for the first time on the issue, Mr Khan, the Labour nominee to take over from Boris Johnson, warned he should be given a bigger say over who should be the next Scotland Yard commissioner.
It comes after Home Secretary Theresa May handed Sir Bernard only a 12-month extension, following widespread criticism of his handling of the inquiry into historic allegations of child abuse and his refusal to apologise to the Second World War hero Lord Bramall.
In a wide-ranging interview, Mr Khan opened up about his religious devotion – praying five times a day and fasting at Ramadan – suffering racist abuse at football games and worrying about his teenage daughters being groomed online.
But despite the racism he endured in his childhood, he claims Britain is now "without a doubt" ready to elect a Muslim prime minister. Mr Khan also warns Jeremy Corbyn that he has had enough time to come to terms with being Labour leader and needs to show he can start winning public support.
In contrast, Mr Khan is clearly confident about his own chances on 5 May, constantly referring to "when" he will be Mayor and setting out his grand plans. He talks of "sweating" Transport for London, which he claims has grown "flabby", in order to extend Tube lines, build bridges and even expand its operations. He also vows to take control of the NHS in London from Jeremy Hunt.
Mr Khan's desire to exert his authority before he has even taken the reins is most conspicuous when asked about the future of Sir Bernard Hogan-Howe.
The Labour MP is adamant that he – and he alone – will decide who runs the capital's police force. "The Home Secretary and the Mayor were right not to extend his contract by three or four years as they could've done. It's for the Mayor of London to have a big say in who the commissioner of the Metropolitan Police is."
He says it would not be right to give Sir Bernard a "public appraisal" but suggests his "priorities" for the job may be different.
"The police service in London doesn't look like London. We've got a population of more than 40 per cent of adult Londoners BME, but a police service between 10 and 13 per cent. That's not good enough. There are lots of things to talk about and then I will decide if he should carry on. Let's see what happens after 5 May, but I'm pleased that I will get to decide if he should carry on."
Mr Khan is also insistent that he should control London's healthcare, not Whitehall. He says there's a "health crisis" in the capital, with a projected £1.7bn black hole in social care funding. "You've got a centralised health system, with Jeremy Hunt making decisions – clearly badly – which is causing huge problems for Londoners. I'd like the mayor taking charge of strategic leadership."
UK news in pictures

Show all 50
Mr Khan grew up on a council estate, one of eight children, before going to university. He says the UK has changed dramatically. "Growing up with the 'P-word' was common parlance. But there's been huge progress made. My daughters can't recall ever being the victims of racial abuse. My brothers, when they first went to Chelsea, to Stamford Bridge, they were chased away by the NF [National Front] at the Shed."
Asked if British voters could elect a Muslim prime minister, Mr Khan said: "Without a doubt. This is the best country in the world to live in. If you don't believe me, speak to my cousins in Pakistan and India."
Is he a practising Muslim? "Yeah, yeah. I try to do all the things you are supposed to do – pray, fast, give to charity." He prays five times a day. "Sometimes I miss the afternoon ones so I pray when I get back home after work. But, yeah, I try to pray."
He worries about the impact of radical Islamism on a new generation of Muslim Londoners – including his teenage daughters. "We've got to teach our young people the true Islam. The West doesn't hate you. You can have friends that aren't Muslims. You have more rights here than in any other city in the world."
Besides the threat of radicalisation, he is most worried about the cost of housing. Mr Khan has a plan to hold down prices – not only to buy a house but also on transport and even the cost of going to see a Premier League club.
This is the kind of territory on which Mr Khan's multimillionaire Tory rival Zac Goldsmith may struggle. But Mr Khan is more concerned about distancing himself from Mr Corbyn than Mr Goldsmith.
On Mr Corbyn he says: "He's taken time to adjust. But we need to start winning elections. The movement has given him time now – rightly so – to make sure he knows where the levers are and where they work. We can't afford to lose a third general election in a row."
Register for free to continue reading
Registration is a free and easy way to support our truly independent journalism
By registering, you will also enjoy limited access to Premium articles, exclusive newsletters, commenting, and virtual events with our leading journalists
Already have an account? sign in
Join our new commenting forum
Join thought-provoking conversations, follow other Independent readers and see their replies