Sajid Javid under pressure over AI shares after promoting NHS use of technology
Health secretary holds stake worth £45,000 in US artificial intelligence firm
Andrew Woodcock
Political Editor
Friday 19 November 2021 13:23 Comments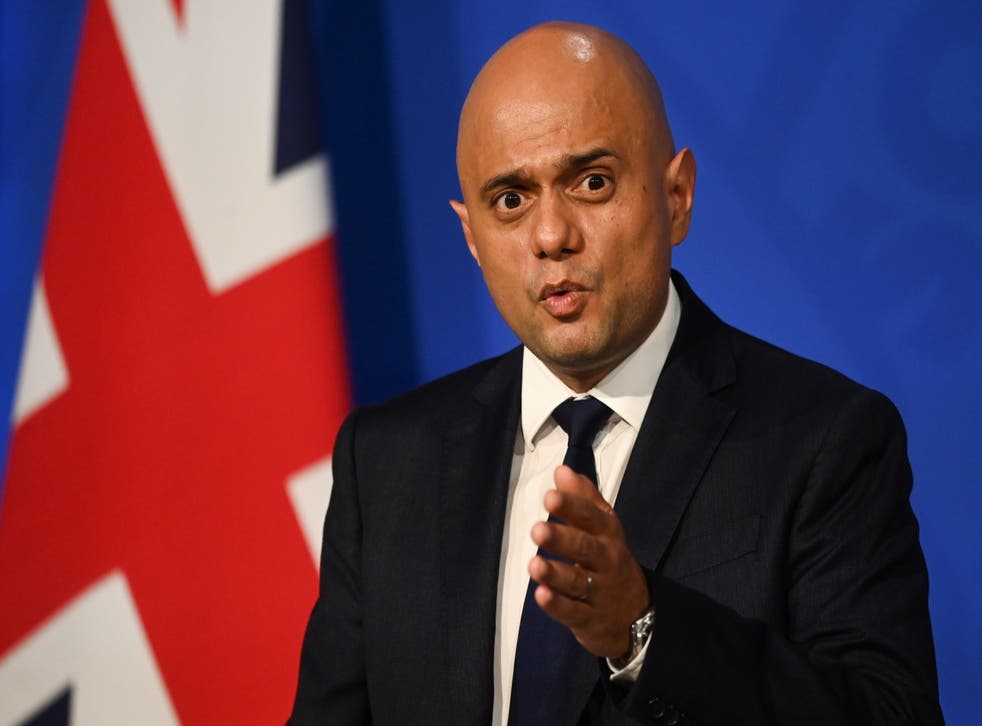 Labour is demanding an ethics investigation into health secretary Sajid Javid over share options which he holds in a US artificial intelligence company.
Mr Javid holds options worth a total of around £45,000, after working for C3.ai for eight months while he was not in the cabinet between October 2020 and June this year.
In a letter to the prime minister's ethics adviser Christopher Geidt, Labour deputy leader Angela Rayner said the shares created a potential conflict of interest because Mr Javid had promoted the use of AI in the NHS.
The health secretary said in September that AI technology could help cut waiting lists in the health service.
And in October he said that artificial intelligence had the potential to be an "incredible force for good" in speeding up diagnoses and better understanding racial inequalities in NHS treatment.
UK news in pictures

Show all 51
Ms Rayner tweeted: "The health secretary has shares in an AI firm. The health secretary uses his position to promote the benefits of AI and sets out plans to invest in AI, which will benefit people with shares in AI firms.
"This is a clear conflict of interest and breach of the ministerial code."
According to his entry in the register of MPs' interests, Mr Javid earned a salary equivalent to £151,835 per annum providing "advice on the global economy, geopolitics and market opportunities" to the California-based AI software provider.
His package also included an option for 666.7 common shares per month, which he said had a current market value of £45,000. Mr Javid's shares could be expected to increase in value if C3.ai was successful in marketing its AI products.
In her letter, Ms Rayner told Lord Geidt that the Department of Health's announcement that it was planning to spend taxpayers' money on AI "could clearly be perceived as beneficial to an AI company".
The ministerial code states that "ministers must scrupulously avoid any danger of an actual or perceived conflict of interest between their ministerial position and their private financial interest", she pointed out.
And she asked Lord Geidt: "Can you please advise on whether this case represents a conflict of interest or a perceived conflict of interests between the health secretary's ministerial position and his private financial interest and what steps you will take?"
A Department of Health spokesperson said: "The secretary of state has acted in line with the ministerial code and has properly declared these share options in the usual way."
A source close to Mr Javid said that he started the process of divesting the share options when he became health secretary in June, following the unexpected resignation of Matt Hancock.
Register for free to continue reading
Registration is a free and easy way to support our truly independent journalism
By registering, you will also enjoy limited access to Premium articles, exclusive newsletters, commenting, and virtual events with our leading journalists
Already have an account? sign in
Join our new commenting forum
Join thought-provoking conversations, follow other Independent readers and see their replies