Sajid Javid's plan for MI5 to share information on 20,000 individuals raises concerns with campaigners
Security services warn the Islamist terror threat will remain at a heightened level for at least another two years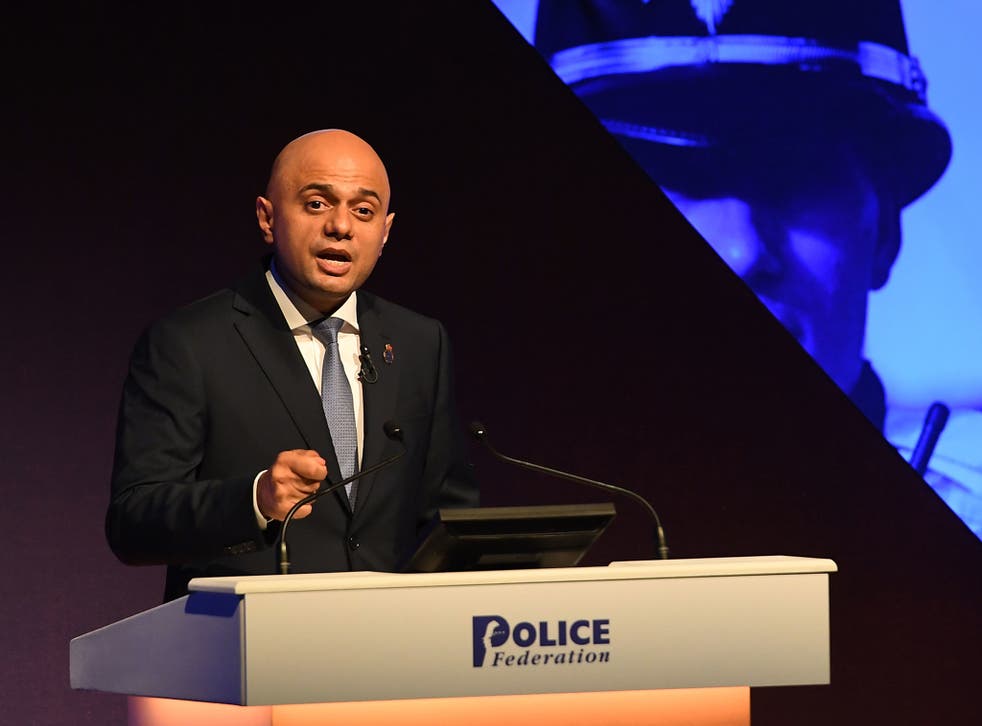 Security bosses will hand out information on people suspected of having extremist sympathies to councils, government officials and the police under the government's new counter-terror plans.
Sajid Javid, the home secretary, pledged to declassify intelligence to speed up the response to potential attacks, as he warned of a "step change" in the terror threat after the UK suffered a wave of attacks in 2017.
In a highly unusual move, MI5 will share information about around 20,000 people who have been investigated but are not active suspects, starting with pilots in London, the West Midlands and Greater Manchester.
However, the move drew concern over human rights implications, with civil liberties warning against turning local authorities into "unwilling and untrained agents of the security services".
In his first major speech on security since becoming home secretary, Mr Javid accused Islamist extremists of "twisting the faith" and praised British Muslims for fighting radicalisation in their communities.
Mr Javid, who is the first home secretary of Muslim heritage, argued that right-wing extremists have more in common with Islamist terrorists than they think.
He said: "These people want to destroy the values we hold dear, and undermine the freedoms that make us who we are.
"And there's one other thing that Islamists and the far right have in common. As a home secretary with a name like Sajid Javid, I'm everything they despise.
"So the way I see it, I must be doing something right."
Under the plans, retailers will be required to alert MI5 and the police more quickly to "suspicious orders", such a large quantities of chemicals, amid growing concern over the reduction in time between the conception and execution of terror plots.
Mr Javid said: "I'm committed to improving how we work with businesses across a range of issues.
"That includes faster alerts for suspicious purchases, improving security at crowded places across the UK, and reducing the vulnerability of our critical infrastructure."
Mr Javid made clear his support for the Prevent programme, which he will describe as a "vital" part of counter terror efforts.
"Misapprehensions around Prevent are often based on distortions," he said.
"They are based on a lack of understanding about the grassroots work involved, and the efforts by civil society groups and public sector workers to protect vulnerable people.
"We have a moral and social obligation to protect and support vulnerable people from the twisted propaganda of those seeking to radicalise them, and Prevent is about doing just that."
Civil liberties campaigners said the strategy was "heavy on soundbites, light on substance".
Corey Stoughton, Liberty's advocacy director, said: "The government continues to use dangerously vague definitions of extremism to tarnish communities, encourage policing by prejudice and press service providers and local authorities into becoming unwilling and untrained agents of the security services.
"Yet again they attack encryption and talk up data analytics, while offering no actual proposals and no explanation of how our privacy and cybersecurity will be protected. If and when they come up with something concrete we will be scrutinising it closely."
The strategy also:
* Commits to new anti-terror legislation aimed at boosting powers available to police and prosecutors so they can intervene at an earlier stage in investigations
* Sets out plans for longer prison sentences for some terror-related crimes and strengthened management of offenders after they are released
* Details how 900 individuals "of national security concern" have travelled from the UK to engage with the Syrian conflict, with 40 per cent having returned
UK news in pictures

Show all 50
* Calls for closer ties with the private sector to speed up alerts about suspicious purchases and eradicate online "safe spaces" for terrorists
* States that MI5 will have a greater role in the assessment and investigation of extreme right-wing terrorism
Security services have warned that the Islamist terror threat will remain at its current heightened level for at least another two years, while the risk from extreme right-wing terrorism is on the rise.
The Home Office revealed that 12 Islamist and four extreme right-wing attack plots have been foiled since March, while MI5 and police are running more than 500 live operations involving roughly 3,000 "subjects of interest" at any one time.
More than 20,000 people who have previously been investigated could also pose a threat.
Join our new commenting forum
Join thought-provoking conversations, follow other Independent readers and see their replies