Sajid Javid admits he does not 'have a magic wand' to increase police funding
Home secretary says resources 'have an impact' during Police Federation conference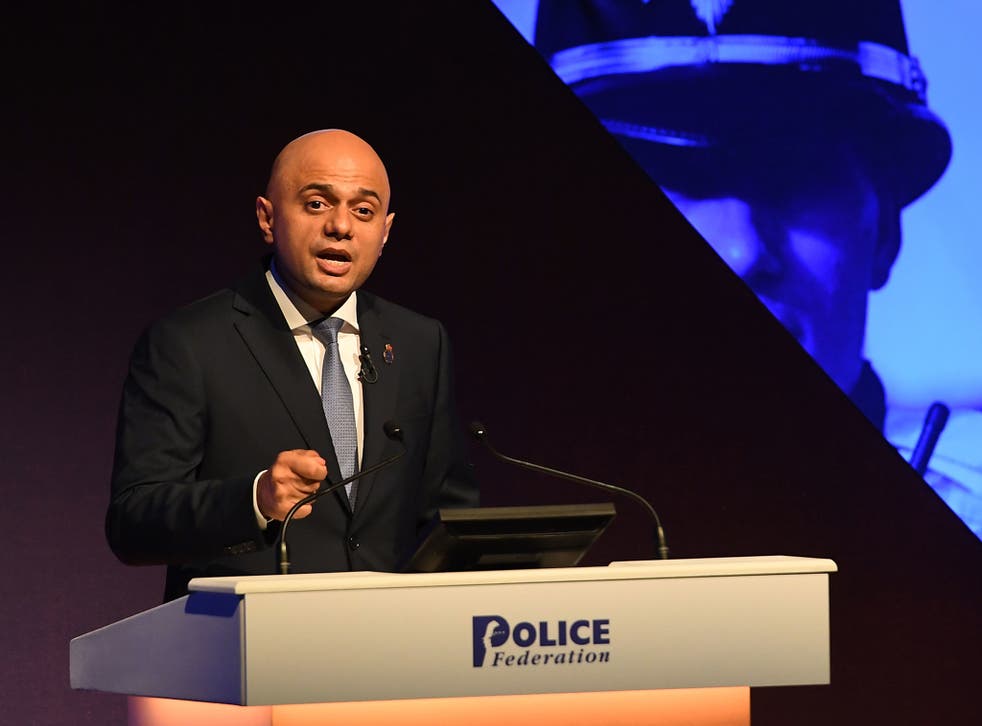 Sajid Javid has pledged to ensure police have the resources they need while admitting he has no "magic wand" to increase government funding or turn around the loss of thousands of officers.
In his maiden public speech as home secretary, he sought to endear himself to the rank and file by describing his brother's policing career and the racial abuse they both suffered during a patrol.
"My pledge to you is this – I will prioritise police funding in the spending review next year," he told Police Federation members gathered in Birmingham.
"I will give you the tools, the powers and the back-up that you need to get the job done."
But pushed on whether he wanted a real-terms increase in funding from central government, Mr Javid did not make any concrete commitments.
"I don't have a magic wand, it doesn't work like that in government," he told delegates at the policing association's annual conference.
The home secretary acknowledged that resources were "an issue" for struggling British police forces but did not accept arguments that reductions in police numbers are directly driving a rise in violent crime.
"If you're going to fight crime and do it properly, you've got to make sure you've got all the right resources and that includes police numbers," he said. "If you haven't got resources then clearly that has an impact."
Amber Rudd claims no link between cuts to police and youth services and spike in violent crime
But Mr Javid repeatedly highlighted a previous increase in stabbings in 2010, when the number of police officers was around 20,000 higher, and still rising, than the current figure.
He said he had not seen a leaked Home Office document suggesting that budget cuts had "likely contributed" to rising attacks and "encouraged" offenders.
"If people believe [the current rise] is to do with police numbers we have to look at that evidence," he told journalists after his speech.
"I will prioritise police funding when it comes to the spending review – that's what I promised today and, as with funding in any part of government when it comes to a spending review, there will be a collective decision."
The new home secretary, who took his post last month following Amber Rudd's resignation over the Windrush scandal, said he would be "pushing in the right direction", adding: "I think that with all the demands that are now being faced and the gap between capacity and demand, there needs to be more resourcing into policing."
His comments came in the wake of sustained calls from senior officers, including the Metropolitan Police Commissioner Cressida Dick and former head of national counter-terror policing, for increased funding.
Calum Macleod, chair of the Police Federation of England and Wales, said rank and file officers were being "run ragged as they have seen numbers fall and demands increase".
In the same conference three years ago he recalled Theresa May accusing the union of "crying wolf" over the effects of budget cuts, adding: "Well, who's crying now? Thousands of families, crying real tears because they became victims of crime as police budgets were cut."
Mr Macleod urged the new home secretary to "put right the wrongs of the past... to stop hollow words and show us through your actions" by increasing officer numbers, resources and funding.
Despite the challenge, Mr Javid's speech was the most well-received at the Police Federation conference for many years, following combative exchanges with Ms Rudd and Ms May.
UK news in pictures

Show all 50
Delegates broke into applause at several points during a question and answer session, and some announced they "quite liked" the Conservative minister, who shared personal stories of his childhood Crime Stoppers squad.
Mr Javid said he wanted to reset the relationship between the government and police following years of running battles between officers and his predecessors.
He announced his support for a proposed new law bringing in tougher prison sentences for people who attack police, an ongoing Home Office review of legal protections for firearms officers, and the roll-out of improved body armour, spit guards and Tasers.
Mr Javid said his own brother had been attacked "more times than I care to remember" and put in hospital several times while rising up the ranks to become a chief superintendent in West Midlands Police.
While joining one of his patrols in their hometown of Bristol several years ago, the politician recalled a teenager shouting "you Paki bastard".
"That was the first time it really hit me just how hard and horrible it can be being a police officer," Mr Javid added.
"I see the police as one of the institution we can be – and are – most proud of in this country."
The home secretary called on officers to have the confidence to use stop-and-search powers following years of controversy over alleged racial bias.
"Evidence shows that if you're black, you're more likely to be a homicide victim than any other ethnic group," he added.
"If stop and search can mean saving lives from the communities most affected, then it has to be right. I am absolutely determined to put an end to the appalling violence that is terminating young lives far too soon."
Louise Haigh MP, Labour's shadow policing minister, said the Conservatives were "still in denial about the effect their cuts have had on public safety".
"The home secretary claims he wants police to have the resources they need, but offers nothing beyond platitudes and the same inadequate funding settlement," she added.
"The time for talk has come and gone. The only way Mr Javid can deliver a 'fresh start' is by putting an end to the Tories' dangerous cuts to our police."
Register for free to continue reading
Registration is a free and easy way to support our truly independent journalism
By registering, you will also enjoy limited access to Premium articles, exclusive newsletters, commenting, and virtual events with our leading journalists
Already have an account? sign in