Alba Party: 'All over' for Alex Salmond, polling suggests
Survey results 'not what he needs' to get campaign going, says polling guru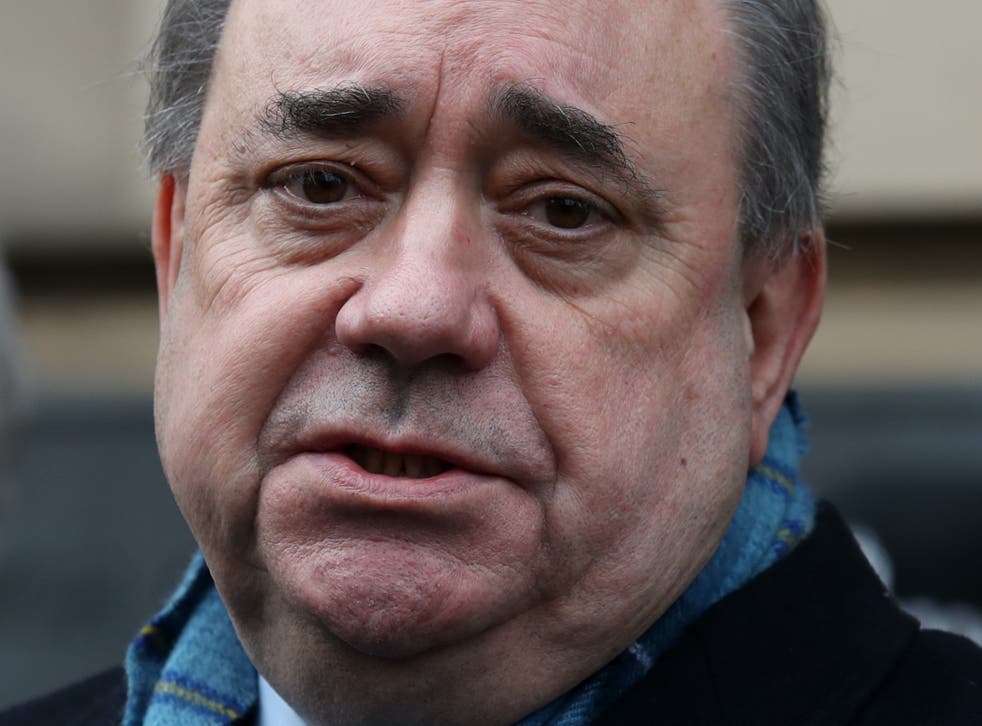 Alex Salmond's pro-independent Alba Party has been hit by shock new polling, which puts his party on course to take zero seats in next month's Holyrood election.
The Survation survey, the first to gauge support for the new party, finds only 3 per cent of Scottish voters will back Alba at the ballot box.
Leading polling experts believe Mr Salmond's party needs at least 5 per cent of the votes to be in range of winning seats under Scotland's regional list system.
"The headline is that it looks as though it's all over for Salmond," said polling guru Professor John Curtice – who has warned the former SNP leader could finish up "empty handed" on 6 May.
Prof Curtice said it was still possible that Mr Salmond "might just get a seat" in the northeast, where he heads up his party's regional list. "But this poll is not what he needs if he is going to get his campaign to take off."
Read more:
Mr Salmond's team remained defiant, despite the poor poll numbers. "These early indications put Alba within touching distance of representation across Scotland," said a party spokesperson.
The spokesperson added: "With five weeks still to go Alba's support can only grow as we approach polling day. It is worth noting that Alba has already achieved, in three days, approaching half the level of support of the Liberal Democrats, a party which has existed for over a century."
Mr Salmond is writing to regulator Ofcom and TV broadcasters, claiming there is an "unanswerable" case to include his party in election debates alongside the five established parties with seats at Holyrood.
Nicola Sturgeon, meanwhile, has said she has "no intentions" of working with Mr Salmond, even if his party does get seats in the Holyrood parliament, after the Alba Party leader suggested she would have to work with others in the cause of Scottish independence.
The SNP leader told Channel 4 News that she does not believe the Alba Party would "help the independence cause", adding: "I'm not even sure from his perspective it's intended to do that."
The SNP retains its lead in the Survation poll, with 49 per cent support in constituencies and 38 per cent on the regional list.
The Scottish Tories appear locked in a tight battle with Scottish Labour for second place, with Douglas Ross's party on 21 per cent and 18 per cent, compared to 20 per cent and 19 per cent for Anas Sarwar's party.
It comes as new State of the Union report by the Onward think tank – based on in-depth polling by Hanbury Strategy – found some pro-independence voters in Scotland believe the pandemic should take precedence over another referendum this year.
Hanbury Strategy's focus groups with Scottish voters revealed mixed feelings about a push for independence during the public health crisis. SNP voter Kirsty said: "I think Scotland needs to fix Scotland first, 100 per cent."
But pro-independence Labour voter Patrick said: "I think you should just go for it, get it over and done with and we can work out our own problems instead of everybody else's."
Register for free to continue reading
Registration is a free and easy way to support our truly independent journalism
By registering, you will also enjoy limited access to Premium articles, exclusive newsletters, commenting, and virtual events with our leading journalists
Already have an account? sign in
Register for free to continue reading
Registration is a free and easy way to support our truly independent journalism
By registering, you will also enjoy limited access to Premium articles, exclusive newsletters, commenting, and virtual events with our leading journalists
Already have an account? sign in
Join our new commenting forum
Join thought-provoking conversations, follow other Independent readers and see their replies