Alex Salmond 'does not know' if Russia was behind Salisbury nerve agent attack
Former SNP leader has presented a show on state-sponsored Russian TV channel RT since 2017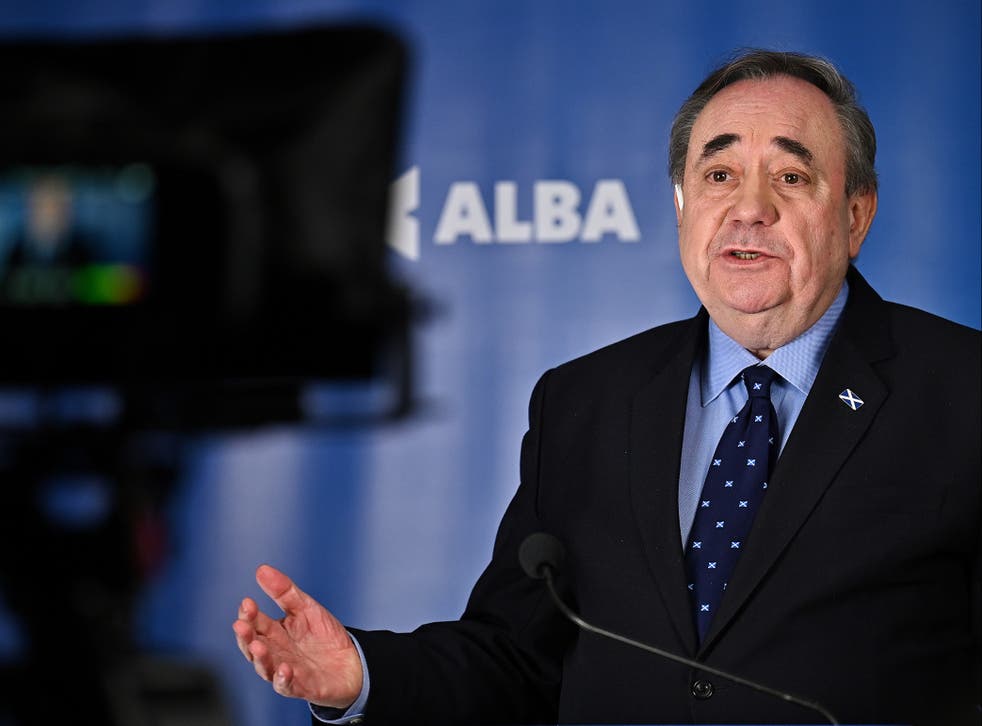 Alex Salmond has refused to say whether he believes Russia was behind the 2018 Salisbury Novichok poisonings that killed one woman and left her partner critically ill.
Scotland's former first minister, who has presented a programme on Russian state-sponsored TV channel RT since 2017, said he simply did not know who was responsible for the never agent attacks during an interview on LBC.
"What I'm happily prepared to say is I do not believe that two people associated with the GRU were in Salisbury because they wanted to pay a visit to Salisbury Cathedral," the newly-formed Alba Party's leader told presenter Iain Dale, after being repeatedly asked for his views.
"I didn't think that was a particularly convincing story," he added.
The Alex Salmond Show, which is produced by the independent company Slainte Media – co-owned by Mr Salmond and former SNP MP Tasmina Ahmed-Sheikh – airs every Thursday on RT UK at 7.30am, 12.30pm and 10.30pm.
Mr Salmond was accused of "spinning" for Russia earlier this month, after he refused to answer similar questions from BBC Scotland concerning the potential guilt of Vladimir Putin, or Moscow more generally, in what is generally known as the attempted assassination on former Russian agent Sergei Skripal and his daughter Yulia.
Alistair Carmichael, a Scottish Liberal Democrat MP, earlier this month said Mr Salmond "has now been reduced to an apologist for the Putin regime".
But Salmond has consistently held that there is no editorial interference in the making of his programme.
Dawn Sturgess, a 44-year-old mother, died on 8 July 2018 in Salisbury District Hospital while her partner, Charlie Rowley, lay ill after being exposed to Novichok. He survived.
Ms Sturgess and Mr Rowley collapsed after encountering a discarded perfume bottle believed to have been used in the poisoning of the Skripals.
Two Russian nationals are accused of travelling to the UK to try to murder Mr Skripal with Novichok, wiping the highly toxic substance on the door handle of his Salisbury home.Evidence gathered by intelligence agencies led the UK government to conclude the men were officers from the Russian military intelligence service, the GRU.
The suspects – known by aliases Alexander Petrov and Ruslan Boshirov – were caught on CCTV in Salisbury the day before the attack.
Moscow has repeatedly denied any involvement, with Mr Putin claiming the two suspects were civilians, and the pair stating in an interview that they were tourists visiting Salisbury Cathedral.
Novichok is a well-known choice of poison, especially popular in Russia. More recently, it was used in the suspected attempted assassination of Kremlin critic Alexei Navalny – though Mr Putin and his associates have also denied any involvement in this attack.
Elsewhere in his interview with LBC, Mr Salmond appeared to gloss over the seriousness of Russia's current military build-up at the Ukrainian border.
"I think there's a substantial international dispute between Russia and Ukraine," he said. "And I'm delighted that, unlike [former president Donald] Trump, [Joe] Biden last night said he was looking for a secure and stable relationship with Russia."
A former US ambassador to Russia said on Monday that Mr Putin was in danger of sparking a war in Europe if he invaded Ukraine.
The LBC interview is one in a series in the run-up to Holyrood elections in May.
Mr Salmond is contesting the elections in a breakaway pro-independence Alba Party, following his acrimonious split with the SNP.
He was cleared of a number of sexual assault allegations at the High Court in Edinburgh in March 2020 and has been embroiled in a bitter dispute with first minister and former SNP ally Nicola Sturgeon over the case and its aftermath.
Register for free to continue reading
Registration is a free and easy way to support our truly independent journalism
By registering, you will also enjoy limited access to Premium articles, exclusive newsletters, commenting, and virtual events with our leading journalists
Already have an account? sign in
Register for free to continue reading
Registration is a free and easy way to support our truly independent journalism
By registering, you will also enjoy limited access to Premium articles, exclusive newsletters, commenting, and virtual events with our leading journalists
Already have an account? sign in
Join our new commenting forum
Join thought-provoking conversations, follow other Independent readers and see their replies