Salmond vs Sturgeon: Your complete guide to the 'whole sorry story'
The former SNP leader claims to have been the victim of a 'malicious' conspiracy, and has set up a new political party. How did it come to this?
Adam Forrest
Friday 26 March 2021 16:40 Comments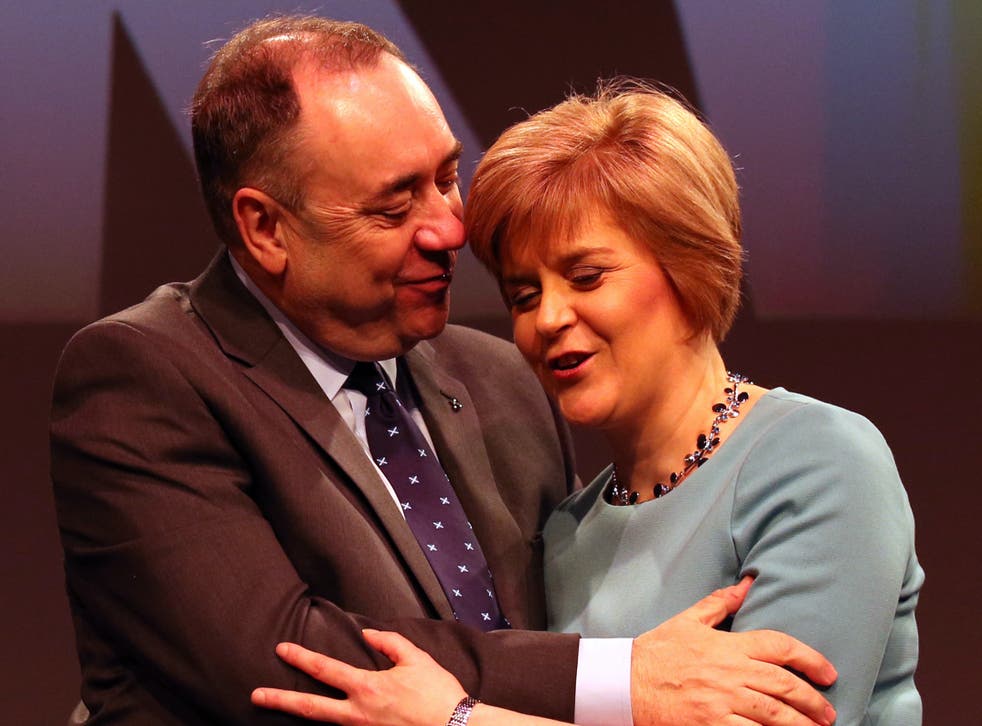 The SNP was once seen as the slickest political outfit in UK, but the dramatic rupture between the party's two towering figures has destroyed its reputation for unity.
Current boss Nicola Sturgeon and her predecessor Alex Salmond, once close allies, have become bitter enemies over the fall-out from sexual harassment claims against the former first minister.
Mr Salmond, cleared of sexual assault charges last year, has claimed senior SNP figures around Ms Sturgeon mounted a "malicious and concerted" attempt to bring him down.
Ms Sturgeon has said her conscience is clear over her government's botching handling over harassment claims – and accused her old boss of throwing around a conspiracy theory "without a shred of evidence".
Mr Salmond has now launched his very own pro-independence outfit, the Alba Party, promising to field candidates across Scotland at the Holyrood elections in May.
One Tory MSP on the Holyrood committee which examined the handling of harassment claims said he was "heartily sick" of the "whole sorry story" – describing Scotland's party of government as a "cesspit of vipers".
So how did things get quite so nasty? What does Salmond's new party mean for the SNP? And how far does the feud have left to go?
The Independent has taken a close look at the key dates in the long-running Salmond-Sturgeon row.
March 2020 – Vow to produce 'evidence'
Mr Salmond was cleared 13 charges of sexual assault against nine women at the conclusion of a trial at the High Court in March 2020. Speaking outside the court, he vowed that "certain evidence" he was unable to share during the trial would soon "see the light".
The previous January, the Scottish government had admitted its own 2018 inquiry into harassment allegations by two female civil servants against Mr Salmond was unlawful and had been "tainted by apparent bias".
Mr Salmond called for the Scottish government's permanent secretary, Leslie Evans, to resign over the matter – but Ms Sturgeon rejected the idea and defended the chief civil servant.
October 2020 – The forgotten meeting
Things got more heated last October, when Ms Sturgeon revealed to the inquiry established to examine the Scottish government's botched handling of complaints against Mr Salmond that she "forgot" about the first meeting at which she learned of sexual harassment claims.
Ms Sturgeon had initially told the Scottish parliament that she had first learned of the allegations against Mr Salmond at a meeting with him at her own home on 2 April, 2018.
But in a submission to the committee, Ms Sturgeon admitted she had met with Mr Salmond's former chief of staff Geoff Aberdein a few days earlier – on 29 March – and discussed a possible meeting with Mr Salmond that might involve "allegations of a sexual nature".
Conservative MSP Murdo Fraser claimed Ms Sturgeon had "misled parliament" with her evidence. Ms Sturgeon has tried to dismiss the discrepancy, later telling the BBC that the March meeting "never held any significance in my head".
Back in 2019 the first minister commissioned a separate inquiry, led by James Hamilton QC, to look at whether she had breached the ministerial code at any stage in the saga.
The ministerial code states that all the first minister's government meetings should be recorded. No notes were taken during the crucial March or April meetings – but Ms Sturgeon has claimed they related to SNP matters, rather than government business.
February 2021 – Salmond gives evidence
The bitter feud came to a head in February, with both Mr Salmond and Ms Sturgeon clashing over the evidence they offered to the investigating Holyrood committee of MSPs.
In a written submission, Mr Salmond claimed senior SNP figures surrounding Ms Sturgeon had been behind a "malicious and concerted" attempt to remove him from public life.
He alleged her husband Peter Murrell and her chief of staff, Liz Lloyd, were among those behind his attempt to destroy his reputation.
He eventually appeared before MSPs on 26 February. Mr Salmond claimed that reading text messages from senior SNP figures – given to him in the disclosure process in his criminal trial – was one of the most "extraordinary"and "distressing" days of his life.
Ms Sturgeon challenged her former boss to "replace the insinuation and assertion" with hard evidence.
In her own evidence at the committee days later, the first minister called Mr Salmond's claims of a coordinated plot "absurd" – and described the text messages "as a bit of gossip about what was going on".
March 2021 – Sturgeon found to have 'misled' inquiry
A Holyrood committee concluded Ms Sturgeon misled its investigation into the handling of sexual misconduct claims against her predecessor.
MSPs on the Scottish Government Handling of Harassment ComplaintsCommittee voted 5 to 4 that the first minister gave an "inaccurate" account of a meeting with her predecessor.
The first minister said she stood by her evidence and described the leaked conclusions of the report as "very partisan".
In a separate investigation, James Hamilton QC cleared Ms Sturgeon of breaking the ministerial code – though he did say she had offered an "incomplete narrative".
The QC decided that Ms Sturgeon's failure to mention the 29 March meeting in her original statement "was the result of a genuine failure of recollection and was not deliberate".
March 2021 – Salmond sets up his own party
Mr Salmond said he was creating a "new political force" called the Alba Party to contest May's Holyrood elections across Scotland.
After his spectacular split with Ms Sturgeon and the SNP, Mr Salmond claimed his new outfit would boost the chances of second referendum on Scottish independence – aiming to help create a "super majority" for a breakaway.
Alex Salmond: Former SNP leader forms Alba Party to fight Scottish elections
Mr Salmond said he did not wish to split the vote among Scots who are sympathetic to independence. The Alba Party will not challenge the SNP in the constituency contests and would be a "list-only" party.
SNP officials are not impressed, and claimed to be unsurprised by his big move. "This is perhaps the most predictable development in Scottish politics for quite some time," said a spokesperson for Ms Sturgeon's party – accusing the former leader of "self-interest".
The wider war
The Salmond-Sturgeon row has sparked a wider political civil war within the SNP. Joanna Cherry is part of a small group of MPs who have remained loyal to Mr Salmond, insisting that he should have been reinstated by the party after he was cleared of sexual assault charges.
The Salmond loyalists – Ms Cherry, Kenny MacAskill and Angus MacNeil – are the only SNP MPs without any shadow ministerial portfolio at Westminster.
Mr Salmond is looking for pals to join his cause. "We expect to field a minimum of four candidates in each regional list and we're hoping to elect Alba MSPs from every area of Scotland," said Mr Salmond at his launch event.
It remains to be seen how many loyalists Mr Salmond can persuade to defect and join him on the next stage of his political adventure.
Register for free to continue reading
Registration is a free and easy way to support our truly independent journalism
By registering, you will also enjoy limited access to Premium articles, exclusive newsletters, commenting, and virtual events with our leading journalists
Already have an account? sign in
Join our new commenting forum
Join thought-provoking conversations, follow other Independent readers and see their replies