UK and US push for new Russia sanctions rejected by European allies at G7 meeting
Foreign Secretary Boris Johnson had spearheaded the drive for new sanctions at the G7 in Italy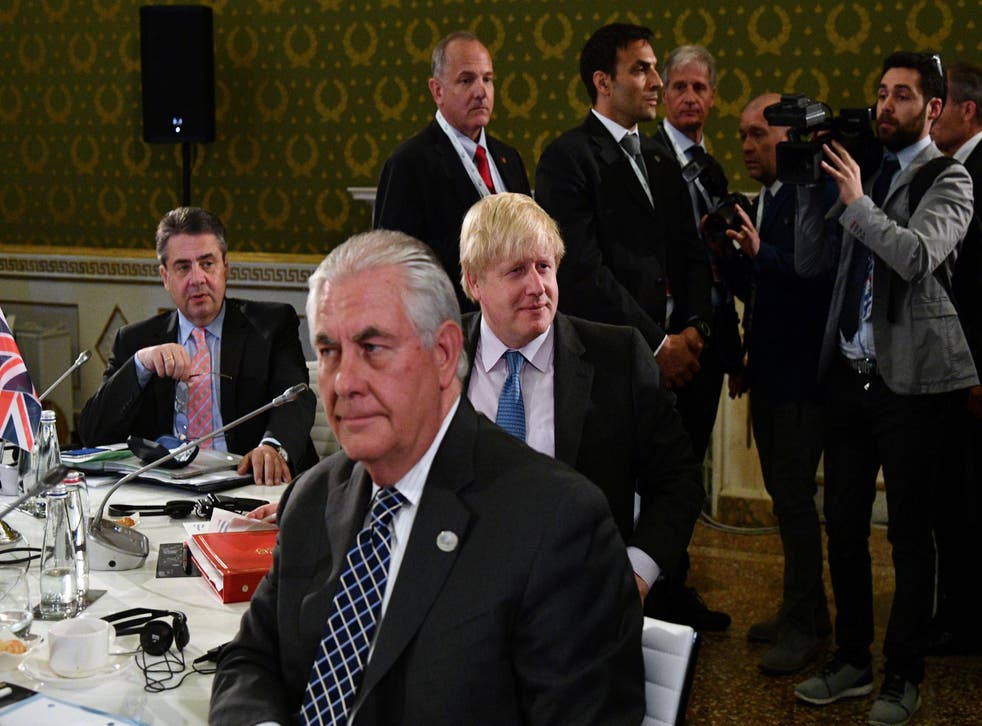 Britain and America have failed to win immediate support from European allies for new sanctions on Russia following the chemical weapons attack in Syria.
Boris Johnson, the Foreign Secretary, spearheaded the drive at a G7 meeting of foreign ministers for punitive measures against Moscow, but could not win the full-throated backing he wanted from Germany, Italy or the wider European Union.
British officials insisted that targeted sanctions are still on the table, but that moving forward with them would have to wait for a full investigation into the attack which killed scores in the rebel-held village of Khan Sheikhoun.
Allies from the EU and Canada had also underlined the need for due process before moving on with any new programme of sanctions, the G7 did agree that no solution to the crisis in Syria was possible while Bashar al-Assad remained in power.
Mr Johnson said: "What we are doing now is tabling a resolution in the UN security council. There is going to be a chemical weapons inspection group investigation into exactly what happened.
"And after that – of course, if we can find people whether they are Syrians or whether they are Russians who are associated with the Syrian military operation, it is in my view wholly appropriate that they should face economic sanction or sanctions of some other kind."
Speaking to Sky News he added: "And that is something, by the way, that had a wide degree of acceptance around the table last night, but you've got to do these things in the proper legal way."
US/South Korea joint exercise Operation Pacific Reach

Show all 10
Officials tried to play down the failure to win more vocal support for sanctions, saying gaining backing from the Germans and Italians was always likely to prove difficult.
A British Government source told The Independent that the UK had gone into the G7 wanting unanimity on Assad needing to go and had won that, adding: "Yes, we need more evidence to impose sanctions. But we are confident."
Mr Johnson had arrived at the summit in Lucca, Italy, raising the prospect of targeted sanctions against senior Russian officers involved in the Syria conflict, along with top Syrian officials.
Russia and Iran have threatened the US over Syria
Despite a joint statement from Theresa May and US President Donald Trump saying that there was a "window of opportunity" for Russia to ditch its support for the Assad regime, backing for sanctions was never more than lukewarm at the G7.
Earlier in the day, EU officials said no sanctions could be contemplated without the unanimous backing of all member states, while Canada underlined the need for due process before pushing ahead.
The group of nations did give full support for the US missile strike on the Syrian airbase from which the chemical attack is believed to have originated, and were united in their condemnation of Assad.
France's Jean-Marc Ayrault said G7 foreign ministers, including Germany's Sigmar Gabriel, have insisted there can be no peace solution in Syria with Assad in power, while US Secretary of State Rex Tillerson said it is clear "to all of us that the reign of the Assad family is coming to an end".
Mr Tillerson said: "The US is grateful for the statements of all our partners for their support for our timely and proportionate response.
"As events shift, the United States will continue to evaluate strategic options and opportunities to deescalate violence across Syria."
He also criticised Russia for having "failed in its responsibility" made under UN agreements to ensure that Syria would destroy all chemical weapons.
Mr Tillerson is travelling to Moscow imminently and had hoped to take with him a definite statement of intent from the G7 nations and other partners, including Middle Eastern allies who were at the Lucca meeting.
Syria: Man loses 25 family members in suspected chemical attack
There was outrage across the world after dozens of civilians were killed in what is believed by the West to have been a chemical weapons attack by the Assad regime.
Anticipating tough language from the G7 in Italy, Russia and Iran on Monday issued a joint call for an "unbiased investigation" into the gassing at the Syrian village.
Foreign minister Sergey Lavrov and his Iranian counterpart Mohammad Javad Zarif agreed to demand the probe, while denouncing the US attack on the Syrian airbase as "an act of aggression against a sovereign nation".
Join our new commenting forum
Join thought-provoking conversations, follow other Independent readers and see their replies