Sara Khan: Government's appointment of new anti-extremism chief branded 'alarming' amid widespread criticism
Prominent campaigner will lead the newly-created Commission for Countering Extremism which will produce an assessment of the threat extremism poses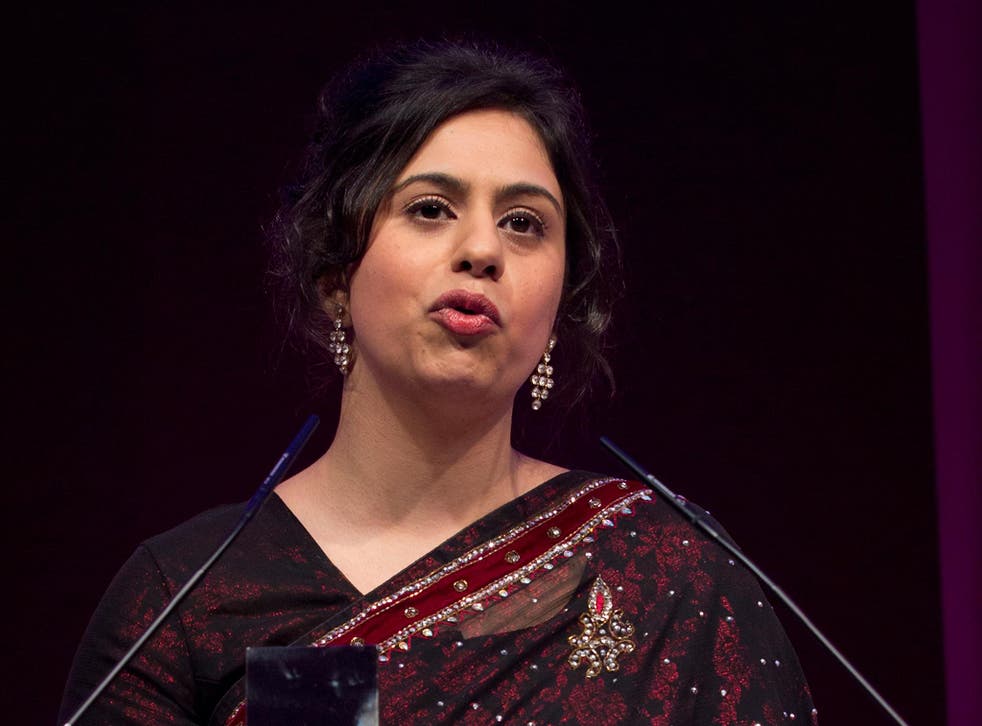 The decision to hire Sara Khan as the head of a new counter-extremism body has been widely criticised and described as "deeply disturbing" by leading figures in the British Muslim community.
The prominent campaigner will lead the newly-created Commission for Countering Extremism, which will produce an assessment of the threat extremism poses and the current response to it, the Home Office announced.
Ms Khan has been a strong advocate for the government's controversial Prevent policy, which has been described as "demonising" Muslims.
Naz Shah, the MP for Bradford West, said the appointment was "devastating"
"She's a brilliant appointment for the Home Office but the worst appointment for such a critical role and devastating for the Muslim community as it lacks transparency and they are yet to qualify her position," Ms Shah told The Independent.
"This is a critical role which requires leadership and the confidence of the communities which Sara Khan does not afford.
"She is widely seen as the creation of the Home Office and lacks the crucial independence required to meet the requirements of this role."
The former Tory chairwoman Sayeeda Warsi accused Ms Khan of being a "mouthpiece for the Home Office".
"Sara has unfortunately been a strong advocate of the government's policy of disengagement, a policy which many, including members of the police and intelligence services, consider has damaged the important battle to engage Britain's Muslim communities," she said on Twitter.
"For the Commissioner to be effective the person had to be an independent thinker, both connected to and respected by a cross section of British Muslims. Sara is sadly seen by many as simply a creation of and mouthpiece for the Home Office."
Ms Khan's support of Prevent has been highlighted as a serious concern among the British Muslim community.
There have been accusations the policy, which is designed to stop individuals being drawn into terrorism, infringes on the rights of young Muslims.
Critics have accused it of raising tensions by requiring schools, mosques and other institutions to report suspected radicals.
Harun Khan, secretary general of the Muslim Council of Britain, said Ms Khan's appointment sends a "clear and alarming message".
"The fight against terrorism requires equal partnership between all parties, including Muslim communities.
"This appointment risks sending a clear and alarming message that the government has no intention of doing so. Sadly it will be seen as a move to placate those small sections of society who see Muslims as foreign, alien, rather than as equal citizens in this country."
The Prime Minister's spokesperson said Ms Khan is "expertly qualified" for the position, adding she will bring a "wealth of knowledge" to the role.
Ms Khan, who is the co-founder of campaign organisation Inspire, has been appointed for three years and said she was "honoured and humbled" by the appointment.
"I recognise the scale of the challenge we face in confronting extremism and I am deeply committed to this role," she said.
"I will create a Commission that is forthright in challenging extremism in the name of our shared values, fundamental freedoms and human rights.
"To those in our country who recognise the harm and threat extremism continues to pose in our society, I am eager to collaborate and engage.
"I extend my hand out to you to work with me in supporting the Commission's work in building a Britain that defends our diverse country while demonstrating zero tolerance to those who promote hate and who seek to divide us."
World news in pictures

Show all 50
Plans to set up the commission were announced by Prime Minister Theresa May in the wake of the Manchester bombing in May last year- one of five terror attacks to hit Britain in 2017.
The body will be tasked with identifying and challenging all forms of extremism, advising ministers on new policies and promoting "pluralistic British values".
Its remit is also expected to include helping train schools and colleges to spot warning signs and ensuring women's rights are upheld.
Register for free to continue reading
Registration is a free and easy way to support our truly independent journalism
By registering, you will also enjoy limited access to Premium articles, exclusive newsletters, commenting, and virtual events with our leading journalists
Already have an account? sign in
Register for free to continue reading
Registration is a free and easy way to support our truly independent journalism
By registering, you will also enjoy limited access to Premium articles, exclusive newsletters, commenting, and virtual events with our leading journalists
Already have an account? sign in
Join our new commenting forum
Join thought-provoking conversations, follow other Independent readers and see their replies