Death threats leave TIG MP Sarah Wollaston too afraid to advertise public meetings
'When you get an email from someone threatening to kill you, you don't know if that's a keyboard warrior, somebody who lives with his mum in Luton, or if it's someone down the road from you'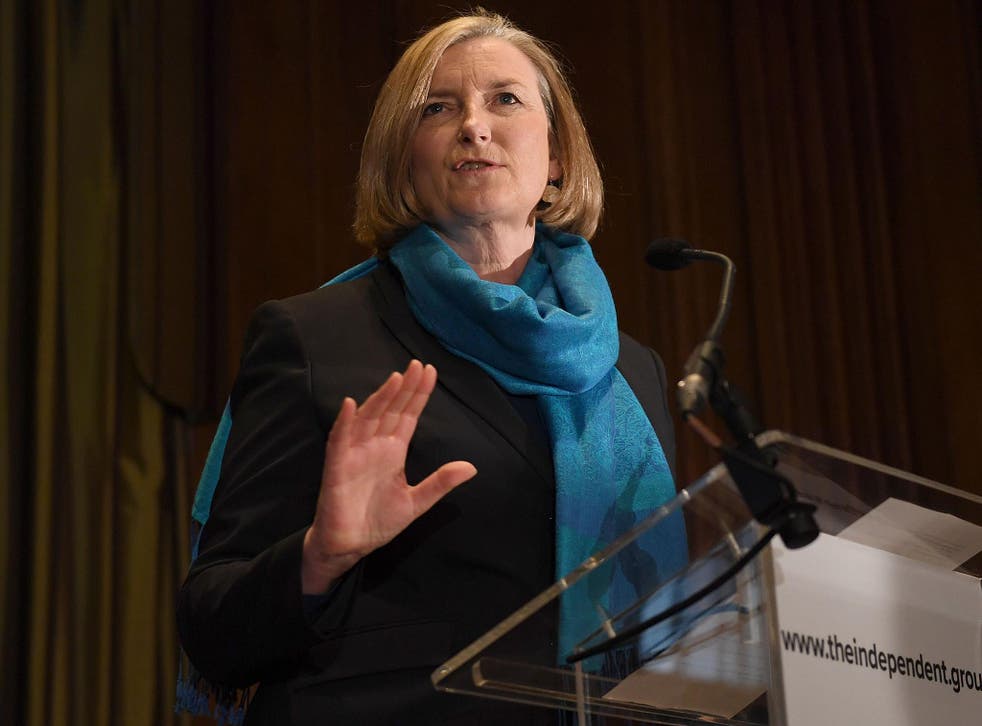 Former Conservative MP Sarah Wollaston has told The Independent she is too afraid to advertise meetings in public because of death threats and abuse – and said some of her former Tory colleagues are to blame for encouraging a culture of violent hostility towards politicians.
Ms Wollaston, who now sits as a member of the Independent Group, said she has had to "change the way I operate" and fears that people will be put off going into politics by the tide of vitriol those in the public eye now have to deal with.
"When you get an email from someone threatening to kill you, you don't know if that's a keyboard warrior, somebody who lives with his mum in Luton or if it's someone down the road from you," she said.
"What's angered me is that I have had to change the way I operate as an MP. I can no longer advertise on social media my public meetings, for example. I used to hold surgeries in public places and tell people I'd be there, I can't do that any more. And so I think there is something leading to a diminution of our very open access. It's a shame, and I think it's a loss."
She said comments made by members of the Brexit-backing European Research Group about Theresa May had encouraged a culture of hostility from right-wing extremists.
Opposing protesters flock to parliament on would be date of Brexit

Show all 30
"I think MPs routinely come under the most extreme sort of threats from the far right," Ms Wollaston said. "What we have seen is a normalisation of threats of violence that was never there when I first went into politics.
"I'm afraid it's not helped by language of MPs themselves, when we hear the language used by some members of the ERG towards their own PM – 'bring your own noose', talking about 'stabbing her with hot knives', and one of my former colleagues referring to some MPs as traitors.
"That's the kind of thing where you think there is a responsibility on MPs as well to be careful about the language they use and the effect that can have outside parliament."
Andrew Bridgen, a Conservative Party MP and member of the ERG, denied that the violent language used towards Ms May was made by a fellow ERG member, despite newspaper claims to the contrary.
"I've never used that language," Mr Bridgen told The Independent. "I had no idea who made that comment about hot knives. I don't remember it being someone from the ERG who said it. It certainly wasn't me and I have no idea who's said it and I wouldn't support that statement. I don't know a colleague who would say that. It seems a bizarre thing to say. I don't know anyone in the ERG who would say that."
Ms Wollaston pointed to a "huge contrast" between the abuse hurled during the Leave means Leave rally and the People's Vote march a week before.
"It was a lovely atmosphere at the People's Vote march, very positive, no incidences for the police to have to deal with," Ms Wollaston said.
"Contrast that with the rally where you have a far-right activist, Tommy Robinson, speaking from a stage near the centre, and the scale of the abuse and unpleasantness people were subjected to as they left the gates."
The Brexit referendum campaign, vote and subsequent political impasse has deepened divisions in political and public life, most starkly illustrated by the murder of MP Jo Cox by a white supremacist during the campaign and rising hate crime.
Ms Wollaston's colleague Anna Soubry, who also left the Conservative Party for the Independent Group, is involved in an ongoing investigation in which she has accused pro-Brexit activist James Goddard of abuse outside parliament. Mr Goddard has denied the claims.
Ms Wollaston believes the abuse she has experienced adds weight to the argument for a Final Say referendum on Britain's EU membership, something for which The Independent has been campaigning.
"We shouldn't cave in to that kind of abuse – you don't tackle the far right by appeasing them," she said.
Support free-thinking journalism and attend Independent events
"You tackle them head on by saying 'We're not going to allow our democratic processes to be undermined because it might upset the far right'. It's all the more reason to have a People's Vote."
Mr Bridgen said he believed the media had played a role in encouraging the abuse directed at MPs online and in person.
"It doesn't help when newspapers like the Daily Mail say that MPs who didn't vote for the prime minister's deal are 'traitors' and print our email addresses," he said. "I have been getting emails from people and it's a template letter from the Daily Mail."
As for the abuse aimed at Ms Wollaston, he said her decision to change parties may have been an aggravating factor.
"There's no doubt the polarisation over Brexit has intensified. The fact Sarah has moved party, that won't have improved that situation," he said.
"I'm not saying it's her fault, but that's an exacerbating matter for her. In an ideal world no MP should be subject to abuse but that's the world we are in."
Join our new commenting forum
Join thought-provoking conversations, follow other Independent readers and see their replies