Thatcher government sold 500 cluster bombs to Saudi Arabia, Defence Secretary confirms
Saudi Arabia still has the weapons, acquired in a 1980s 'government-to-government deal'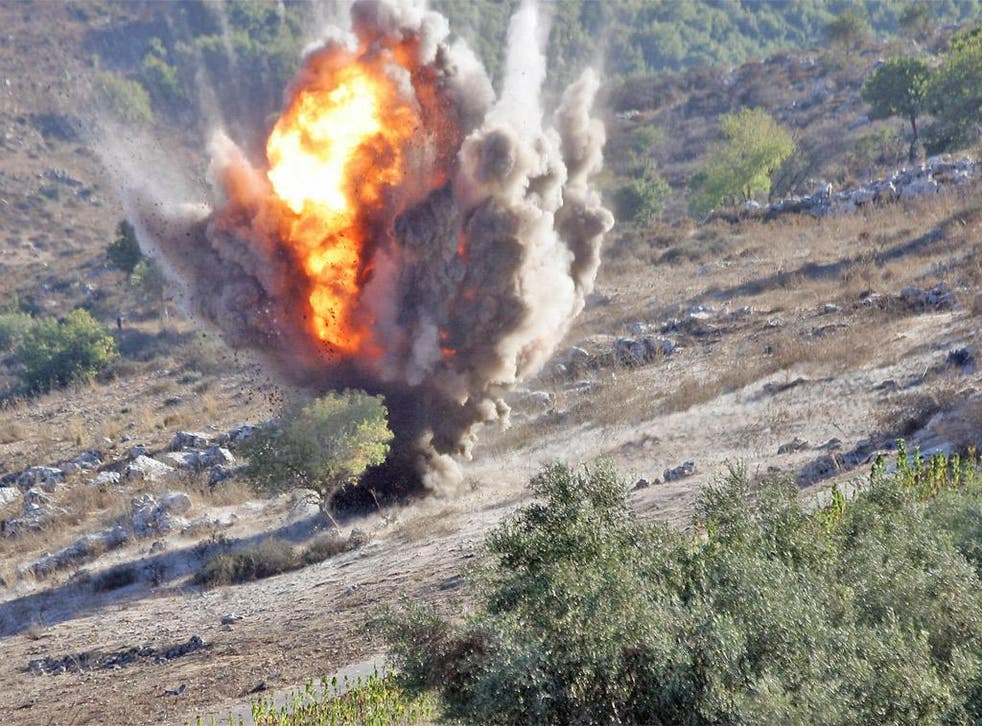 Britain exported 500 cluster bombs to Saudi Arabia in an arms deal dating back to when Margaret Thatcher was in power, the Defence Secretary has admitted.
Sir Michael Fallon revealed the official figures, which relate to exports signed off by the British government between 1986 to 1989, after it emerged that a "limited number" of the weapons had been sold to the autocracy and are still in its stockpile.
The weapons are now banned after Britain signed a treaty in 2010, but Sir Michael said last month he was satisfied the bombs had not been used to breach international law.
Saudi Arabia last month admitted using the British weapons in Yemen. It has now told the British Government that it will no longer use the weapons, but has not yet confirmed that it has destroyed them, Foreign Office minister Tobias Ellwood told the House of Commons on Tuesday.
The revelation comes a month ahead of a High Court challenge by Campaign Against the Arms Trade over the UK's continuing sale of bombs to Saudi Arabia – despite allegations that they are being used to commit war crimes in Yemen.
Observers report that Saudi forces have hit schools, hospitals, wedding parties and food factories in the country during their intervention against Houthi rebels, which has been going on for more than a year. The UN's aid agency has said the country is descending into a humanitarian catastrophe, with at least 19 million people in need of aid.
In a letter to Tory MP Philip Hollobone, Sir Michael confirmed: "The UK delivered 500 BL755 cluster munitions under a government-to-government agreement signed in 1986. The final delivery was made in 1989."
Amnesty International has previously accused Prime Minister Theresa May of burying her head in the sand over the issue, given the "clear risk that UK weapons could be used to commit breaches of international humanitarian law in Yemen".
Cluster bombs are particularly dangerous to civilians because they regularly leave behind unexploded "bomblets" that kill civilians long after a war is ended. They also by their nature are designed to have a wide area of effect.
Liberal Democrat shadow Foreign Secretary Tom Brake said: "The fact so many British-made cluster bombs were sold and are now being used in Yemen is a stain on the UK's reputation worldwide.
"Michael Fallon has an urgent responsibility to address this shameful legacy, by suspending arms sales to the Saudi regime and putting pressure on it stop using these horrific weapons.
"Most people are rightly sickened by the bombing of innocent civilians in Yemen. Our Government must end its complicity in this brutal conflict immediately."
Between 7 and 9 February the High Court will hear the judicial review into whether British arms exports to Saudi Arabia breach international law, following an application by Campaign Against the Arms Trade.
Andrew Smith of CAAT said: "This legal action will set a very important precedent. For almost two years now, UK arms have been central to the devastation of Yemen and the humanitarian crisis it has caused.
10 examples of Saudi Arabia's human rights abuses

Show all 10
"The fact that UK aircraft and bombs are being used in the destruction is a terrible sign of how the UK government is putting arms company profits ahead of human lives."
Since Saudi Arabia's campaign started in March 2015 the UK has licensed around £3bn worth of arms including £2.2bn of so-called ML10 licence – aircraft and drones, £1.1bn ML4 licences, which include bombs and missiles, and £430,000 ML6 licences, which includes armoured vehicles and tanks.
Last month Theresa May rejected a call for the UK to stop the sales following a US decision to halt a shipment of guided bombs.
Register for free to continue reading
Registration is a free and easy way to support our truly independent journalism
By registering, you will also enjoy limited access to Premium articles, exclusive newsletters, commenting, and virtual events with our leading journalists
Already have an account? sign in
Register for free to continue reading
Registration is a free and easy way to support our truly independent journalism
By registering, you will also enjoy limited access to Premium articles, exclusive newsletters, commenting, and virtual events with our leading journalists
Already have an account? sign in
Join our new commenting forum
Join thought-provoking conversations, follow other Independent readers and see their replies