Tories refuse to reverse school budget cuts as new funding formula is announced
Labour says schools have already seen budgets fall by £2.7bn since 2015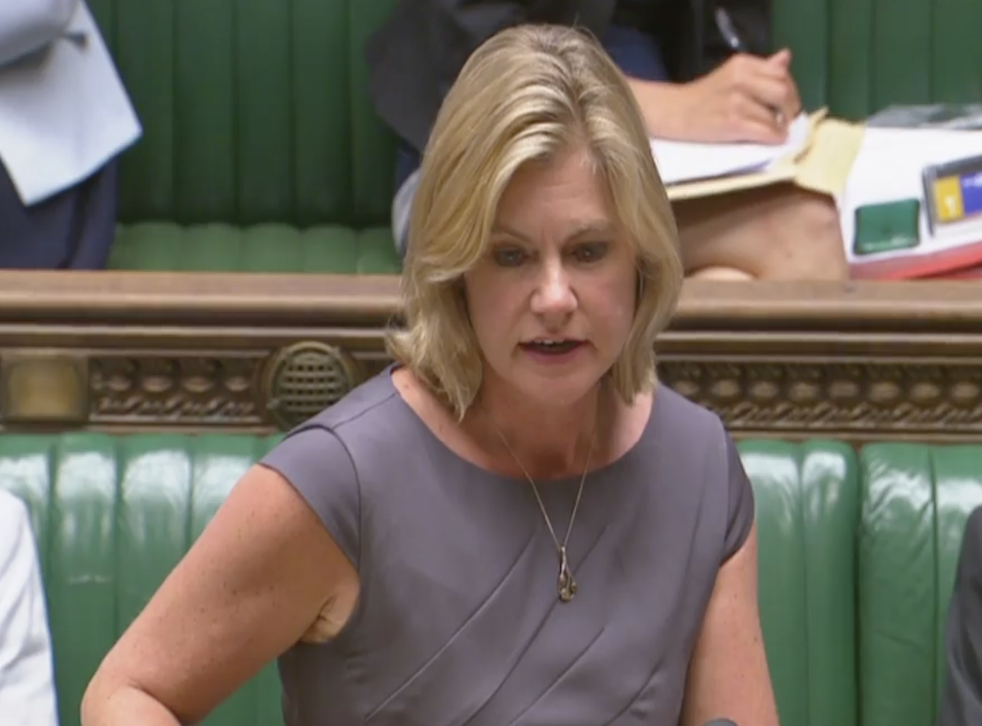 The Government has been accused of "papering over the cracks" after it announced a new funding formula for schools that will see budgets fall in real terms and which "does nothing" to reverse cuts that have already been made.
Justine Greening, the Education Secretary, said schools will be given a funding rise of 0.5 per cent per pupil next year and a 1 per cent increase in 2019-20. The most under-funded schools will see their budgets rise by 3 per cent.
Ms Greening announced in July that an additional £1.3bn will be invested in primary and secondary education.
However, the rise for most schools is lower than the current 2.9 per cent rate of inflation, meaning it equates to a funding cut in real terms.
The Education Secretary also made no mention of any plans to reverse previous cuts to school budgets, which Labour said have totalled £2.7bn in real terms since 2015.
Under the new National Funding Formula, primary schools will receive a minimum of £3,500 per pupil and secondary schools will get £4,800.
Announcing the changes, Ms Greening told MPs: "This is an historic reform. It means, for the first time, the resources that the Government is investing in our schools will be distributed according to a formula based on the individual needs and characteristics of every school in the country."
"Addressing these simple but damaging inequalities will represent the biggest improvement in the school funding system for decades."
However, teachers said the changes did not go far enough.
Geoff Barton, general secretary of the Association of School and College Leaders, said: "The fundamental problem is there is not enough funding going into education.
"The additional £1.3bn announced by Justine Greening in July was a step in the right direction. But schools have already suffered huge cuts and the additional funding is nowhere near enough to prevent further cuts.
"And the £1.3bn comes with the caveat that it is one-off funding split over two years, recycled from elsewhere in the education budget."
UK news in pictures

Show all 50
Angela Rayner, Labour's Shadow Education Secretary, said the announcement did "nothing to reverse" budget cuts that schools are already facing.
She said: "For many pupils and schools, funding will fall in real terms between now and 2020, which comes on top of a £2.7bn cut in real terms since 2015.
"There is no new money for education at all, and this funding for schools is coming from other cuts to education budgets."
​Layla Moran MP, the Liberal Democrats' education spokesperson said: "This announcement is simply papering over the cracks in our education system.
"Many schools will still see their funding fall once rising pupil numbers and inflation are taken into account.
"On top of this no new cash is being committed, meaning other education budgets will have to be raided simply to keep schools afloat."
Register for free to continue reading
Registration is a free and easy way to support our truly independent journalism
By registering, you will also enjoy limited access to Premium articles, exclusive newsletters, commenting, and virtual events with our leading journalists
Already have an account? sign in
Register for free to continue reading
Registration is a free and easy way to support our truly independent journalism
By registering, you will also enjoy limited access to Premium articles, exclusive newsletters, commenting, and virtual events with our leading journalists
Already have an account? sign in
Join our new commenting forum
Join thought-provoking conversations, follow other Independent readers and see their replies