Education unions call for 'pause' in school reopenings as councils defy government
Local authority says ministers not 'brave enough' to take decisive action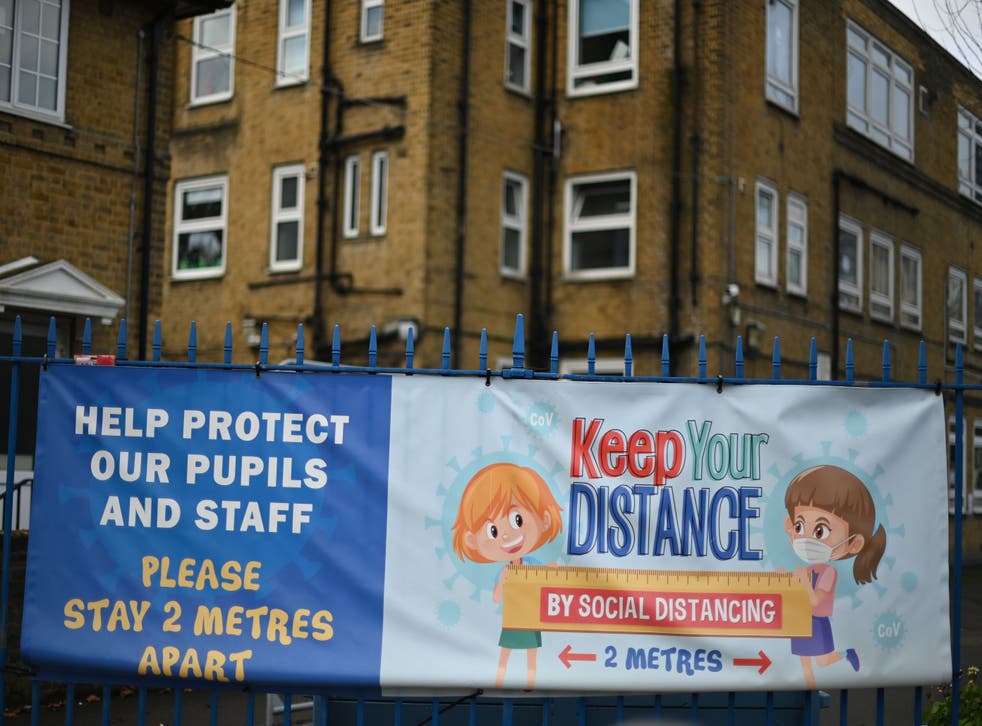 Half a dozen unions representing teachers and support staff have called on the government to "pause" its "chaotic" reopening of schools, as councils across the country move to defy ministers.
Local authorities in some areas of England say they will unilaterally keep their primary schools shut, ignoring orders from Whitehall on public health grounds.
Conservative-controlled Essex is among local authorities to recommend the continued closure of its primary schools, despite government designs that some would reopen as planned on Monday.
Meanwhile, Green-controlled Brighton and Hove City Council accused ministers of not being "brave enough" to take decisive action and has told its primary schools to stay shuttered.
In a joint statement issued on Monday six trade unions representing school staff called for a shift to remote learning across the country, for all pupils to be given the equipment they needed to learn from home, and for school staff to be prioritised for vaccinations.
"The government's chaotic handling of the opening of schools has caused confusion for teachers, school staff and parents alike," said the GMB, NAHT, NASUWT, NEU, UNISON and Unite.
"Bringing all pupils back into classrooms while the rate of infection is so high is exposing education sector workers to serious risk of ill-health and could fuel the pandemic.
"Unions have called for a pause in the reopening of schools for anyone other than vulnerable children and children of key workers, and a move to remote learning for all while Covid-Secure working arrangements are reviewed. All school staff continuing to work in schools should be given priority access to Covid-19 vaccinations."
The trade unions accused Boris Johnson of "casually asserting that schools are safe" and called on him to "sit down with unions to discuss a joint approach to ensuring safe working arrangements in all schools".
Defending the government's approach in an interview with Sky News on Monday morning, health secretary Matt Hancock appeared to dismiss teachers' safety concerns.
"It is also clear that the proportion of teachers who catch coronavirus is no higher than the rest of the population," he told the broadcaster.
"So there is clear public health advice behind the position that we have taken and that is what people should follow because, of course, education is very important as well, especially for people's long-term health."
On 22 December the government's own SAGE advisory committee told ministers that "R would be lower with schools closed", noting the closure of secondary schools was "likely to have a greater effect than closure of primary schools".
But they added that it was "not known" whether closing both primary and secondary schools would even be enough to "bring R below 1 in the presence of the new variant".
Secondary schools across the country staying closed until at least 18 January except for vulnerable and key worker children, but the government wants primary schools to reopen in some areas, including Tier 4 where the virus is the strongest.
Speaking on Monday afternoon Boris Johnson told broadcasters: "I would stress that schools are safe and the risk to kids is very, very small, and the risk to teachers, we're doing everything we can to protect teachers - the risk to teachers is no greater than it is to anybody else in any other line of work but I thank them for what they're doing."
But NASUWT general secretary Patrick Roach said: "To be absolutely frank, the Prime Minister needs to provide us with the evidence to support his claims."
He added that "many employers have been reporting to us that they've been under pressure from government not to share" information about infections.
Dr Roach said: "The Prime Minister does need to act. He does need to toughen up the measures to ensure that schools can remain open safely, but he needs to do more, and that is to give parents and indeed the workforce in schools, confidence about what's going to be happening over the next few weeks."
TUC General Secretary Frances O'Grady said: "The government's own advice from SAGE makes it clear that opening schools to all pupils now risks increasing the infection rate. That's in no-one's interests.
"Instead of creating chaos for parents and exposing workers to risks, the Prime Minister should be talking to trade unions about what steps are needed to make sure all schools are Covid-Secure."
Announcing that primary schools would stay closed, Green Party Councillor Hannah Clare, chair of Brighton and Hove council's education committee said: "The Government has left us to make this decision that it is not brave enough to face and we hope to see a change of heart from them for primary schools across the south east."
"Until then, we will work with our city's primary schools to ensure they are supported in providing remote learning, while remaining open to the children of key workers, and vulnerable children."
Labour has shied away from backing teachers over school closures. Education secretary Kate Green told the BBC on Monday morning that there needed to be a "clear understanding" among the public to "stay at home".
She called for a "stronger set" of coronavirus restrictions, adding: "It is very clear that the Government has lost control of the virus, we're seeing a really alarming rise in cases and in the spread of the infection.
"And I do think that we will need a stronger set of measures... but also a very clear understanding among the whole of the public everywhere that staying at home, not going out except when it is essential, not mixing socially or unnecessarily is key to getting this virus under control."
UK news in pictures

Show all 50
Opposition leader Keir Starmer on Sunday night called for a new national lockdown to be imposed within 24 hours similar to the one imposed in November. The party has indicated that this approach would not see schools closed.
But on Friday afternoon, Jeremy Hunt, the chair of the health select committee, called on the government to "close schools, borders, and ban all household mixing", adding that it should be done "right away" to stop "exponential" growth of the virus.
Mr Hunt, himself a former Conservative health secretary, said unfolding NHS crisis was "off-the-scale worse" than anything he had experienced in office
"All schools should be closed, international travel stopped, household mixing limited and the tier system reviewed so that the highest tier really does bring down infection levels, as with the first lockdown," he said.
"I know all these things will be under consideration with decisions potentially imminent. My point is in the face of exponential growth even waiting an extra day causes many avoidable deaths so these plans must now be urgently accelerated."
Register for free to continue reading
Registration is a free and easy way to support our truly independent journalism
By registering, you will also enjoy limited access to Premium articles, exclusive newsletters, commenting, and virtual events with our leading journalists
Already have an account? sign in
Join our new commenting forum
Join thought-provoking conversations, follow other Independent readers and see their replies