Scotland independence vote: Buried in statistics, but how do they add up?
The economic impact of separation is the major concern for most undecided voters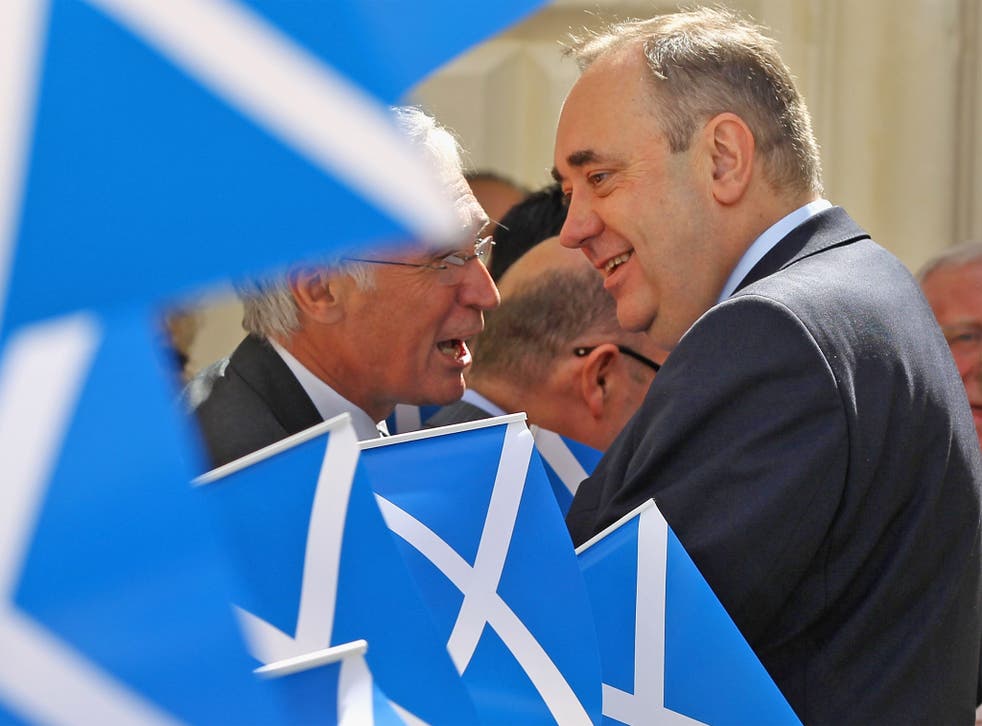 The outcome of Scotland's independence referendum is likely to hinge on the strength of the competing arguments over whether breaking away from the United Kingdom will make its 5.3 million citizens better or worse off.
With as many as two-thirds of undecided voters most concerned about the economic impact of separation, the issue is likely to dominate the final 112 days of campaigning.
The rival camps have inundated Scots with an array of statistics designed to bolster their case. On Wednesday Alex Salmond, the First Minister, said each person would eventually receive a £1,000 windfall if the nation opts to go it alone. Less than an hour later, UK ministers countered by claiming Scots would be £1,400 better off if they remained in the Union.
So how do the Yes and Better Together teams arrive at their calculations and do their numbers add up?
How does the SNP reach its number?
It calculates that the Scottish economy would receive a £5bn-plus boost by 2029-30 and divides that number by the Scottish population. The Scottish government's key assertion is that independence will provide a boost to economic growth that can be boiled down into pounds and pence.
It believes that a Holyrood administration could preside over strong annual growth which would create jobs, increase tax receipts and cut benefit payments.
If it can achieve a 0.3 per cent increase in productivity, the economy would generate an extra £2.4bn in tax receipts, it says. If there is a 3.3 per cent increase in the size of the workforce, to bring Scotland in line with the world's strongest economies, receipts would rise by £1.3bn.
Finally Scotland's projected six per cent rise in population over the next 15 years would net a further £1.5bn. Mr Salmond said: "Scotland is one of the wealthiest countries in the world, more prosperous per head than the UK, France and Japan, but we need the powers of independence to ensure that that wealth properly benefits everyone in our society."
How does Mr Salmond justify his prosperity claim?
By factoring in revenues from North Sea oil, the SNP asserts that Scotland produces 9.5 per cent of the UK's tax receipts despite accounting for 8.2 per cent of its population.
Are there flaws in his figures?
They could stand up if an independent Scotland manages to improve productivity, increase the workforce and achieve population growth. That is a big "if", and economic forecasts become shakier the further they peer into the future. Policies could be designed to attract migrants and achieve productivity, but there is no guarantee.
How do UK ministers reach their figures?
Their fundamental argument is that the gap between spending and tax income is bigger in Scotland – and that an independent administration would have to find ways of plugging the gap through tax rises or spending cuts.
The UK government also clashes with the SNP over the size of future oil revenue from the North Sea and suggests it has underestimated the expense of looking after an ageing population.
Ministers claim Scotland would be some £7.3bn a year – £1,400 per person – worse off if it breaks away. Under this analysis, public spending would be around £5bn higher because of greater demands in Scotland than south of the border. Smaller tax receipts (excluding oil) would account for more than £1bn, oil revenues below SNP revenues £700m, the expense of looking after a disproportionately ageing population £850m and the cost of setting up independence and implementing some policies £1.35bn.
UK ministers acknowledge that Edinburgh would be able to draw on more tax receipts from oil, but say the extra income will be dwarfed by the extra outgoings.
Danny Alexander, the Chief Secretary to the Treasury, said: "By staying together, Scotland's future will be safer, with stronger finances and a more progressive society."
Why does Mr Alexander say Scotland would be 'more progressive' within the UK?
He argues families would be worse off in a breakaway state because the UK would not be able to spread the load of spending in Scotland. Critics have also pounced on the SNP's commitment to cut corporation tax as evidence that, in the words of Labour's Ed Miliband, a Salmond administration would be guilty of "a race to the bottom" benefiting the wealthiest.
Are there flaws in the UK Government's numbers?
Well the Treasury suffered a heavy blow to its credibility this week by claiming the cost of setting up an independent state would be £2.7bn. The academic from whose work the figure was extrapolated has denounced the Treasury's "bizarrely inaccurate" spin on his numbers.
Register for free to continue reading
Registration is a free and easy way to support our truly independent journalism
By registering, you will also enjoy limited access to Premium articles, exclusive newsletters, commenting, and virtual events with our leading journalists
Already have an account? sign in
Register for free to continue reading
Registration is a free and easy way to support our truly independent journalism
By registering, you will also enjoy limited access to Premium articles, exclusive newsletters, commenting, and virtual events with our leading journalists
Already have an account? sign in
Join our new commenting forum
Join thought-provoking conversations, follow other Independent readers and see their replies