Scotland independence vote: Everything you ever wanted to know about life after the result
The national debt? Border controls? The national anthem? We have the answers
John Rentoul
,
Tom Witherow
Sunday 14 September 2014 12:28 Comments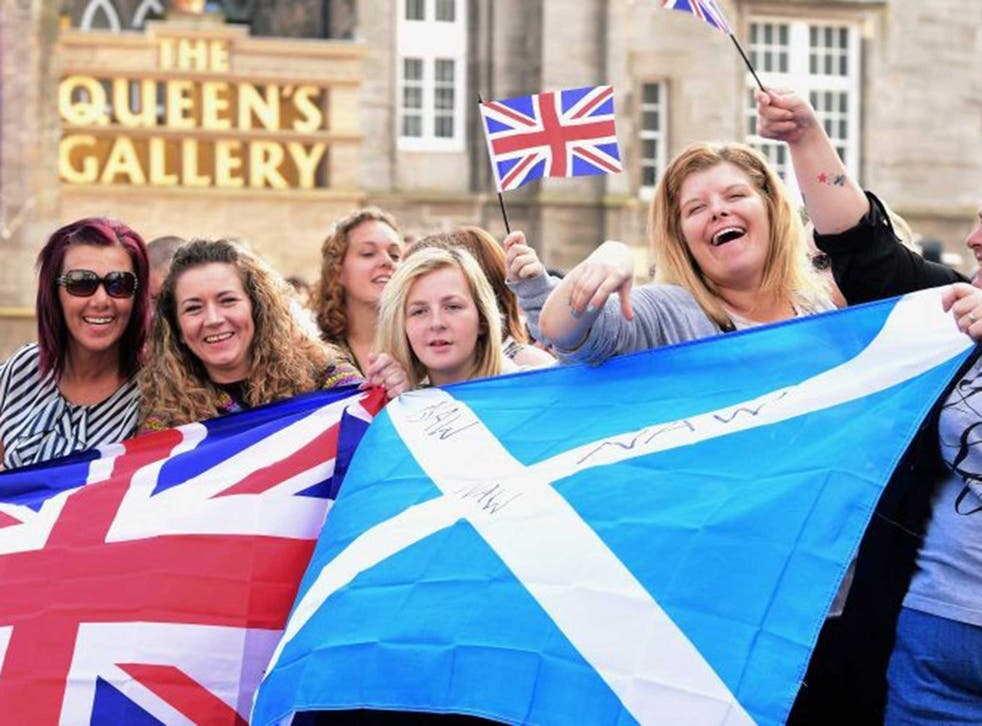 Would England, Wales and Northern Ireland still be known as the United Kingdom?
It is hard to see what else to call it. The rUK (rest of the UK) abbreviation was a temporary shorthand during the referendum debate. Some people might satirically call it Little Britain.
What sort of country would the rump UK be?
England's relative size would jump from 84 per cent of the UK population to 92 per cent.
Would Wales be the next to go?
Certainly not for a long time. Only 12 per cent of Welsh voters support independence for Wales, with 74 per cent against (YouGov in April). If there were a referendum in 2017 and the UK voted to leave the EU, attitudes might change.
Professor Richard Wyn Jones of Cardiff University's Welsh Governance Centre says: "The United Kingdom is not a 'sharing union'. It is rather a realpolitik union. Those with the loudest voice and a credible threat of secession get to have most influence on how resources are allocated."
Leanne Wood, the Plaid Cymru leader, said in 2012: "You get a combination of England, Wales and Northern Ireland. Now, is that a country? Well, no, it's definitely not a country. Is it a state? It's so imbalanced that you couldn't make it up if you were starting from scratch. All that calls into question a huge number of issues about the future of what might be left, post-2014."
Scottish independence: What will happen to key British institutions?

Show all 7
Would Scottish independence trigger other separatist movements?
Mebyon Kernow is a Cornish party that seeks a national assembly for the county, but the real push for separatism might come from Shetland and Orkney, for whom Edinburgh is as remote as London.
What about Northern Ireland?
The Ulster Unionists have fierce loyalty – that's what they call it anyway – to the UK and that would continue, but, given that most of their ancestors were "planted" in Ulster from Scotland, there is a case for saying that if Scotland wants to be independent it has to take Northern Ireland too.
Might Scottish independence encourage a non-extremist species of English nationalism?
Probably not.
Would Scotland be accepted as an EU member?
A fantastically hard question to answer, and one that has been argued into the ground during the referendum campaign. Most EU citizens, their leaders and EU institutions and officials would not want to lose a part of the Union. But the Spanish government is dead against anything that might encourage the Catalan independence movement. Mariano Rajoy, the Spanish Prime Minister, refuses to allow Catalonia even to hold a referendum. And any decision on Scotland's EU status requires a unanimous vote.
Most likely would be a deal by which Scotland is allowed in, in return for an EU guarantee that Catalonia would not be, and a free unicorn for every Spanish citizen.
What happens if Scotland stays in the EU, and the rump UK then votes to leave?
Then there will be border posts from Berwick to Carlisle (and from Warren Point to Derry/Londonderry in Ireland), because the UK would have its own immigration rules.
Even if the UK stays in the EU, there are likely to be border controls. Salmond proposes a common travel area, like the UK/Ireland agreement. But he wants to raise net immigration to Scotland to 24,000 a year – so no Westminster government is likely to sign up to completely open borders.
Would English, Welsh and Northern Irish students have to pay tuition fees at Scottish universities?
Probably. At the moment Scottish students and students from the rest of the EU are exempt from fees at Scottish universities, but "Rest of UK" students have to pay. You might think this would fall foul of EU discrimination law, but it hasn't so far. Some lawyers think it would be harder to defend the policy if Scotland were independent, but the Scots Nats have legal advice saying it is OK. So that's all right then.
Isn't Scottish public spending subsidised by England, so won't the rest of the UK be better off?
Public spending per person is higher in Scotland than in England (in Wales it is not as high as in Scotland and in Northern Ireland it is higher still), but that is, roughly, offset by the tax revenue from North Sea oil that would be attributable to Scotland if it were divided up. Although that does depend on where you draw the line on the oceanographers' charts.
What currency would Scotland really use?
It won't be the euro. Scotland could use the pound, but would have no say over interest rates or quantitative easing (don't ask), which would be decided by the Bank of, er, England. The rump UK really wouldn't agree to a currency union: David Cameron and Ed Miliband are not bluffing. It would not be in the UK's interest to share decision-making with Scotland. Mark Carney, the Governor of the Bank of England, was unusually categorical last week that a currency union was "incompatible with sovereignty".
Using another country's currency was fine for Ireland for decades, but there are no currency controls now and world markets are more open. It would make sense for Scotland to issue its own currency. Other small countries do. But its interest rates would be higher than the UK's for many, many years before its credibility was established (see below), and businesses would have to pay extra to hedge against exchange-rate fluctuations.
How much of the budget deficit belongs to Scotland?
About one twelfth, if it is divided by population. Proportionately, Scotland's public finances would be in just as bad a state as the UK's. But the outlook for Scottish spending and revenue is worse than for the rest of the UK. And if Scotland has to pay higher interest on its debt (see below), it would be worse still. Alex Salmond doesn't often dwell on how he would raise taxes or cut spending to cope.
What happens if Scotland defaults on its share of the national debt?
The risk of default would mean that Scotland would have to pay a higher rate of interest. Not helped by a leak to ITV News on Thursday of Salmond's alleged remark to colleagues when discussing the default question: "What are they going to do – invade?" His spokesperson described the report as "total nonsense". But the markets know that the risk is greater than that for the UK.
Would Scottish companies really move to the rest of the UK?
Royal Bank of Scotland and HBOS (part of Lloyds Banking Group) said last week that they would move their registered headquarters south if Scotland became independent, although they would keep their staff in Scotland.
Both banks are owned by the UK government, but when eventually returned to the private sector they would have assets 12 times that of the entire Scottish economy – if they failed, the Scottish Treasury wouldn't be able to bail them out. Still, Iceland got over it.
Standard Life, the Edinburgh pensions company, announced on Wednesday that it would move parts of its business south in the event of a Yes vote.
Would the national grid and energy supply be altered for either country?
No. It is a free-ish market, protected by EU competition law. Euan Phimister, professor at the University of Aberdeen: "The rUK doesn't decide who it imports from, the consumers do, and they would want to have electricity at the lowest price. So supply would sometimes be from France, the Netherlands, Norway or Scotland, depending on relative prices across the various markets.
Would Scotland be in a different time zone?
When there were UK-wide experiments with double summer time in the 1970s, Scottish pupils had to go to school in the dark. The pressure for change is not so great these days, but perhaps Scotland would join India, Venezuela and St John's, Newfoundland, in having a half-hour time difference from its neighbours.
Would Scotland have its own armed forces?
An independent Scotland would spend £2.5bn of the Ministry of Defence's current budget of £34bn on defence, according to the SNP White Paper. This is a bit less than its share if the budget were divided by population. There would be a Scottish army of 3,500 regular troops and an air force of 12 Typhoon jets, six Hercules transports and a helicopter squadron, with 2,000 personnel. Those Scots currently serving in Britain's armed forces would be given the choice as to whose military they wanted to serve in.
If the SNP were returned to power in the election to follow independence (May 2016 after the target date of March 2016), Scotland would be free of nuclear weapons within four years. The current Trident fleet of four submarines would have to move from their base at Faslane.
When would Scottish MPs cease to sit in Westminster?
March 2016 if negotiations over separation go to Salmond's plan. Later, in the real world. MPs elected for Scottish seats would cease to be members of the House of Commons and, if Ed Miliband had formed a government in 2015, he would probably lose his majority. He would probably have repealed the Fixed-Term Parliaments Act, and might even have replaced it with a law requiring a UK election immediately after Scotland's separation. This would prevent Boris Johnson, the Conservative leader, from simply taking over.
In the 2010 elections David Cameron would have won a majority without Labour's 41 Scottish seats. Labour's majority would have been reduced to a hung parliament in 1950, 1964 and October 1974 without Scottish seats.
Would there ever be a Labour government in Westminster again?
Tony Blair won a majority in England in 1997, 2001 and 2005. The loss of Scotland would make a difference, but not that much difference.
Would the Union flag change?
The UK Flag Institute conducted a survey this year that found 72 per cent in favour of changing the flag if Scotland leaves. It would look horrible without the blue, though.
What would Scotland have as its national anthem?
At the moment it is "God Save the Queen". This would be the chance for both successor countries to get rid of the dirge and replace it with "Jerusalem" and "Flower of Scotland".
Is independence really irreversible?
Surely, if things did not work out as the nationalists hope, Scotland would be accepted – even welcomed – back? But none of the 140 states that have become independent since the Second World War has returned to its parent country.
Would Scotland keep the BBC?
Salmond proposes a deal whereby a new national broadcaster, the Scottish Broadcasting Service, would take over BBC Scotland and £320m in Scottish licence fees in return for free access to the rest of the BBC's output. Spot the dummy.
If the SBS has to pay the BBC for the services it uses, as happens in Ireland, the money will have to come from somewhere.
How would each nation do in sport?
Scottish athletes won 13 of Team GB's 65 medals at the London Olympics, and half of all medals at the Sochi Winter Olympics this year, thanks to the success of the all-Scottish curling teams.
The real impact would be felt in tennis. The search for a UK winner of Wimbledon would have to start all over again.
Register for free to continue reading
Registration is a free and easy way to support our truly independent journalism
By registering, you will also enjoy limited access to Premium articles, exclusive newsletters, commenting, and virtual events with our leading journalists
Already have an account? sign in
Join our new commenting forum
Join thought-provoking conversations, follow other Independent readers and see their replies