Scottish bosses keep silent on independence
Pro-Union business leaders claim they are too frightened of SNP retaliation to voice opinions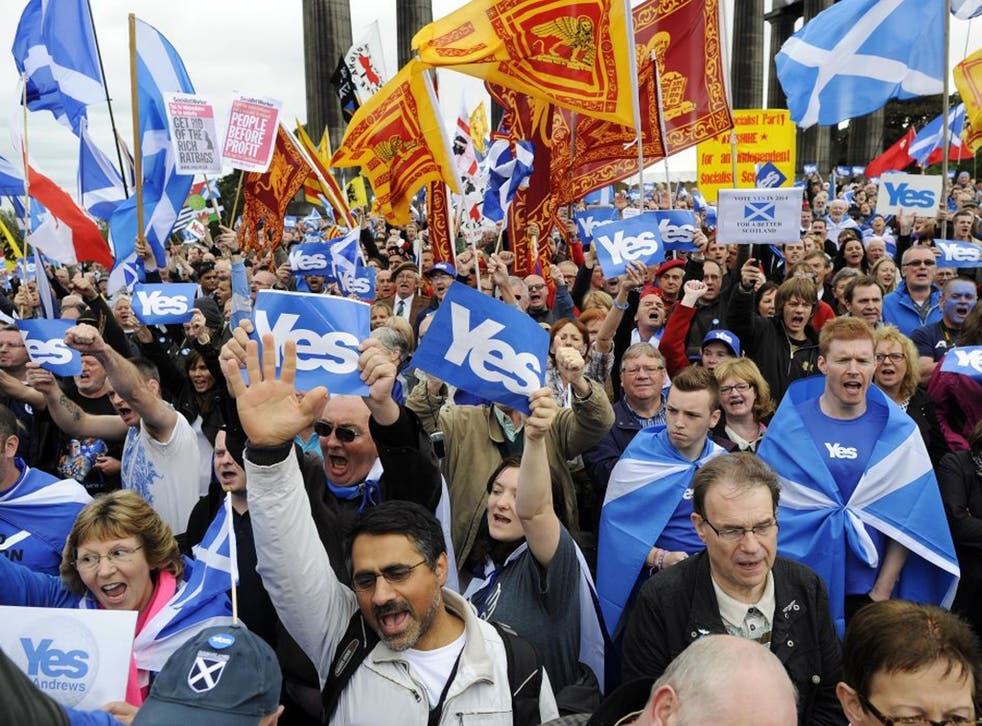 Leading Scottish businesses are keeping silent on the critical question of next year's independence referendum because of fears that any pro-Union public pronouncements will be commercially "punished" by Alex Salmond's Holyrood government.
Multinational companies and the heads of leading business groups contacted by The Independent on Sunday claimed they had recently been warned by Scottish ministers and aides that they expect any comment on the 2014 independence referendum to "look both ways".
One business boss claimed the message from representatives of the Edinburgh government "was delivered in a bullying tone" and "suggested there would be financial consequences related to government contracts if we openly expressed a preference for staying within the Union".
Another said: "The current fear that exists inside many leading Scottish firms on this issue is not groundless. As a result, there is still an absence of leading commercial voices stating their preference for remaining inside the United Kingdom. Many are sitting on the fence because that is the commercially safest place to be."
The comments echo evidence given last year to the Lords Economic Affairs Committee. Rupert Soames, head of the Scottish-based energy multinational Aggreko, told the committee that anyone who voiced views contrary to those of the SNP "brought down on themselves rains of bile and ire".
Another business leader told how large Scottish firms "that rely on government contracts, or bid for contracts that come with a government input" faced substantial risks if they decided to "fundamentally disagree with the SNP and the Holyrood government".
Others businesses claimed the referendum was only one part of the fear factor. One Edinburgh-based chief executive said: "Alex Salmond's power and authority – especially if Scotland is given further devolved powers after the 2014 vote – is not going to be diminished. The commercial sense in openly opposing him on independence? There is none."
The pro-independence "Yes" campaign was, however, boosted during the summer months by the emergence of "Business for Scotland", which has recruited more than 400 members.Its loud voice, which is supplemented by the backing of Jim McColl, the engineering entrepreneur regarded as Scotland's richest businessman, has not been matched by "No"-vote opponents.
The "Better Together" campaign said that the views of pro-Union businesses need to be heard. A spokesman said: "This is the most important debate in Scotland's history so it's essential that businesses speak out, no matter what side of the argument they are on. Too often, we hear of businesses who are pro-UK but are too worried about reprisals for speaking out. This is unacceptable."
A spokesperson for John Swinney, Cabinet Secretary for Finance, Employment and Sustainable Growth in the Scottish government, said: "These anonymous claims are wrong. We welcome all voices and views to the debate on Scotland's future – and no one can seriously claim that this debate is currently anything other than open and energetic, with full, frank and vigorous contributions from all sides."
Register for free to continue reading
Registration is a free and easy way to support our truly independent journalism
By registering, you will also enjoy limited access to Premium articles, exclusive newsletters, commenting, and virtual events with our leading journalists
Already have an account? sign in
Register for free to continue reading
Registration is a free and easy way to support our truly independent journalism
By registering, you will also enjoy limited access to Premium articles, exclusive newsletters, commenting, and virtual events with our leading journalists
Already have an account? sign in
Join our new commenting forum
Join thought-provoking conversations, follow other Independent readers and see their replies