Scottish Conservatives dubbed the party of 'hidden taxes' by SNP leader Nicola Sturgeon in televised debate
Ruth Davidson said she was in favour of charging students 'just over £1,500 a year' for their university education
Chris Green
Scotland Editor
Wednesday 30 March 2016 00:10 Comments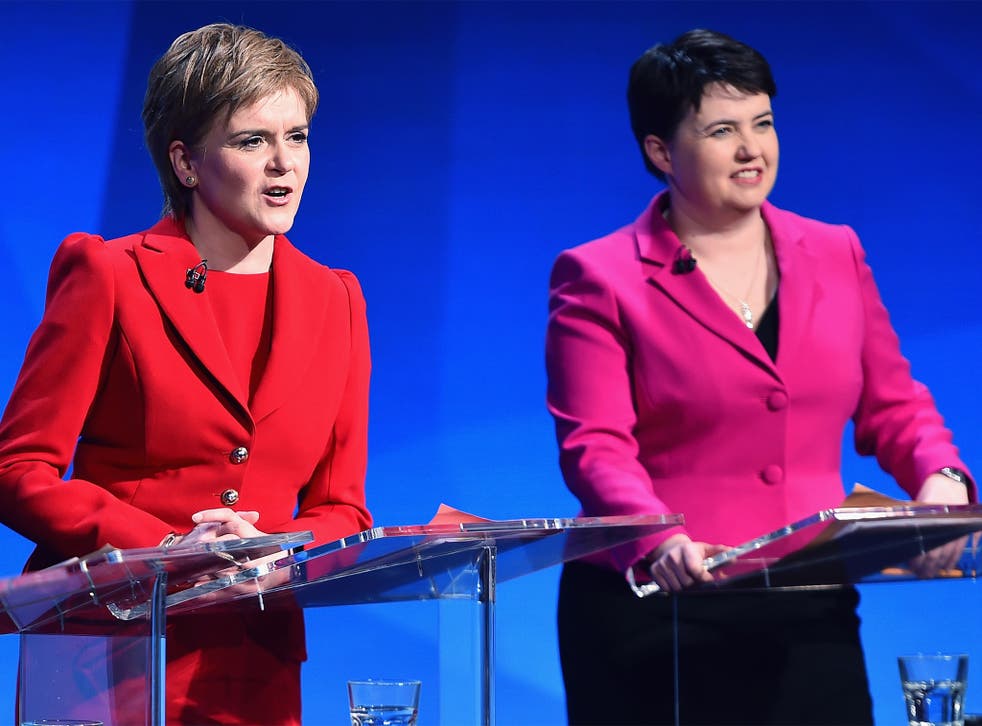 The Scottish Conservatives were dubbed the party of "hidden taxes", as its leader came under fire for her policy of charging university graduates up to £6,000 for their degrees and reintroducing NHS prescription fees.
In heated exchanges during the second televised debate ahead of May's Holyrood election, Ruth Davidson was put under pressure by SNP leader Nicola Sturgeon to justify her plans to end Scotland's longstanding commitments to free higher education and free medicines for NHS patients.
The Tory leader, who is hoping to see her party overtake Labour to become the official opposition at the Scottish Parliament, said she was in favour of charging students "just over £1,500 a year" for their university education. The fee, which would amount to £6,000 for those taking a standard four-year degree, would be paid after they had graduated and started earning.
Ms Davidson added that standard NHS prescription charges would gradually increase to "about £8", prompting Ms Sturgeon to retort: "You're not the party of low taxes, you're the party of hidden taxes." As the exchanges between the leaders became increasingly fraught, Ms Davidson said: "Am I allowed to answer or am I just here to be shouted at?"
Defending her policy on prescription fees, she added: "One of the things that GPs have said to us is reintroducing a prescription charge for people that can afford to pay – the NHS spends £10 million on paracetamol alone – would help reduce demand and allow people to use pharmacists more and GPs less."
Tax has become a key issue in the build up to the election, as the Scottish Parliament is due to be handed powers over income tax rates and bands from April next year. During the debate – which also featured Scottish Labour leader Kezia Dugdale, Liberal Democrat leader Willie Rennie and Scottish Green Party co-convener Patrick Harvie – Ms Sturgeon was accused of "letting Scotland down" and being "frozen to the spot" by refusing to increase tax for people earning over £150,000.
The First Minister has defended her decision not to raise the top rate of income tax to 50p straight away, claiming it could result in Scotland losing up to £30m a year due to high earners moving their money out of the country.
The two-hour live debate, hosted by STV's political editor Bernard Ponsonby and held in front of a studio audience of voters at the Assembly Rooms in Edinburgh, was the second of three scheduled by broadcasters ahead of the Holyrood election on 5 May. The BBC, which hosted the first event in Glasgow last week, is due to stage the final debate on 1 May.
Register for free to continue reading
Registration is a free and easy way to support our truly independent journalism
By registering, you will also enjoy limited access to Premium articles, exclusive newsletters, commenting, and virtual events with our leading journalists
Already have an account? sign in
Join our new commenting forum
Join thought-provoking conversations, follow other Independent readers and see their replies