Scottish Conservatives leader Ruth Davidson rules out immediate tax cuts at Holyrood election
Ms Davidson previously suggested she would seek to reduce taxes following devolved powers from Westminster
Chris Green
Scotland Editor
Friday 04 March 2016 19:00 Comments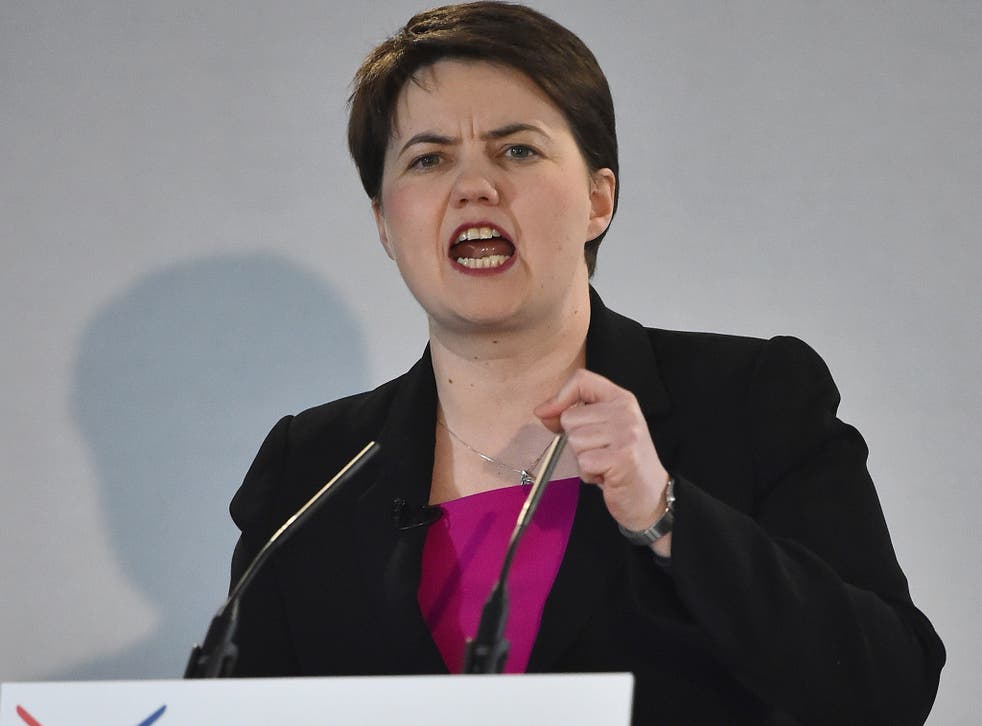 The leader of the Scottish Conservatives has ruled out offering voters immediate tax cuts at the forthcoming Holyrood election, appearing to backtrack on a previous pledge to reduce people's tax bills as soon as Scotland had the power to do so.
In a speech to her party's spring conference in Edinburgh, Ruth Davidson said she did not believe the time was right to cut taxes to a level below the rest of the UK given the Scottish Parliament's current tight budget. But she indicated that cuts may still be deliverable in the "medium term".
Ms Davidson has previously suggested that she would seek to reduce taxes as soon as the relevant powers were devolved from Westminster. In 2012 she said that her party was "committed to reducing personal taxation when the power to do so comes to the Scottish Parliament", which will be the case by next April.
"I would like nothing more than to stand before you today and announce that we should cut income tax tomorrow to below that in the rest of the UK," Ms Davidson said. "We can cut tax in Scotland, but over the medium term...if we're going to cut tax rates in Scotland, I believe we as a nation need to earn it first. And the truth is we haven't done that yet.
"So I'm left with a judgement. And right here, right now, when spending limits are still tough, when public services like our NHS and our education system need support, I don't believe the time is right for a short-term tax cut below that of the UK. That is my judgement as leader."
The decision means that none of the major parties hoping to be elected to the Scottish Parliament on 5 May will be standing on a tax-cutting ticket.
Register for free to continue reading
Registration is a free and easy way to support our truly independent journalism
By registering, you will also enjoy limited access to Premium articles, exclusive newsletters, commenting, and virtual events with our leading journalists
Already have an account? sign in
Join our new commenting forum
Join thought-provoking conversations, follow other Independent readers and see their replies