Scottish devolution process 'cannot commence until 2017 at the earliest'
Scotland's Finance Secretary John Swinney dismisses idea changes might be implemented straight after Holyrood election
Chris Green
Scotland Editor
Thursday 25 February 2016 01:45 Comments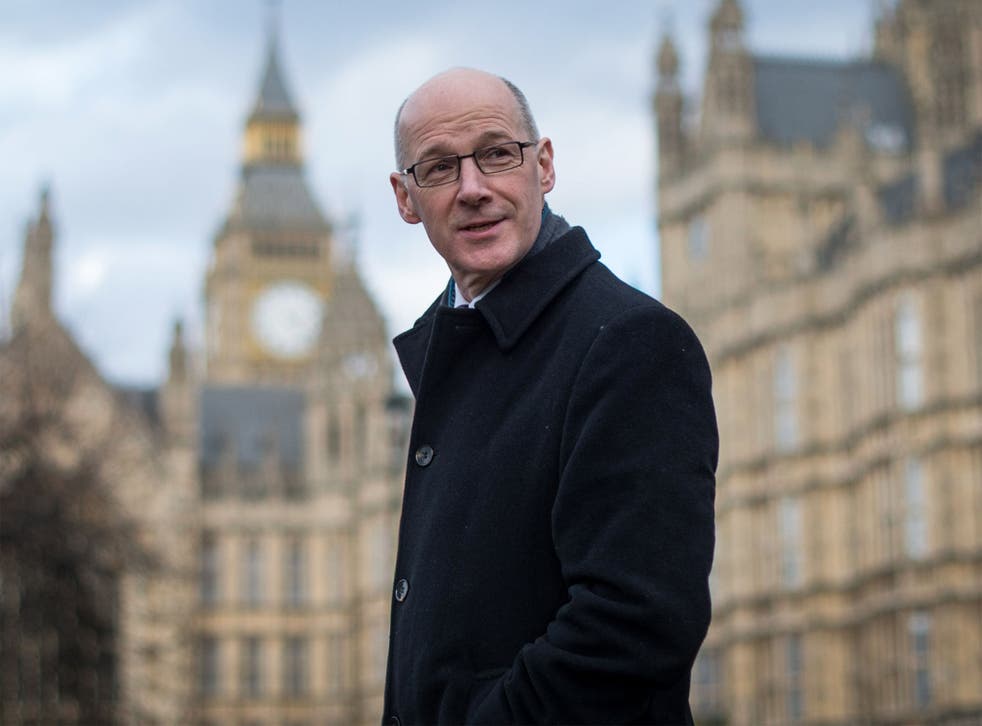 Some of the most significant powers being devolved to Scotland from Westminster will not be available until well into the next Parliament, the country's Finance Secretary said as he dismissed the idea that they might be implemented immediately after the Holyrood election.
Insisting that the devolution process "cannot commence" until 2017 at the earliest, John Swinney said the suggestion that some of the new powers contained in the Scotland Bill would be available to the next Scottish Government as soon as it forms in May was a "leap of imagination".
The idea was floated by the Scotland Secretary, David Mundell, who told MSPs shortly after the Scottish and UK Governments agreed a deal on the financial arrangements underpinning the new powers that there would be "no impediment" to their instant transfer. But Mr Swinney indicated that he regarded such a short timeline as unrealistic.
"I don't agree with the Secretary of State on that," he said. "The whole devolution process cannot commence until we have put in place distinctive legislation within Scotland and I think to see that coming in earlier than 2017, and even 2017 strikes me as being quite early, is quite a leap of imagination."
Mr Swinney later told Holyrood's Finance Committee that the Scottish Government would not take control of income tax until April 2017, while Air Passenger Duty – which the SNP has pledged to cut by 50 per cent – would also remain unchanged until April 2018. He said "further work" was needed before a commitment could be made on reforming welfare, while changes to VAT assignment would be delayed until 2019.
On Tuesday, Scotland's First Minister Nicola Sturgeon announced that a deal on the fiscal framework had been agreed after months of talks between the UK and Scottish governments – immediately prompting calls from Holyrood's opposition parties for the SNP to lay out how it plans to use the new powers.
During Prime Minister's Questions, David Cameron said the deal meant that the Scottish Government would have to start "talking about policies and decisions rather than processes", adding: "No more grievance, no more fussing about process, no more arguments about the arrangements – now it's time to get on and govern."
Formally announcing the funding deal at Westminster, Mr Mundell confirmed that the new powers would see the Scottish Government retaining around £12bn of income tax and £5bn of VAT revenues. He rejected claims from SNP MPs that the Treasury had set out to cut Scotland's budget by £7bn, accusing them of failing to understand the "concept of negotiation".
Register for free to continue reading
Registration is a free and easy way to support our truly independent journalism
By registering, you will also enjoy limited access to Premium articles, exclusive newsletters, commenting, and virtual events with our leading journalists
Already have an account? sign in
Join our new commenting forum
Join thought-provoking conversations, follow other Independent readers and see their replies