Scottish independence: Both sides told to 'raise their game' by former First Minister Lord McConnell
Paul Gallagher
Wednesday 25 June 2014 16:43 Comments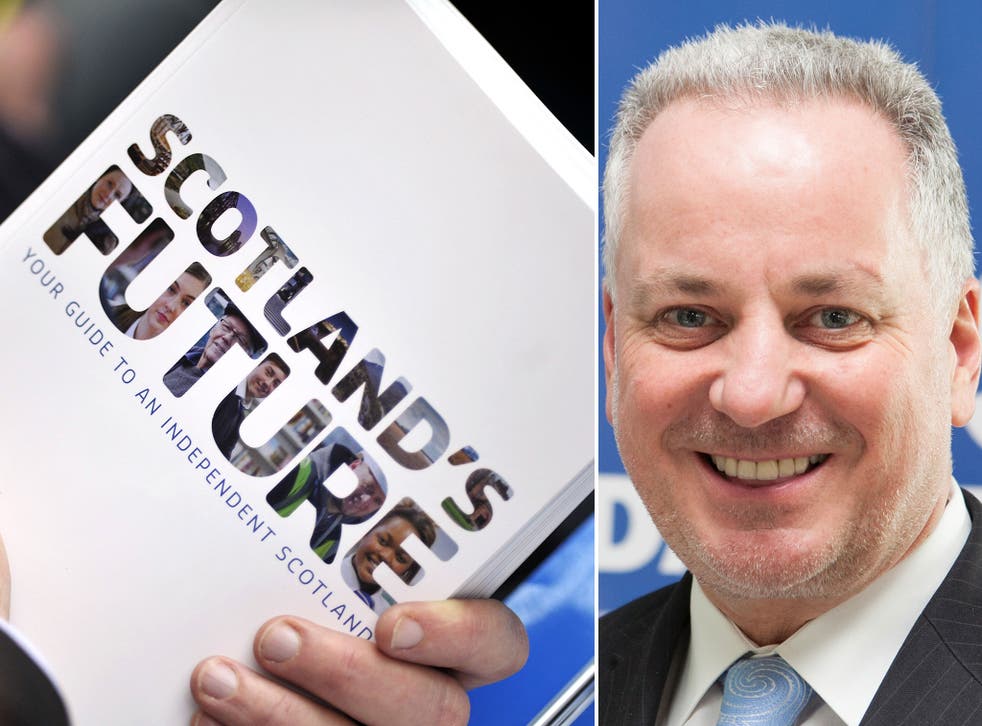 Former Scotland First Minister Lord McConnell has strongly criticised both sides of the independence campaign for failing voters with what he called complacent and negative tactics.
With less than 100 days to go to the referendum, the Labour peer said people deserved a higher level of debate and urged Alex Salmond's Yes campaign to "stamp out the culture of bullying and intimidation, that exists not just on the Internet but in Scottish public life today".
JK Rowling became the latest high-profile figure subjected to a torrent of abuse on social media from nationalists when she announced her £1m donation to the Better Together campaign this month. Broadcaster Andrew Marr was recently denounced as a "self-important weasel" for challenging Mr Salmond about a separate Scotland's European Union membership on his BBC show.
Lord McConnell, who was First Minister from 2001-07 and is against independence, said Mr Salmond and his team should "answer questions more factually and accurately than perhaps has been the case so far".
The peer also criticised the Better Together campaign led by former Chancellor Alistair Darling. Lord McConnell said it needed to "raise their game too" comparing the group to a bunch of arrogant students who get drunk at lunchtime and forget their arguments.
Speaking in the House of Lords on Tuesday he said: "In a university abroad about six months ago, I judged a debate between two teams of students, one defending Scotland's membership of the United Kingdom and one promoting Scottish independence. Those in favour of Scotland's membership of the United Kingdom had read all the evidence and papers – many of them produced by Her Majesty's Government – and become so convinced of the case that they went to the pub at lunchtime, became complacent and, despite having all the arguments, lost the debate comprehensively to those who were more focused, determined and clearer about their aspirations for the future of Scotland."
He said the No campaign "needs to outline a positive vision for the future of Scotland inside the United Kingdom, campaigning not to protect the union and the established order but for a new order - a reformed United Kingdom with a new Scotland actively participating within it".
A Better Together spokesperson said: "The three parties backing a No vote are united in the passionate belief that being part of the UK is in the best interests of Scotland. The joint statement about more powers for Scotland from the three Scottish party leaders confirms that we are all on the same page on this."
A spokesperson for Yes Scotland said: 'We encourage people on both sides of the debate always to express their opinions in a reasonable, respectful and courteous manner and we have issued robust social media guidelines stressing these vital points. Abuse, from wherever it comes, is unacceptable. The Yes Scotland campaign is civic, inclusive and aspirational."
STV is hoping to host a televised debate between Mr Darling and Mr Salmond next month but the broadcaster has not received agreement from both sides on the question of the date.
Mr Salmond's preference remains for a debate with David Cameron but in a letter to STV on Saturday his office said failing that the First Minister would agree to a debate with Mr Darling after the Commonwealth Games, which concludes on 3 August.
Register for free to continue reading
Registration is a free and easy way to support our truly independent journalism
By registering, you will also enjoy limited access to Premium articles, exclusive newsletters, commenting, and virtual events with our leading journalists
Already have an account? sign in
Join our new commenting forum
Join thought-provoking conversations, follow other Independent readers and see their replies