Scots turning against SNP plan for independence referendum, poll finds
Separate survey finds SNP no longer on course to win majority at May's Holyrood elections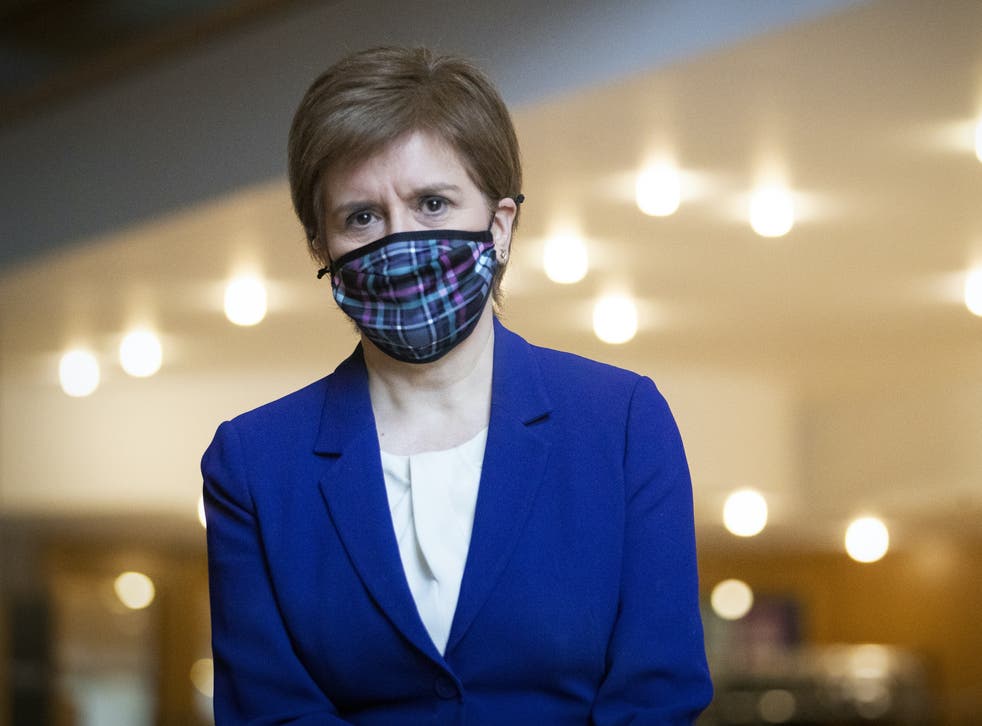 A significant number of Scots have turned against the SNP's plan for another referendum on Scottish independence in the near future, a new poll indicates.
The latest YouGov survey shows 50 per cent of voters in Scotland do not want a referendum to be held in 2021 – an increase of six points since the polling company asked the same question in November.
The proportion of voters who support the idea of a referendum in the event that Nicola Sturgeon's party wins a majority at May's Holyrood election is now at 36 per cent – a fall of seven points since November.
The latest poll results also show support for the union holding a narrow lead over separation. Some 51 per cent of Scots back the union while 49 per cent favour of independence, the YouGov poll for The Times discovered.
A separate survey by Savanta ComRes for The Scotsman has found 47 per cent would vote 'No' against independence, while 45 per cent said they would vote 'Yes'.
Ian Blackford, SNP leader at Westminster, has said a second independent referendum could be held later in 2021 should the party wins a majority in May. "It could be the case we could face a referendum as early as late 2021," he said last week.
However, Ms Sturgeon has been more circumspect on the precise date, saying she would like another ballot to be held "in the earlier part" of the next Scottish parliamentary term.
While the latest poll numbers suggest a majority of Scots are not keen on holding an independence vote anytime soon, with the country still attempting to recover from the Covid pandemic, there appears to be a greater appetite for a ballot further down the line. 
YouGov found 42 per cent of Scots believe a co-called "indyref2" vote should be held in the next five years, while 39 per cent do not.
The polling firm found the SNP constituency vote down by four points ahead of May's Holyrood election. YouGov's projection found Ms Sturgeon's party is still on course to win 71 seats in the Scottish parliament – a majority of 13.
However, the latest Savanta ComRes poll, which shows a six-point fall in constituency vote support for the SNP, found the party would win only 64 seats – missing out on a majority by one seat.
Polling guru Professor Sir John Curtice said the ongoing rift over the Alex Salmond inquiry had clearly had a damaging impact on support for the party at a critical time.
"The SNP cannot afford to lose many supporters if they are to win an overall majority in May," he said.
"And there is a minority of former SNP voters, around one in eight, who do not believe that Ms Sturgeon has been telling the truth [about her involvement in the Salmond inquiry saga].
Commenting on the YouGov poll, Sir John said results suggest that some of those SNP supporters sceptical of Ms Sturgeon's account of events "are no longer inclined to back the party in May".
Join our new commenting forum
Join thought-provoking conversations, follow other Independent readers and see their replies