Scottish independence TV debate: First blood to Alistair Darling as he clashes over currency with Alex Salmond in televised Yes/No debate
Gloves come off as former Chancellor attacks SNP leader's promises on the pound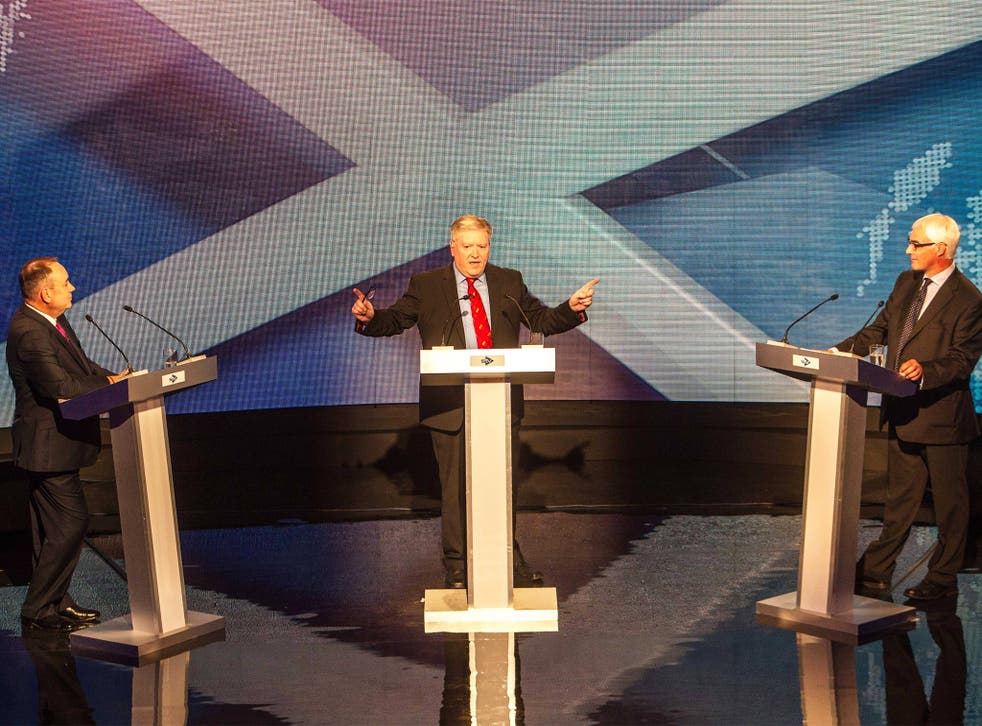 The issue of what currency an independent Scotland would use sparked heated exchanges in the first televised referendum debate between the First Minister, Alex Salmond, and Alistair Darling, the leader of the pro-Union Better Together campaign.
With barely six weeks until Scotland votes on whether or not it should become an independent state, Mr Salmond markedly refused to state what his "plan B" would be if Westminster refused to let Scots continue to use the pound.
The gloves came off when the former Chancellor, Mr Darling, chose to personally attack the Scottish National Party leader's promises on the pound by stating: "An eight-year-old can tell you what Scotland's capital and flag is. But you can't tell us what Scotland's currency will be."
In a sequence of hard-hitting questions that showed Mr Darling as an uncharacteristically aggressive debater, he demanded to know the options the First Minister spoke of last year. Mr Salmond stuck to his stated forecast that the pound was "Scotland's too" and that it was "logical and desirable" for Scotland to keep it.
Scottish Independence: For and against

Show all 24
Broadcast by STV and televised only in Scotland, the clash at Glasgow's Royal Conservatoire was introduced as "the most important debate in Scotland's political history."
However, although it was supposed to be available to the rest of the UK on STV Player, millions were denied to opportunity to watch when the live stream failed across the rest of the UK.
Ahead of the debate, an opinion poll conducted for STV showed the "Yes" campaign still has substantial ground to make up if it is to win on 18 September. In the Mori-Ipsos survey, support for a "No" vote was 58 per cent, with the "Yes" camp trailing on 42 per cent.
Mr Salmond described the referendum as "an opportunity of a lifetime that we should seize with both hands".
Rounding on SNP promises that have been criticised as undeliverable, Mr Darling said Scotland should not be making an unchangeable decision based on what he called "guesswork and the blind faith" of the First Minister. When questioning was thrown open to the small invited audience of 350, the issue of currency dominated.
Mr Salmond was repeatedly asked what his "plan B" was, and gave the same answer he had given Mr Darling. He said: "I want what is best for Scotland – keeping the pound."
Pressing Mr Salmond on his "plan B", Mr Darling said an independent Scotland could be forced to mimic Panama and use the US dollar. "That is not independence, that is foolishness," he added.
Mr Salmond told the audience that Scotland was being run by Westminster parties it did not vote for. "For more than half of my life, Scotland has been governed by parties we didn't elect at Westminster, and these parties have given us everything from the poll tax to the bedroom tax."
He said central government continued to tell Scotland that it could not run its own affairs, adding: "Forty-nine of the 71 countries which took part in the Glasgow Commonwealth Games were the same size or smaller than Scotland."
In perhaps his most emotional appeal, he said: "My case this evening is simple: no one, absolutely no one, will do a better job of running Scotland than the people who live and work in Scotland."
But Mr Darling said the referendum was about Scotland's future, not patriotism, adding: "There are times that, for the love of our family and the love of our country, it's sometimes best to say 'No' – not because we can't, but simply because it is not the best thing to do."
Mr Salmond – who, based on audience reaction, probably lost the debate because of the currency questions – closed the contest saying the vote was "our moment, let's take it".
A Guardian/ICM poll of more than 500 viewers concluded that Mr Darling won the debate by 56 per cent to 44 per cent. Another debate is already being scheduled for later this month.
A number of disgruntled viewers took to Twitter during the debate to complain they were unable to watch the live stream and were instead confronted with a message reading: "Segment loading security violation. Video playback not possible".
BBC presenter Andrew Neill said: "The one night rest of UK WANTS to watch STV AND their systems freeze. Useless."
Others asked why the programme was not being broadcast in the rest of the UK.
"Can't get STV's live stream of scottish independence debate to work. Appalling that it's not being broadcast in England," wrote user @HannahWeb.
STV said in a statement: "We are receiving an unprecedented demand for the live stream of the debate. We have made each section of the programme available for immediate catch up on our referendum site, scotlanddecides.com."
Join our new commenting forum
Join thought-provoking conversations, follow other Independent readers and see their replies