Scottish independence: Warnings over pound 'swaying undecided voters' as poll shows strong lead for 'No' vote
Support grows for unionist cause after attacks on plans for EU and pound by Barroso and Osborne
Oliver Wright
Monday 24 February 2014 01:08 Comments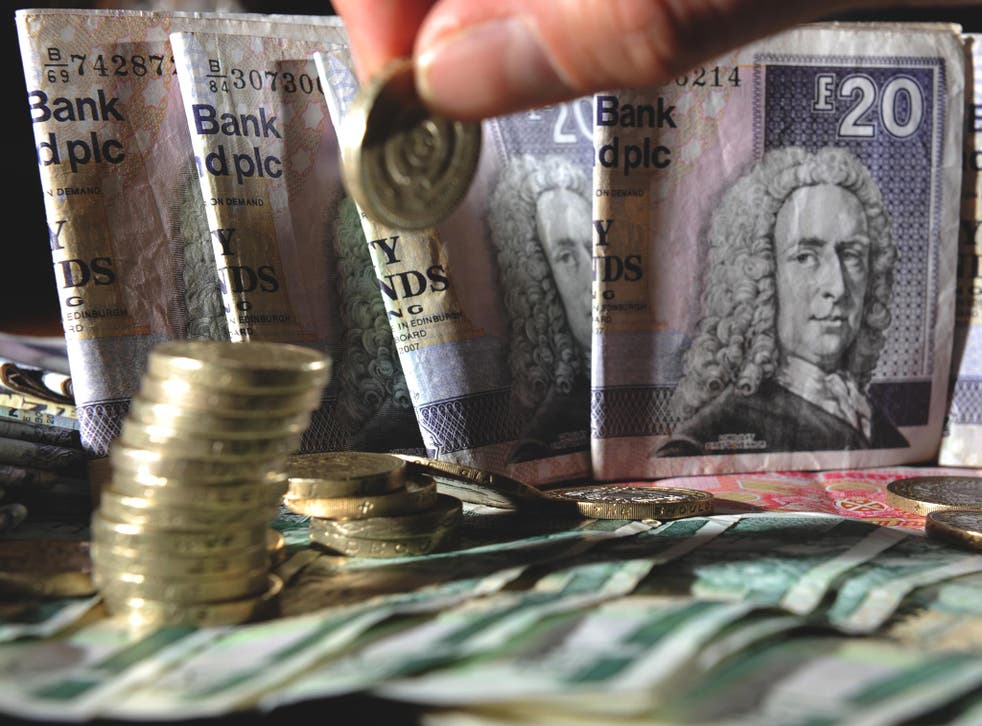 A cross-party warning from Westminster that an independent Scotland would not be able to keep the pound appeared Sunday to have boosted the unionist cause.
A new poll, conducted after George Osborne's intervention and a separate warning by the European Commission President, José Manuel Barroso, that an independent Scotland would not automatically be able to join the EU, seems to have had an effect on undecided voters.
Support for a "no" vote has climbed 5 points to 49 per cent in the space of a month and now enjoys a 12-point gap over the pro-independence side, which is unchanged on 37 per cent. It suggests a significant number of undecideds have shifted to the "no" camp.
Two-thirds of people said they thought it would be in Scotland's best interests to keep the pound after independence, while 12 per cent say the country should have its own currency. However, the poll for Scotland on Sunday found that most Scots believed the country would secure EU membership, despite warnings from the Commission that this could prove "impossible".
The poll comes ahead of a UK Cabinet meeting in Aberdeen on Monday, just seven miles from where the First Minister, Alex Salmond, is holding his weekly meeting in Portleven. It will be only the second time in more than 90 years that the full UK Cabinet will have met in Scotland.
Mr Cameron hopes to use the event to highlight the importance of the North Sea oil and gas industry which, he will argue, is more secure as part of the larger UK economy. The meeting will coincide with the formal publication of a report by Sir Ian Wood into maximising the potential of the industry, which could be worth £200 billion to Britain over the next 20 years.
Mr Cameron will accept all the main recommendations of Sir Ian's review, including the creation of a new regulator to increase collaboration between companies to explore and develop new wells.
The Treasury points out that tax revenues from oil and gas in 2012-13 were £4.7 billion or more than 40 per cent lower than the year before. It argues that while the UK's diverse economy is able to absorb this volatility, this equates to more than a third of Scotland's health budget or two thirds of its spending on education.
"For many years the UK has supported the North Sea oil and gas industry and we have worked together to make this an economic success the whole country can be proud of," Mr Cameron said. "I promise we will continue to use the UK's broad shoulders to invest in this vital industry so we can attract businesses, create jobs, develop new skills in our young people and ensure we can compete in the global race."
Yesterday's poll found that 46 per cent of Scots believe a "yes" vote would bad for the economy, while just 35 per cent believe it would be good. Just over half (51 per cent) say inequality levels will remain unchanged or even get worse after a "yes" vote.
Blair McDougall, of the Better Together Campaign, said he was pleased by the poll results. "It is encouraging that undecideds, the group of Scots who are key to this referendum, are overwhelmingly moving in favour of Scotland remaining a strong and proud part of the UK," he said.
Register for free to continue reading
Registration is a free and easy way to support our truly independent journalism
By registering, you will also enjoy limited access to Premium articles, exclusive newsletters, commenting, and virtual events with our leading journalists
Already have an account? sign in
Join our new commenting forum
Join thought-provoking conversations, follow other Independent readers and see their replies