Brexit: Scottish Labour to vote against triggering Article 50 in symbolic motion
The position is at odds with the UK Labour Party not to frustrate the process for triggering Article 50 Lisbon Treaty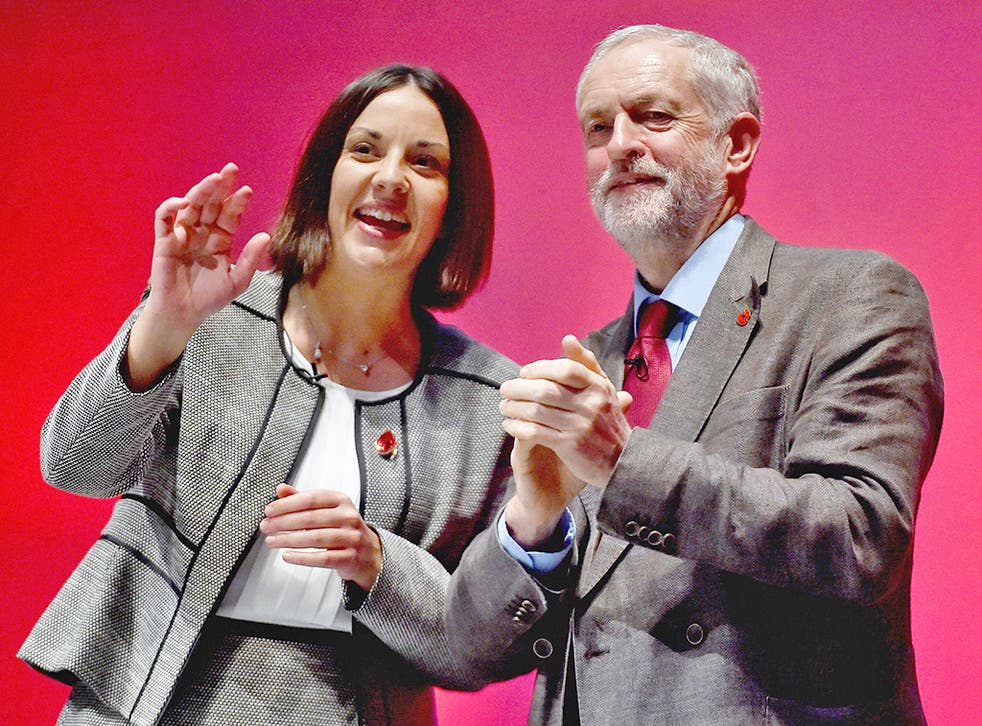 Scottish Labour is to vote against invoking Article 50 in a symbolic vote, the party's leader has announced.
In the non-binding vote on Britain's withdrawal from the European Union on Tuesday at Holyrood the party, led by Kezia Dugdale, will go against the orders of Jeremy Corbyn.
Writing for the website LabourList Ms Dugdale said while Scottish Labour accepted the result of referendum in June last year, "we also know the people of Scotland did not vote for Theresa May's hard Brexit and that no-one voted to become poorer".
A UK Labour Party spokesperson added: "This is a matter for the Scottish Labour Party. The UK Labour Party has been clear that it will not frustrate Article 50. Labour's amendments put jobs, living standards and the economy front and centre and are the real agenda now."
On Tuesday, MSPs will vote on a Scottish Government motion arguing that the UK Government's European Union (Notification of Withdrawal) bill currently making its way through the Commons should not proceed.
The move puts Ms Dugdale at odds with UK Labour leader Jeremy Corbyn, who is facing a revolt by pro-Remain MPs - including the party's only Scottish MP Ian Murray - who are defying his leadership to vote against the bill at Westminster.
As a result of the Supreme Court ruling last month, however, the debate in Holyrood is not legally binding.
In her article Ms Dugdale continued: "While the Bill to leave the EU is still progressing through the House of Commons, Labour in Holyrood will send a clear message that we do not support a hard Brexit.
"The UK is leaving the European Union, but there is no reason why Scottish Labour and the Scottish Parliament should not give a voice to the wishes of the vast majority of Scottish people."
"Tomorrow there will be a non-binding vote in the Scottish Parliament on article 50, and we will vote to send a clear message to Theresa May. So Scottish Labour MSPs will vote against the triggering of article 50."
The motion argues that UK ministers have "set out no provision for effective consultation with the devolved administrations on reaching an agreed UK approach to the negotiations on implementing Article 50".
It adds that the UK Government "has refused to give a guarantee on the position of EU nationals in the UK, has left unanswered a range of detailed questions covering many policy areas regarding the full implications of withdrawal from the single market, and has provided no assurance that a future parliamentary vote on the outcome of the negotiations will be anything other than irrelevant".
Register for free to continue reading
Registration is a free and easy way to support our truly independent journalism
By registering, you will also enjoy limited access to Premium articles, exclusive newsletters, commenting, and virtual events with our leading journalists
Already have an account? sign in
Register for free to continue reading
Registration is a free and easy way to support our truly independent journalism
By registering, you will also enjoy limited access to Premium articles, exclusive newsletters, commenting, and virtual events with our leading journalists
Already have an account? sign in
Join our new commenting forum
Join thought-provoking conversations, follow other Independent readers and see their replies