Scottish Tories confident of becoming main opposition to SNP after by-election gains
A Cabinet source pointed to a series of recent Scottish council by-elections in which the Conservative share of the vote has gained and Labour's has slipped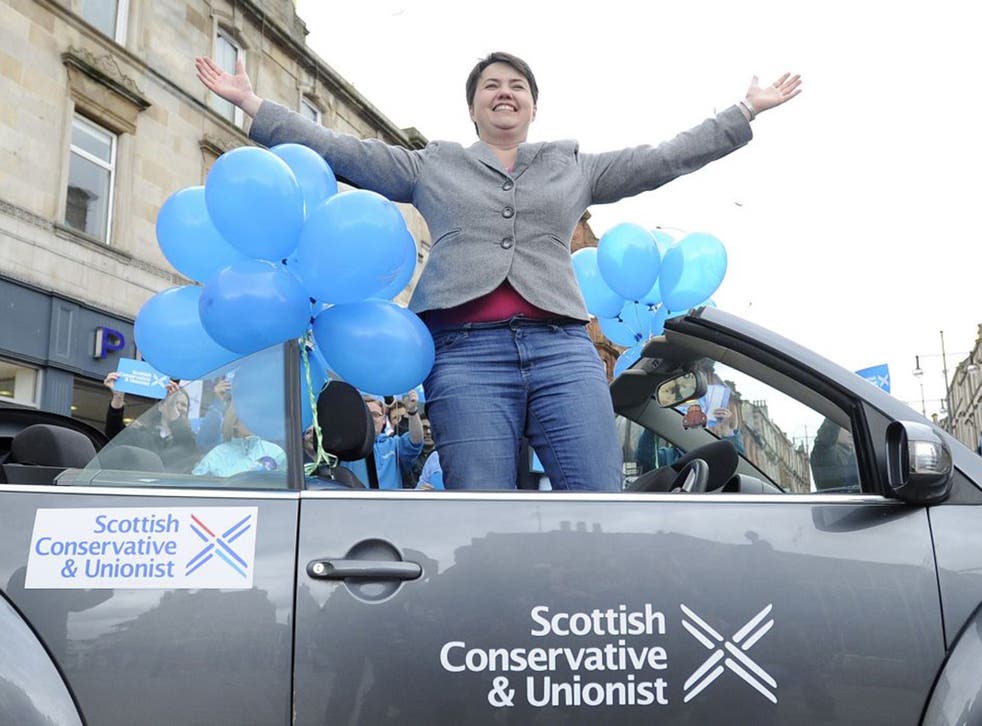 The Conservatives are hopeful they can shock the pollsters and usurp Labour as the main opposition party at the Scottish Parliament in Edinburgh next year.
A Cabinet source pointed to a series of recent Scottish council by-elections in which the Conservative share of the vote has gained and Labour's has slipped.
This month, the party replaced Labour in second place behind the SNP in the Midstocket and Rosemount ward in Aberdeen, with its vote rising by 9.8 percentage points to 23.6 per cent. Labour's share fell by 11.2 points to 21.1 per cent.
The Tories also pushed Labour into third in Irvine Valley in East Ayrshire, gaining 5.8 percentage points as the latter lost 6.4 points.
The Conservatives actually won on first preferences in Ayr East last month, up 5.5 points on 2012, only for the SNP to edge them out after second preferences were counted.
Scottish Independence: For and against

Show all 24
Even in the Denny and Banknock ward in Falkirk, a town where the Conservatives do not have a solid base, the vote was up 7.9 percentage points, against a Labour drop of 15.9 points. This, though, was not quite enough to snaffle second place in what was yet another SNP victory.
The Tories believe their local election results show they can close the gap in the Scottish polls, even though, according to Survation, the party is 12 points behind Labour, which sits on 26 per cent.
This plays into the idea that Scotland has a sizeable contingent of "shy Tories" – people who vote for the party but won't admit it, even in an anonymous survey. The SNP remains dominant on 51 per cent, widening its lead over Labour by four points since March.
The Tory source said: "Our aim is to get [the Scottish Tory leader] Ruth Davidson into position as the official leader of the Opposition in Scotland. We're doing quite well in council by-elections and have overtaken Labour in a number of areas."
Ms Davidson has long been considered the Conservatives' trump card north of the border and has enjoyed positive approval ratings in Scottish polls. She was also praised for her debut on 23 October as a panellist on Have I Got News For You, the long-running satirical quiz show that has been a testing ground for politicians, some of whom have proved inept at dishing out jokes and ended up the butt of them.
Referring to the referee whose error led to Scotland's exit at the Rugby World Cup last weekend, Ms Davidson was asked: "Is all forgiven?" She pondered and said: "Yes, as long as he never referees for us again."
Register for free to continue reading
Registration is a free and easy way to support our truly independent journalism
By registering, you will also enjoy limited access to Premium articles, exclusive newsletters, commenting, and virtual events with our leading journalists
Already have an account? sign in
Register for free to continue reading
Registration is a free and easy way to support our truly independent journalism
By registering, you will also enjoy limited access to Premium articles, exclusive newsletters, commenting, and virtual events with our leading journalists
Already have an account? sign in
Join our new commenting forum
Join thought-provoking conversations, follow other Independent readers and see their replies