Government plans for private sector market in helicopter search-and-rescue branded 'shocking'
Government wants 'a market-led tailored approach to search and rescue' and says it will be more 'cost efficient'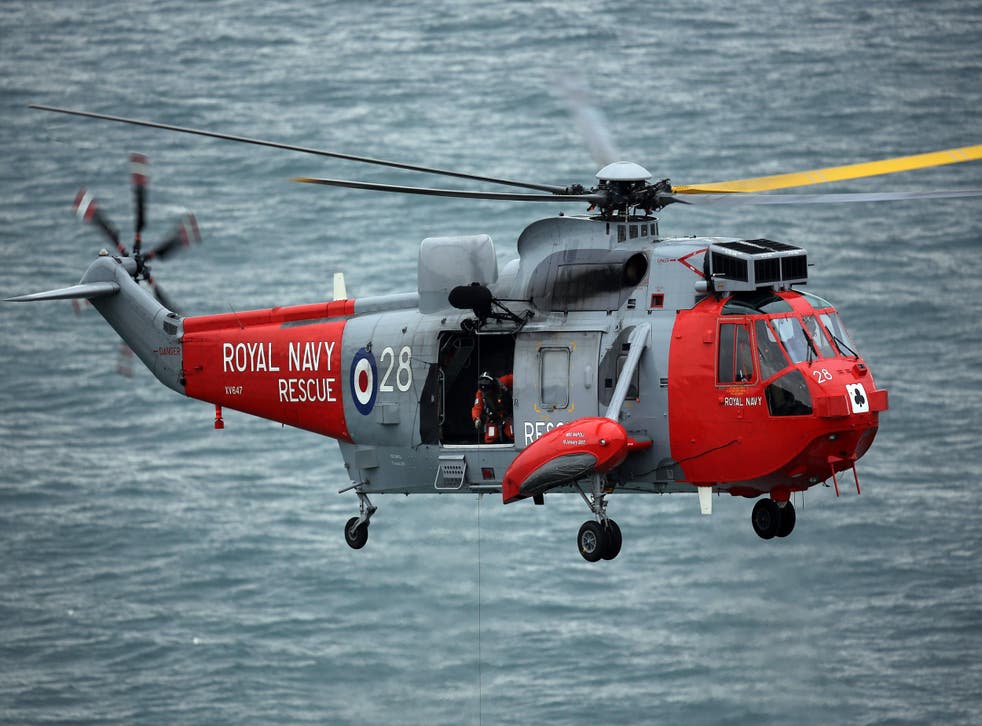 Ministers have been accused of "obsession" with the free market after they unveiled plans to introduce private sector competition into the UK's helicopter search-and-rescue service.
A plan quietly published during the parliamentary recess says that the proposed policy, which could see many different companies competing, will "provide a market-led, tailored approach to search and rescue in a more cost-efficient and innovative way".
Trade unions warned that the plans would lead to "unacceptable commercial pressures" on rescue services, and accused ministers of persisting with a "failed privatisation", while MPs in coastal constituencies described the plan as "shocking".
Since 2015, a single private contractor has operated aerial search-and-rescue services after the contract was removed from the armed forces, which had run it for decades. The RAF search-and-rescue force was ultimately disbanded in 2016.
Under new plans unveiled this week for a second phase of privatisation, even more companies will be allowed to compete, with potentially three or four in the air at a time.
Mick Lynch, assistant general secretary of the National Union of Rail, Maritime and Transport Workers (RMT), told The Independent: "With these plans the government is threatening to expose the core search and rescue service to unacceptable commercial pressures. RMT's seafarer and offshore members are forced to rely on search and rescue in the event of a serious maritime safety incident.
"By 2023 the taxpayer will have spent at least £1.6bn to support the shaky finances of the contractor Bristow who filed for bankruptcy in the US last year. The government appear to have learnt nothing from this failed privatisation and are threatening to make matters worse."
The procurement process for the second phase of privatisation is due to start in early 2021, with a contract set to be awarded in 2023.
The government says the private sector could bring in drones and high-altitude pseudo-satellites to improve search-and-rescue capabilities, though it has also said it is ultimately "agnostic" about how the service is actually delivered.
Labour MP Lloyd Russell-Moyle, who represents Brighton Kemptown, said: "This is absolutely shocking, are they going to be paid according to who rescues most people! The obsession with profit-making in public services needs to stop."
Polls have repeatedly suggested that a large majority of the public opposes privatisation of various medical and emergency services, as well as other public services such as the railways and utility companies.
UK news in pictures

Show all 50
The Department for Transport said the issue was a matter for the Maritime and Coastguard Agency.
A spokesperson for the Maritime and Coastguard Agency said: "The second-generation search and rescue aviation programme (UKSAR2G) will build upon the successes of the current search and rescue helicopter service which has saved thousands of lives since it started in 2015.
"It will continue to serve Her Majesty's Coastguard and the other emergency responders in the lifesaving work they do.
"Through the innovative use of sophisticated sensors on helicopters, planes and unmanned aircraft on this programme, we hope to be able to find people who need our help even more quickly in the future than we can today."
Register for free to continue reading
Registration is a free and easy way to support our truly independent journalism
By registering, you will also enjoy limited access to Premium articles, exclusive newsletters, commenting, and virtual events with our leading journalists
Already have an account? sign in
Join our new commenting forum
Join thought-provoking conversations, follow other Independent readers and see their replies