Almost half of British people want second referendum on Brexit, new poll finds
Survey published as 100,000 people gather in central London to demand vote on final deal
Benjamin Kentish
Political Correspondent
Saturday 23 June 2018 15:39 Comments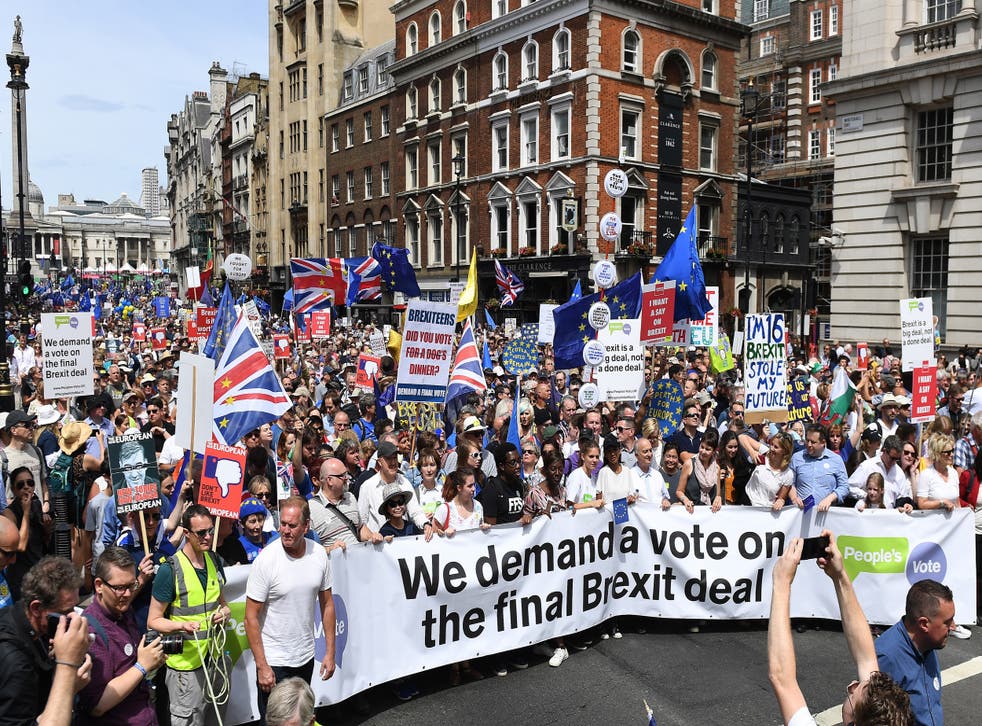 Almost half of British people want a second referendum on Brexit, a new poll has found.
48 per cent of voters said they wanted a say on the final deal Theresa May negotiates with with the EU, compared to just 25 per cent who disagreed.
More than one in three people who voted Leave in the 2016 referendum want a second poll on the Brexit deal, as do two-thirds of those who backed Remain.
The survey also found that 53 per cent of voters now back remaining in the EU, compared to 47 per cent who still want to leave - a boost for campaigners who believe a "people's vote" could stop Brexit.
The poll, carried out by Survation for ITV's Good Morning Britain, found Britons are divided on what they want from Brexit, with 43 per cent wanting the UK to remain in the single market and customs union, while 37 per cent want a harder Brexit in which Britain leaves both.
It was published shortly before tens of thousands of people from across the country gathered in central London to demand a second referendum.
Organisers of the People's Vote March estimated that 100,000 had turned out to oppose Brexit - the largest protest since the 2016 referendum.
The march was led from Pall Mall to Parliament Square by 96-year-old Second World War veteran Stephen Goodall.
Speaking beforehand, he said: "When I look at the politicians in Westminster who are now so recklessly seeking to sever some ties for their own narrow purposes, I feel a sense of shame and despair."
Many demonstrators booed when they passed Downing Street and some chanted "Where's Jeremy Corbyn?".
Once the march reached Parliament, speeches were given by working people from across the UK, including farmers, doctors, students and fishermen.
A number of politicians were also present, including Tory MP Anna Soubry, the Liberal Democrats' Sir Vince Cable and Sir Nick Clegg, and Labour's David Lammy. They were joined by comedian Andy Parsons, actor Tony Robinson and campaigner Gina Miller.
Sir Nick said: "There's a growing momentum saying, 'after two years, that's long enough to have given the Brexiteers their chance, let's now make sure that the people have their say, that there's a people's vote when a final deal is struck'."
Register for free to continue reading
Registration is a free and easy way to support our truly independent journalism
By registering, you will also enjoy limited access to Premium articles, exclusive newsletters, commenting, and virtual events with our leading journalists
Already have an account? sign in
Join our new commenting forum
Join thought-provoking conversations, follow other Independent readers and see their replies