Second poll puts Ukip and Douglas Carswell in lead (again) at Clacton by-election
Lord Ashcroft's poll returned a 32-point lead for Ukip over the Tories, down from a previous poll which showed the party with a 44-point lead
Natasha Culzac
Wednesday 03 September 2014 10:37 Comments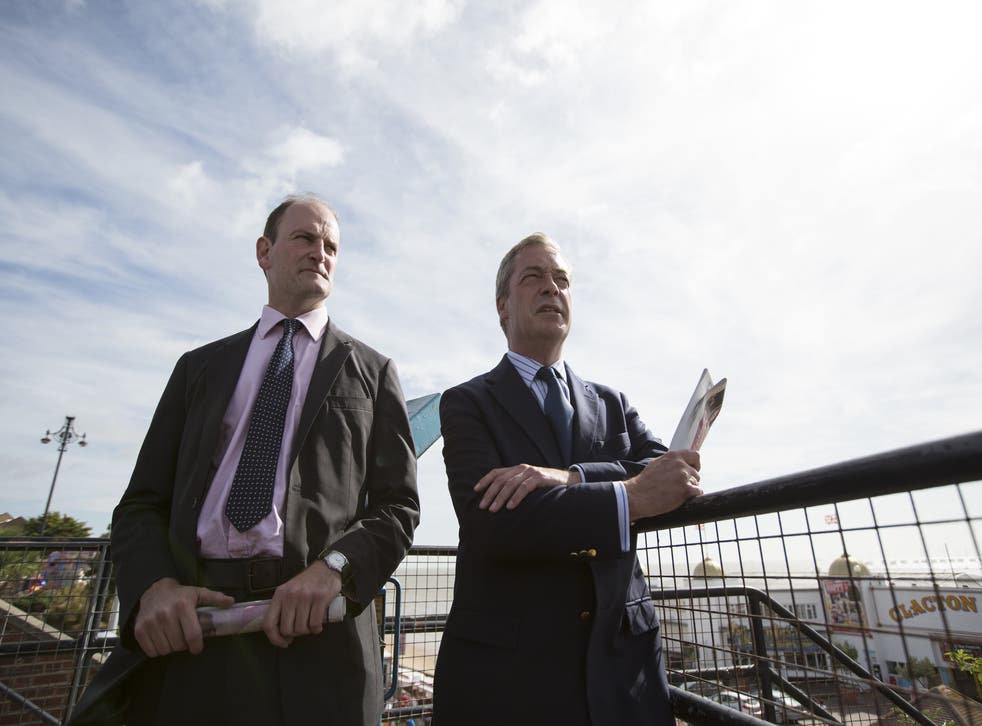 Ukip can almost taste electoral success if yet another poll is anything to go by.
The Euro-sceptic party is apparently on par to win a landslide victory at the Clacton by-election on 9 October, after a Tory defector stood down from his post.
Douglas Carswell, who left the Conservatives last month to join the Ukip ranks, will be running for his previous post under his new party and could become Ukip's first ever MP.
Lord Ashcroft, a Conservative peer, conducted a survey which found that Ukip holds a 32-point lead over the Tories in the Clacton seat.
Writing on ConservativeHome, he said that his Clacton poll showed how "more than half (59 per cent) of those who voted Conservative at the last general election said they would switch to UKIP, as did 45 per cent of 2010 Labour voters.
Ukip's rising stars

Show all 7
"Most of the Clacton electorate, including nearly nine out of ten UKIP supporters and more than half of Tories, expected Douglas Carswell to hold the seat for his new party."
Lord Ashcroft's results follow a Survation poll by the Mail on Sunday, which recorded Ukip having an astounding 44-point lead over the Tories.
It showed 64 per cent of voters were heading for Ukip, with 20 per cent voting Conservative, 13 Labour and 2 the Liberal Democrats.
For Lord Ashcroft, these results were 56 per cent Ukip, 24 per cent for the Conservatives, 16 for Labour and again 2 for the Liberal Democrats.
His poll also found that over half of Clacton's voters believe Carswell to be "more principled than most politicians", with two thirds stating that they intended to vote for him because he is the "best candidate" – reasoning slightly removed from the usual 'dissatisfaction with mainstream politics' one given by Ukip supporters.
The Conservatives have yet to nominate a candidate for the by-election, with Matthew Offord MP today calling on Boris Johnson to step up to the plate, despite the London Mayor having already laughed off the suggestion.
"The first objection really, is that I've already whacked in the CV for Uxbridge. It would seem a bit eccentric.," Mr Johnson told LBC Radio yesterday.
Mr Offord, however, believes Mr Johnson should be a "serious consideration" due to his "individual personality" which "would attract not just the traditional Conservative voter, but many of the other parties – including Ukip," he said.
Prime Minister David Cameron has also said that his party is going to fight tooth and nail for the seat: "Let's go down to Clacton, do the job, fight for every vote," said according to the Mail.
Not all those in Clacton are enthused by Mr Carswell's running, including Ukip's current candidate for the seat - Roger Lord.
He told Buzzfeed that he will be "carrying on" with his fight for the seat.
Register for free to continue reading
Registration is a free and easy way to support our truly independent journalism
By registering, you will also enjoy limited access to Premium articles, exclusive newsletters, commenting, and virtual events with our leading journalists
Already have an account? sign in
Join our new commenting forum
Join thought-provoking conversations, follow other Independent readers and see their replies