Senior Atos executive finds new role at the American company taking over disability benefit
Anger over links between Atos and new disability agency
Hannah Fearn
Friday 31 October 2014 19:00 Comments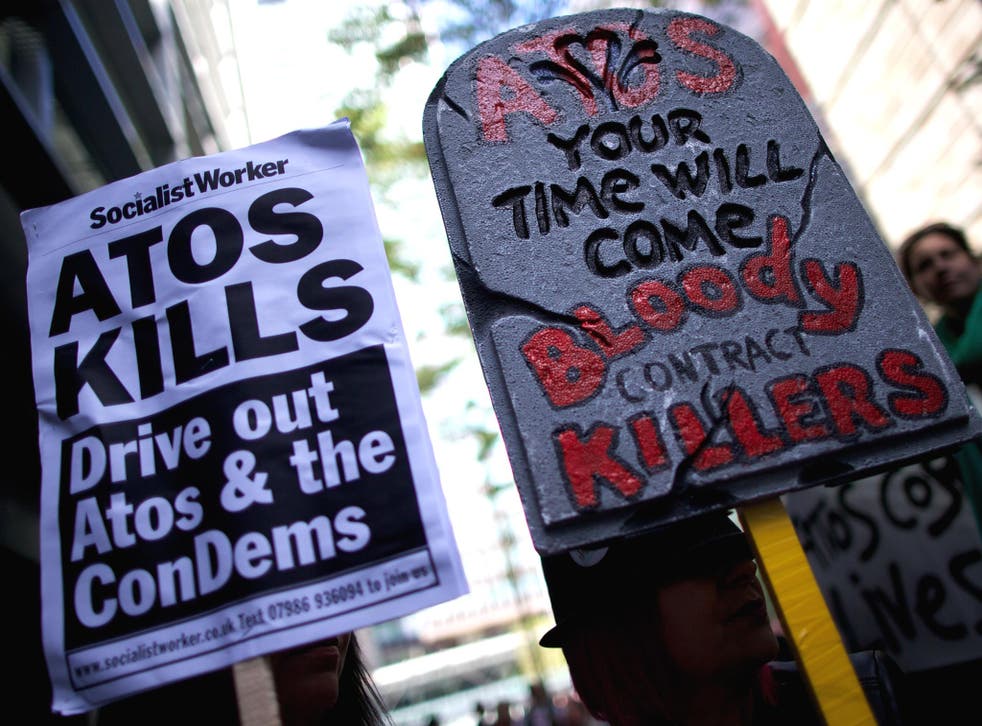 A senior executive at the company used by the Government to oversee disability benefits has attempted to amend his career history amid anger from disability campaigners that the welfare state is now being run by private sector "henchmen".
Professor Michael O'Donnell, the former medical director of Atos, now plays a senior role in the American company Maximus, which has won a £500m Government contract to decide whether disabled people are able to return to work. His previous company walked away from the contract, which was supposed to end in 2015.
Despite Government promises of a fresh start, Professor O'Donnell now works as the medical director of Health Management Limited (HML) which is a subsidiary of Maximus. The company claims he will not be directly involved in the delivery of the new contract, but all reference to Professor O'Donnell's previous role at Atos was removed from his career history on the business networking site LinkedIn this week - which MPs and campaigners fear is an effort to conceal the close relationship between the two organisations.
Tom Greatrex, Labour MP for Rutherglen and Hamilton West, said: "Government has said Atos is leaving and there will be a new start, but this just reinforces my anxieties and concerns that they may have changed but the process and individuals and the level of service are going to be pretty much the same. It suggests to me that they are not being fully open about the continuity between Atos, who failed so spectacularly to provide a satisfactory service, and Maximus."
Professor O'Donnell also previously worked for the controversial insurance company Unum, which campaigners say has had major influence over reform of the welfare state. Last year the Disability News Service obtained a document written by Professor O'Donnell for Unum which stated: "We know that our views and understanding are not yet in the mainstream of doctors' thinking, but Government policy is moving in the same direction, to a large extent being driven by our thinking and that of our close associates."
John McArdle of Disabled People Against Cuts reacted angrily to the appointment: "The same corporate individuals and organisations that drove welfare reform stretching back to before 1997 are the same ones that are in control of it today. It's the same people, it's the same henchmen."
His concerns follow reservations over the fitness of the company to manage the contract, after it was revealed that its US division had been accused of financial irregularities and poor practice across America.
"Nothing surprises us now about the fact that Government seems to have handed a contract to an organisation that's also been found guilty of disability discrimination," Mr McArdle added.
Sue Marsh, the disability blogger who organised the Spartacus Report campaign to highlight the impact of welfare reform on disabled people, said: "It's as though the DWP actively searched out the worst provider they could find. Many have commented that perhaps Maximus were the only company willing to take on such a poisoned chalice. Ultimately, changing work capability assessment provider will do nothing to address the very significant flaws of the employment and support allowance system itself - 700,000 people are now stuck in limbo waiting for an assessment. If this was another issue the public would be up in arms."
The Independent contacted Mr O'Donnell's office but he did not respond to our inquiries.
A spokesperson for the Department for Work and Pensions said: "To make sure there is a seamless transfer from Atos, Maximus will inevitably draw on many of the existing Atos assessors. Mike O'Donnell is medical director of the Health Management Ltd and will not be supporting Maximus in its management of the work capability assessment contract."
A spokesperson for Maximus said Professor O'Donnell would not be involved in administering the new contract. "We are in the process of appointing a chief medical officer for this role. How Mr O'Donnell manages his social media is entirely a matter for him to decide," he added.
Register for free to continue reading
Registration is a free and easy way to support our truly independent journalism
By registering, you will also enjoy limited access to Premium articles, exclusive newsletters, commenting, and virtual events with our leading journalists
Already have an account? sign in
Join our new commenting forum
Join thought-provoking conversations, follow other Independent readers and see their replies