Serco given Yarl's Wood immigration contract despite 'vast failings'
Home Office slammed for new Serco deal
Nigel Morris
,
Rachael Pells
Monday 24 November 2014 20:48 Comments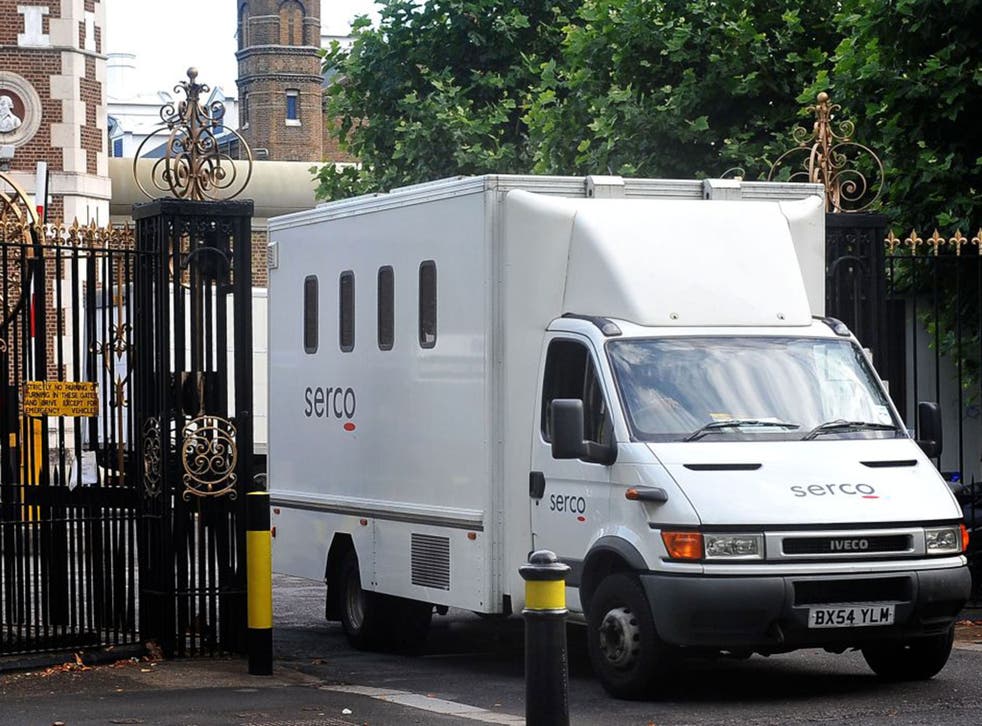 The Home Office has been condemned after it renewed a private security giant's contract to run a controversial women's immigration detention centre where staff have been accused of sexual misconduct.
The decision to pay £70m to Serco to operate Yarl's Wood in Bedfordshire over the next eight years was attacked by MPs, refugee groups and penal reformers.Yarl's Wood, Britain's largest detention centre for women facing deportation, has suffered a succession of damaging allegations since Serco began managing the facility in 2007.
As well as the sexual misconduct claims, they include accusations that women have been locked up for long spells and pregnant detainees held without justification.
Two staff members were fired for engaging in sexual activity with a detainee, while a third was sacked for failing to act when the detainee reported the incident, it emerged last year.
Eleven months ago Serco, which also runs prisons, asylum seekers' accommodation and supervision schemes for offenders, agreed to repay about £68.5m after overcharging the Ministry of Justice for contracts to fit electronic tags.
The Home Office said the company had emerged as the preferred contractor following a "comprehensive re-tendering process". A spokesman said: "Serco's bid demonstrated its offer was the best in meeting quality and cost criteria and providing value for money for the taxpayer."
But Yvette Cooper, the shadow Home Secretary, said the contract should not have been renewed until a full independent inquiry had been held into the centre's operation.
"It is important immigration rules are enforced, but they must be enforced in a humane way that upholds the values of our society. Too often Serco's Yarl's Wood operation appears to have fallen below the high standards we would expect," she said.
Julian Huppert, a Liberal Democrat member of the Commons Home Affairs Select Committee, said: "I think this calls into question the entire process for private management of establishments like this, especially given how few companies bid for these contracts."
Andrew Neilson, director of campaigns at the Howard League for Penal Reform, said: "Serco's reputation has not recovered from the scandal where, alongside G4S, it was found to be overcharging the taxpayer for tagging people in the criminal justice system.
Natasha Walter, of Women for Refugee Women, said: "We have spoken directly to women who say they were abused by Serco staff in Yarl's Wood, and we have heard how women's privacy is constantly invaded by male staff in the detention centre.
"Serco is clearly unfit to manage a centre where vulnerable women are held and it is unacceptable that the Government continues to entrust Serco with the safety of women who are survivors of sexual violence.
Lisa Matthews, the co-ordinator of the human rights organisation Right to Remain, said: "The Home Office has repeatedly re-awarded enforcement contracts to companies with proven track-records of vast failings, abuse and injustice. Rewarding failure allows these companies to act with impunity."
Earlier this year, a UN investigator was blocked from entering Yarl's Wood despite repeated requests. Prison inspectors found many detainees, none of whom have been charged with an offence, have been held for long periods, including one for almost four years, as well of cases of women with mental health problems being detained.
They also discovered that pregnant women had been held without evidence of exceptional circumstances required to justify their captivity.
One of the women had been admitted to hospital twice because of pregnancy-related complications.
Serco said that it would introduce "a series of innovations and improvements" following the award of the contract.
James Thorburn, the company's managing director of home affairs, said: "We understand the challenges of looking after vulnerable and concerned people and we recognise the responsibility that we have in managing the centre in a caring and efficient manner."
Register for free to continue reading
Registration is a free and easy way to support our truly independent journalism
By registering, you will also enjoy limited access to Premium articles, exclusive newsletters, commenting, and virtual events with our leading journalists
Already have an account? sign in
Join our new commenting forum
Join thought-provoking conversations, follow other Independent readers and see their replies