Shadow Cabinet minister disappointed to discover Jeremy Corbyn had 'lifted' words from Richard Heller
The 'lifted' pieces included an attack on the Coalition Government for being "made by the few – and paid by the few"
Matt Dathan
Wednesday 30 September 2015 10:47 Comments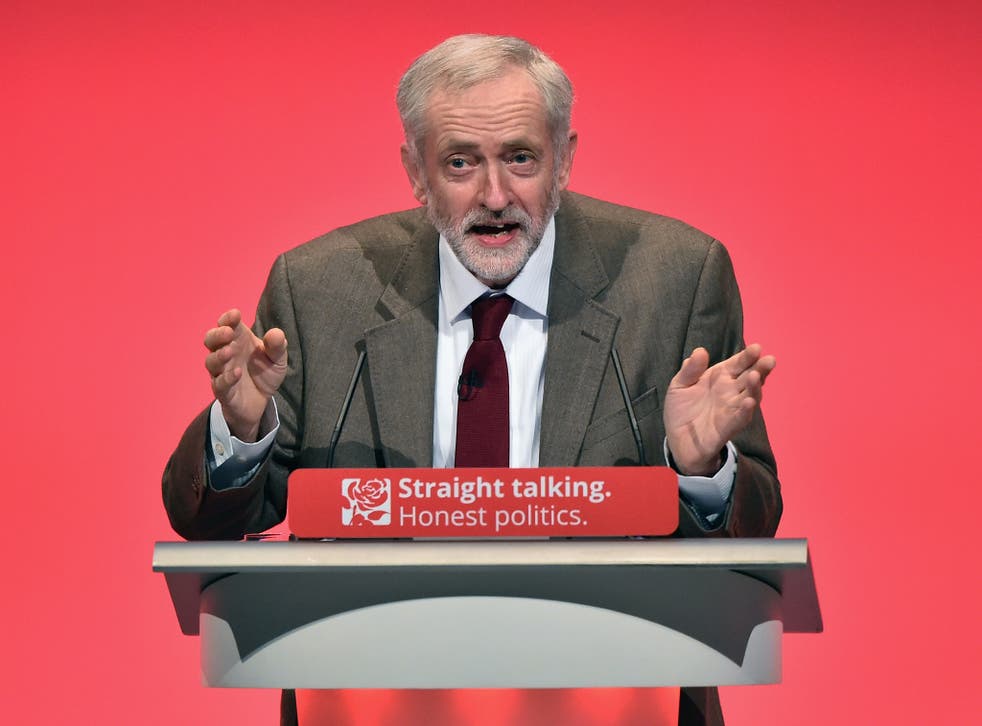 A member of Jeremy Corbyn's shadow cabinet has said he was disappointed to discover the Labour leader had used several passages of words in his keynote conference speech that were offered and rejected by four of the party's former leaders.
The prominent Labour figure said he was "annoyed" that an otherwise enjoyable party conference had been tainted by revelations that Mr Corbyn had "lifted" words from speechwriting expert Richard Heller.
"I was enjoying conference until I found out the leader had lifted some of his speech," the shadow cabinet minister told The Independent, fearing that the negative media headlines it had generated would undermine his pledge to pursue a "straight talking, honest" politics.
At least five chunks were suggested passages for Ed Miliband's speech to the Labour party conference in 2011, which included an attack on the Coalition Government for being "made by the few – and paid by the few".
Mr Heller said he had no idea Mr Corbyn would use his suggestions but said he was "delighted" they had finally been used after being rejected by the four previous Labour leaders.
Mr Corbyn defended using the words, insisting it was "adult politics" to use and draw upon other people's work and said he was "disappointed" the media was "obsessed" with the revelation.
Responding to criticism that it was akin to borrowing someone else's homework, Mr Corbyn told BBC Breakfast: "There were 5,000 words and more in my speech; there were 350 words sent to me by Richard Heller. I knew Richard Heller for many years, I quite like those words, I quite like the way he put them, we changed them around a little bit, we put them into the speech.
"I don't think there's anything particularly bad about that; it's a message I wanted to put forward and it's quite disappointing really that some people are obsessed almost with these 350 words – there were quite a lot of other words as well in the speech and there were references to many other people as well."
He added: "It's not copying anybody's homework. All of us research things, all of us rehearse things, all of us learn from each other.
"Is that such a bad thing? If somebody says something good and interesting and you understand and agree with it and you use it as part of a persuasive argument, I think that's actually adult politics."
Mr Corbyn's team confirmed that Neale Coleman, the Labour leader's head of policy, spoke to the Mr Heller in preparation for the speech, after the Spectator first revealed the similarity between Mr Corbyn's words today and Mr Heller's previous suggestions.
Mr Heller has offered Labour leaders since Neil Kinnock in the 1980s advice on how to attack the Tories in a range of speeches. In 2011 he suggested Mr Miliband use a speech titled 'You don't have to take what you're given' for his speech to the party conference.
Those exact same words were used by Mr Corbyn in his speech today, along with a raft of other quotes – some word for word and others paraphrased – from Mr Heller's advice to Mr Miliband, which he said would be good for "setting out his basic values".
Register for free to continue reading
Registration is a free and easy way to support our truly independent journalism
By registering, you will also enjoy limited access to Premium articles, exclusive newsletters, commenting, and virtual events with our leading journalists
Already have an account? sign in
Join our new commenting forum
Join thought-provoking conversations, follow other Independent readers and see their replies