Jeremy Corbyn's tax policies are 'weak'... admits expert who came up with them
'He hasn't talked about the reform of capital-gains taxation - he hasn't talked about inheritance tax'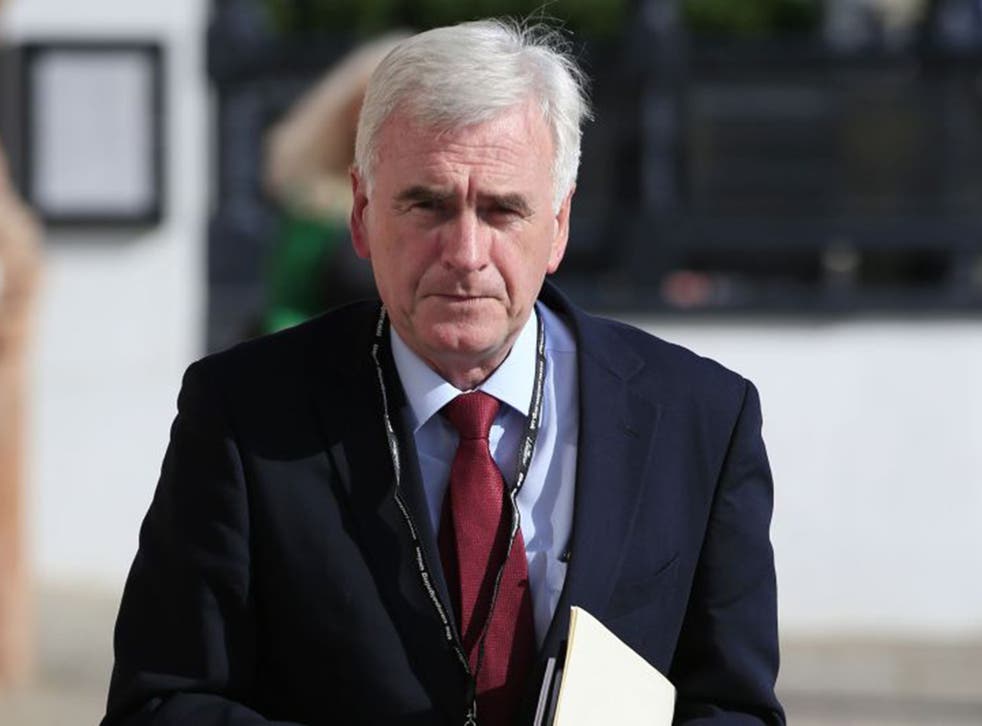 John McDonnell, the new shadow Chancellor, is under pressure to clarify Labour's tax policies, with even the man credited with inventing "Corbynomics" describing the party's tax plans as "weak".
In an interview with The Independent on Sunday, tax expert Richard Murphy, whose ideas were the foundation of Mr Corbyn's economic manifesto in the leadership campaign, said: "The tax area is actually relatively weak at the moment … He hasn't talked about the reform of capital-gains taxation. He hasn't talked about inheritance tax."
Mr McDonnell, who masterminded Jeremy Corbyn's unexpected leadership election victory, is set to make a speech at Labour's annual conference in Brighton outlining his commitment to tackling the deficit.
In a newspaper interview this weekend, Mr McDonnell said Labour would vote in favour of Chancellor George Osborne's fiscal charter on 14 October, a new mechanism that commits governments to running a budget surplus by 2019-20 and in all "normal" times thereafter.
However, Mr McDonnell's position is nuanced, because he only believes there should be a surplus in current – day-to-day – spending and could still borrow for the capital budget to fund infrastructure projects. He says the opposition's plans to balance the books would rely on growth rather than the Government's sharp budget cuts.
The shadow Chancellor also said he would oppose tax rises on low and middle income earners, leaving Labour MPs and tax experts questioning when he will set out more policy detail on tax rises for businesses and the rich.
As well as the fiscal charter, key passages of the Finance Bill, which enacts Budget measures, are to be debated in a House of Commons committee when MPs return next month. The opposition will need to have details on its preferred tax levels ready for these hearings.
Chris Leslie, Mr McDonnell's predecessor as shadow Chancellor, who refused to serve under Mr Corbyn, said: "Before 14 October, the new shadow Chancellor will obviously need the time and space to set out the financial detail of how [a current surplus] is achieved."
At the general election Labour was committed to raising the top rate of income tax from 45 to 50 per cent, a position supported by Mr Corbyn. Some tax experts believe that Mr McDonnell would have to go higher, perhaps to the 60 per cent on earnings over £100,000 he suggested before Mr Corbyn's victory, to reach a surplus.
George Bull, senior tax partner at accountancy firm Baker Tilly, said: "The money has got to come from somewhere – a fiscal balance has always got to come through taxes. If Labour isn't going to hit anything else [other taxes] then they really have to go beyond 50 per cent [on the top rate]."
Mr Bull pointed out, though, that Mr McDonnell might believe he can raise tens of billions of pounds in lost tax. The Government has estimated that there is a £34bn gap between the tax HM Revenue & Customs collects and the amount that is lost through tax evasion, avoidance and disputes.
However, Mr Murphy has calculated this tax gap at £120bn. In his economic manifesto, published during the Labour leadership campaign, Mr Corbyn pledged to plough money into better resourcing HMRC so that officials could retrieve these missing billions.
Despite his excitement that Mr Corbyn had picked up on several of his ideas, Mr Murphy said: "They [Mr Corbyn's team] borrowed some ideas that made sense to them. Are they the complete economic package? No."
He described the Government's plans to cut corporation tax to 18 per cent by 2020, when the UK already has the lowest in the G8 at 20 per cent, as "a complete and utter disaster". He added this means Mr Osborne is "blatantly making Britain a tax haven".
A second Labour MP said Mr McDonnell needs to "clarify, rapidly" his plans, complaining that he had provided "no detail at all" since his appointment two weeks ago.
In an interview with The IoS, shadow education secretary Lucy Powell said Labour had to rebuild trust on the economy to win in 2020. She said: "One of the principle [lessons from Labour's general election defeat] for me is trust on the economy.
"That's a really important thing to get right but I think also people want to be reminded of what our Labour values are and why we've got a different approach to what's on offer from the Conservative Party. They would be two things I would take out of the last election that I think we've got to get right."
A spokesman for Mr McDonnell could not be reached for comment.
Register for free to continue reading
Registration is a free and easy way to support our truly independent journalism
By registering, you will also enjoy limited access to Premium articles, exclusive newsletters, commenting, and virtual events with our leading journalists
Already have an account? sign in
Register for free to continue reading
Registration is a free and easy way to support our truly independent journalism
By registering, you will also enjoy limited access to Premium articles, exclusive newsletters, commenting, and virtual events with our leading journalists
Already have an account? sign in
Join our new commenting forum
Join thought-provoking conversations, follow other Independent readers and see their replies