Shadow Northern Ireland Secretary to attend Sinn Fein party conference
Vernon Coaker will travel to Dublin for the party's Ard Fheis gathering on the centenary of the Easter Rising
Tom McTague
Political Editor
Saturday 20 February 2016 22:04 Comments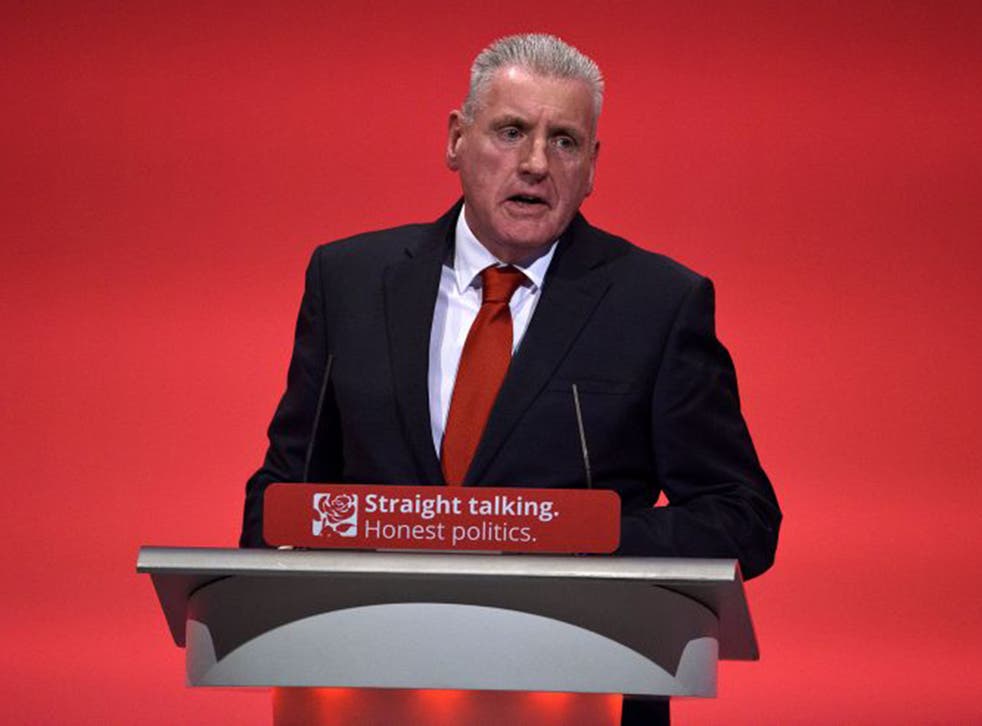 The Labour Party has risked a fresh row over Irish Republicanism after agreeing to attend Sinn Fein's annual party conference in Dublin on the centenary of the Easter Rising.
The shadow Northern Ireland Secretary, Vernon Coaker, will travel to the Irish capital on 22 April to attend the party's special Ard Fheis gathering, The Independent on Sunday can reveal. However, he will not be involved in any of the commemoration services for the uprising and has also been to the other Northern Irish political party conferences this year, including the DUP, UUP and SDLP. He will be attending the Alliance gathering in March.
The Sinn Fein conference marks the anniversary of the bloody 1916 uprising, which was put down by the British Army at the cost of 450 lives and sparked an armed insurrection that eventually led to Ireland's independence from the UK. Mr Coaker's attendance at the event will raise fresh concern among Loyalists in Northern Ireland about Jeremy Corbyn's leadership of the Labour Party. After he was elected leader last year Mr Corbyn was condemned in Parliament over his support for Sinn Fein during the 1980s, when the IRA carried out bombing campaigns in mainland Britain.
In 2003 John McDonnell, now the shadow Chancellor, said members of the IRA should be honoured for their "bravery" in bringing the government to the negotiating table. He has a copy of the iconic 1916 proclamation of Irish independence, Poblacht na hEireann, on his constituency office wall.
The commemorations for the 1916 uprising began in Ireland last year and will continue until August but the main event takes place on Easter Sunday outside the General Post Office in Dublin. It will begin with the reading of the 1916 Proclamation by a Defence Forces officer.
The Irish president Michael D Higgins will lay a wreath on behalf of the people of Ireland, followed by a minute's silence for all those who have died taking up arms against Britain. The national flag will be raised to full mast and the national anthem played before a parade led by the Defence Forces in full military display. The ceremony will end with an Air Corps flypast and a 21-gun salute. On 23 April, Sinn Fein president Gerry Adams is due to deliver a televised address to the Irish nation followed by a ceremonial reading of the proclamation of independence from Britain.
The Easter Rising, which has been described as the foundation stone of Ireland's independence, lasted for six days before being crushed by British forces. It led to a landslide victory for Sinn Fein in the December 1918 general election to Westminster, the war of independence against Britain and the creation of the Irish Free State in 1922.
Mr Coaker said: "As shadow Secretary of State I am invited to and attend all the party conferences of the main political parties in Northern Ireland."
DUP MP Jeffrey Donaldson said it was a matter for Mr Coaker's judgement. He added: "The DUP has made its position clear: we will not be attending this event but we will be at events of a discursive rather than celebratory [nature]."
Register for free to continue reading
Registration is a free and easy way to support our truly independent journalism
By registering, you will also enjoy limited access to Premium articles, exclusive newsletters, commenting, and virtual events with our leading journalists
Already have an account? sign in
Join our new commenting forum
Join thought-provoking conversations, follow other Independent readers and see their replies