Who is Sharon Graham, the Unite union's new leader?
New boss has previously warned Labour Party there will be no 'blank cheques'
Matt Mathers
Wednesday 25 August 2021 15:40 Comments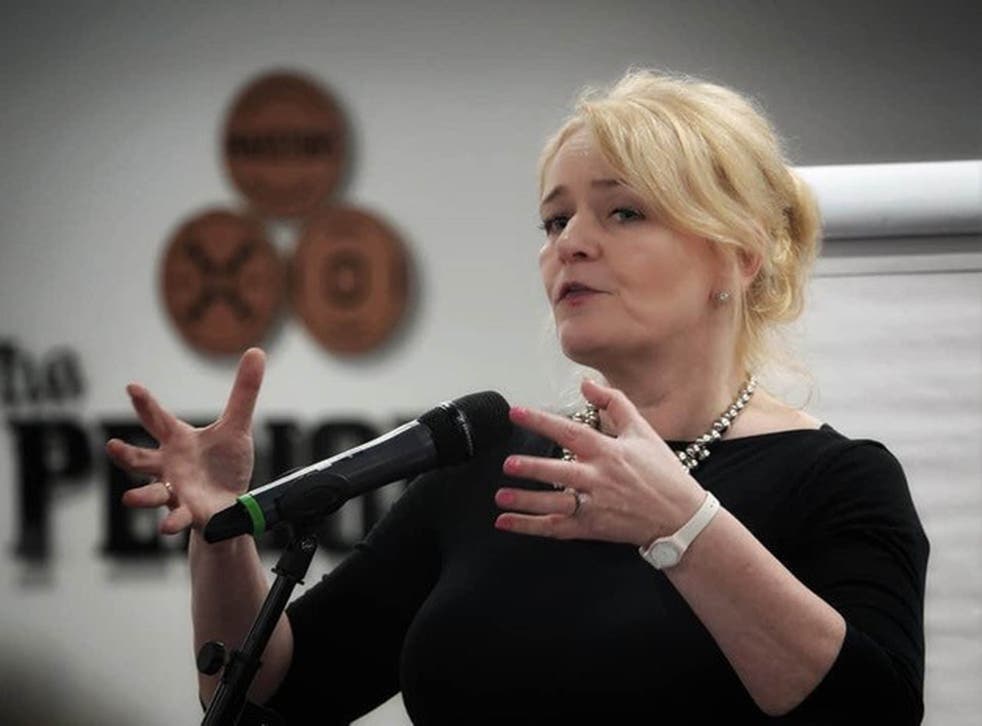 In an unexpected result, Sharon Graham has won the election to become the next leader of Unite, one of the country's most powerful unions and the Labour Party's biggest source of funding.
Born and raised in London, Ms Graham, 51, replaces Len McCluskey as general secretary after beating his favoured candidate Steve Turner and Gerard Coyne, the candidate most sympathetic to Keir Starmer's leadership and who vowed to maintain funding to Labour.
Ms Graham is a leftwinger whose victory has been enthusiastically welcomed by Momentum, the hardline campaign group that backed the leadership of Jeremy Corbyn.
And while Labour moderates and allies of Mr Starmer insist they are "relaxed" about the result, Ms Graham's leadership of Unite is likely to be less than straightforward for the current leader of the opposition.
Ms Graham, who has previously accused Mr Starmer of "failing workers", has said she is prepared to work with the Labour leader, but issued a stark warning to him in the same breath: there will be "no more blank cheques" for the party.
Labour relies heavily on Unite for funding and has, according to the Daily Mirror, received £131,000 from the union between January and March this year alone, although those figures pale in comparison to the roughly £500,000 given to the party during Mr Corbyn's leadership from 2018-2020.
The 51-year-old has said that funding for the party will be conditional and based on results, which - apart from Batley and Spen - haven't been going well for Mr Starmer, although recent polls show the gap between Labour and the Conservatives is closing somewhat.
Throughout her campaign, Ms Graham, whose mother is Irish and whose father is from northeast England, has promised that her leadership will focus on Unite's members and pivot away from the rough and tumble of Westminster politics and Labour's internal disputes. But future events could well change that.
Her leadership comes at a time when Mr Starmer is being accused of jobs "hypocrisy" after it emerged that party staffers are facing redundancy and are being replaced by workers on insecure contracts as the party attempts to repair its battered finances.
Following confirmation of the result, outgoing general secretary Mr McCluskey congratulated Ms Graham, saying: "I thoroughly congratulate Sharon on her victory, which reaffirms her as the most formidable campaigning force in our movement.
"I have every faith that she will run our union in a manner true to its fighting-back spirit."
He added: "Sharon comes into office at a time of great uncertainty for our members and a challenging political environment. From assaults on workers' rights to the fear that the end of furlough will bring with it increased and needless unemployment, the in-tray is full."
Ms Graham, 51, was born and brought up in Hammersmith, west London, where she now has her family home.
Her mother is from County Limerick and her father is from Newcastle. They met when working in the hotel industry. She has two sisters and a brother.
Her mother is fond of saying she always knew Ms Graham would end up fighting for her rights because at the breakfast table in the battle for the cream from the milk, she almost always won against her siblings.
Ms Graham went to the local Hammersmith comprehensive and left school at 16 to work as a waitress.
She had her first experience of union work aged just 17 during an unofficial strike when she led her first successful walkout, about wages and working hours.
Ms Graham said: "I'll never forget that. I was 17. How I got away with it I don't know but I did. You can't persuade employers just by weight of argument. The restaurant owner ignored us for months but did a deal after the walkout."
After 20 years in Unite - firstly in the Transport and General Workers' Union before the merger to create Unite - Ms Graham became executive officer heading up its organising, or "leverage", department.
It has been described as the industrial action wing of Unite, and has been credited with 15 major victories using strategies and tactics that go well beyond the traditional approach of strike action.
In last year's "fire and rehire" dispute with British Airways, Ms Graham said she won concessions by using MPs to support motions against the airline's tactics and then going face to face with the executives of IAG - the parent owners of BA now - in their Europe HQ, to tell them they were about to lose landing slots at Heathrow.
Ms Graham is now leading a campaign against Amazon for union recognition after setting up a hotline for its workers.
She said: "These workers need a union to defend their rights."
Other campaigns she has led have covered illegal closures, victimisation of union leaders, and the preservation of national wage bargaining.
Colleagues say that under Ms Graham's leadership, one of the most sophisticated pay bargaining tools has been developed, giving local union officials company information to help with pay claims.
A monthly bulletin provides information about companies, prices and other economic variables which are vital to local bargaining.
Ms Graham said she has "simple beliefs" that trade unions exist to fight bad employers and the way to do that is to build the strength of the union at the workplace first.
She said: "I have built Unite through the organising department, at the workplace, across industries, fighting bad bosses.
"It's time the whole union, the whole machine of the union, was dedicated to fighting for a better deal, better pay and conditions for all union members, at the workplace."
She has said the fight for jobs, pay and conditions is what it says "on the union tin".
Asked recently about Unite's involvement in the internal wrangles of the Labour Party, Ms Graham said: "As far as I know the Parliamentary Labour Party has never won a wage rise for a group of workers, never got a sacked shop steward reinstated, never led a strike.
"My priority is to build the union as never before and to make sure the government has to listen to the voice of ordinary workers. Besides, the mathematics are clear. There are 363 Tory MPs in the government and 199 Labour MPs in opposition. Why are we obsessing about the Labour Party? It's the government we need to shift."
Additional reporting by PA
Register for free to continue reading
Registration is a free and easy way to support our truly independent journalism
By registering, you will also enjoy limited access to Premium articles, exclusive newsletters, commenting, and virtual events with our leading journalists
Already have an account? sign in
Join our new commenting forum
Join thought-provoking conversations, follow other Independent readers and see their replies