Sir Albert Bore: Resignation of Birmingham City Council's Labour leader plunges city into turmoil
Sir Albert Bore had faced growing criticism over child protection failures and the Trojan Horse affair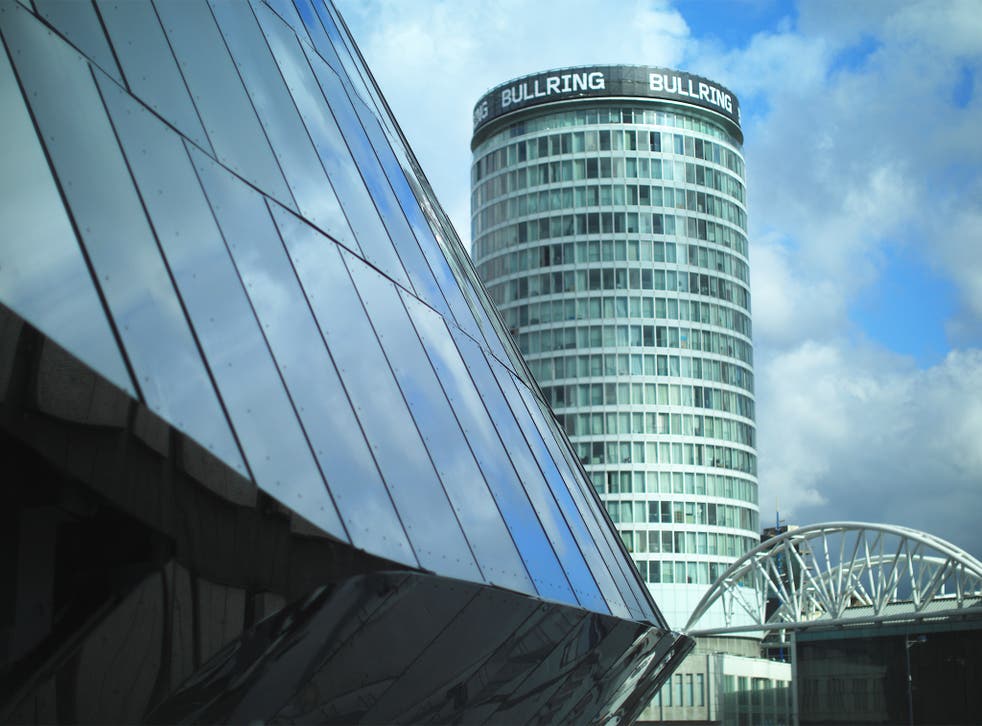 The resignation of Birmingham City Council's Labour leader has plunged the city into political turmoil as the West Midlands waits to hear whether Chancellor George Osborne will approve its £8bn devolution bid.
Sir Albert Bore announced late on 13 October that he plans to step down in December after his cabinet held three crunch meetings in 24 hours to discuss the leadership crisis at Britain's second city.
His announcement follows a week of chaos that has seen two senior Labour figures resign and others threaten to walk out.
The council – one of seven in the region that are joining forces to form a combined authority as part of a bid to win devolved powers from Whitehall – is awaiting the outcome of a Government-backed review into the city's problems.
Sir Albert had already been under pressure over criticism of child protection failures and the Trojan Horse affair, in which the council was accused of turning a blind eye to attempts to impose a strict religious ethos in schools.
Labour figures have told The Independent that while Sir Albert has made a huge contribution to the city during two long spells as leader, there was growing concern that his continuation in the post could prevent Birmingham from moving forward.
Birmingham's rival for second city status, Manchester, is already ploughing ahead with its own devolution plans as part of Mr Osborne's Northern Powerhouse agenda.
UK news in pictures

Show all 50
Sir Albert announced that he was stepping down to bring "stability to the council" only days after saying the Government would have to "drag him" from office.
He said: "I've had a vision for Birmingham and I want to ensure someone else is in place to see through the work that I've started."
In December last year, a damning report by senior civil servant Bob Kerslake found Birmingham was failing to get basic services such as street cleaning and bin collections right, and that it had poured cash into big city centre projects, while letting down the residents in poorer areas of the city.
His report followed growing concern about the Trojan Horse affair, poor finances and the council's inability to improve child protection services, which were branded a "national disgrace" by Ofsted.
The Government gave Birmingham 12 months to improve and warned that drastic action could be taken – including breaking up the authority. Eric Pickles, the then Local Government Secretary, even warned that the city risked "losing its status as our second city for good".
In July this year, the Birmingham independent review panel said the council was failing to improve quickly enough and poor leadership was holding back attempts to deal with problems. It is expected to report formally in December this year.
Sir Albert came under heightened pressure in the last week after cabinet member James McKay and Labour group secretary Valerie Seabright resigned. Mr McKay said in his resignation letter that the leader had "shut himself away from colleagues" and lacked the "political vision" to take the city forward.
Sir Albert was also been criticised by the leader of a scrutiny committee, who accused him of leaving unanswered questions over a multi-million pound IT contract. An election for a new leader is now set to take place.
Birmingham's Conservative leader Robert Alden has warned that the city needs more than just a new leader. He said: "A change in leader will not be enough. We need a total change in direction to take us where the city should be going."
Senior Labour figures in the West Midlands have now also called for the council to take a new direction. West Midlands MEP Sion Simon said Sir Albert's decision to step down was "statesman-like".
He added: "Our problems remain grave and our untapped potential enormous. Labour and the city needs a new leader and that new leader needs to take us to a new place, in which our region catch up with the devolution long enjoyed by other parts of the country."
Edgbaston MP Gisela Stuart also praised Sir Albert's contribution to the city and added: "Having taken the city through a difficult time, it just got to a point where he realised the particular leadership he was offering was not what the people around him thought was appropriate after so many years."
The Communities Secretary, Greg Clark, said that Sir Albert had given "distinguished and devoted service" and his decision to step aside at this point was "a tribute to his first concern for the city".
Join our new commenting forum
Join thought-provoking conversations, follow other Independent readers and see their replies