Sir Ivan Rogers quits: UK's top ambassador to EU resigns before start of Brexit negotiations
Shock resignation follows major row over Sir Ivan's warning that a post-Brexit EU trade deal could take a decade to achieve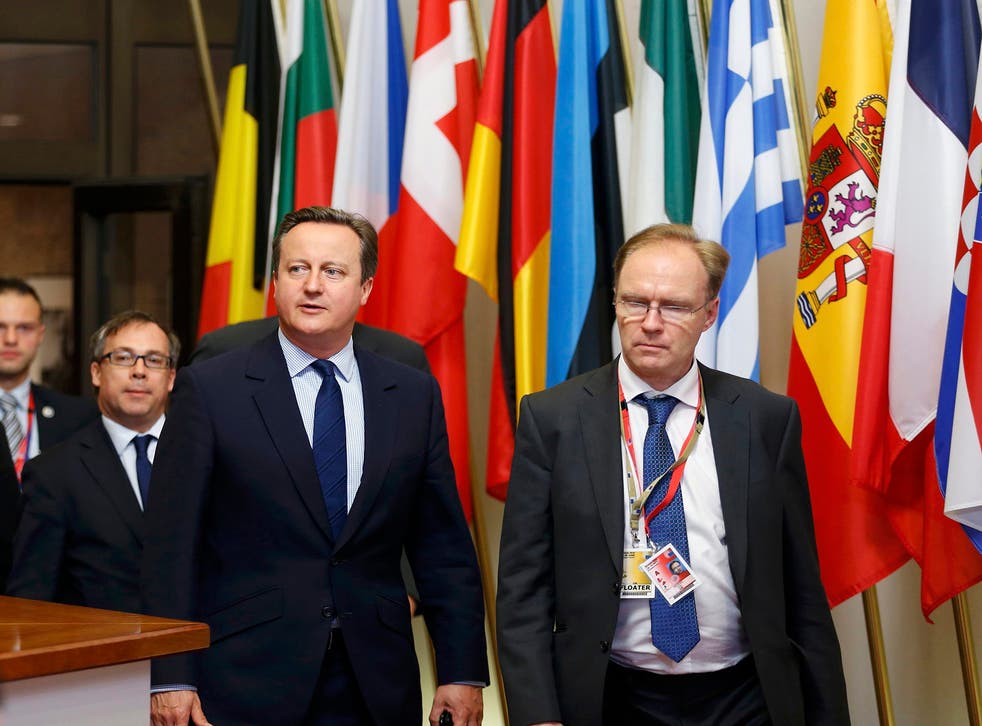 Britain's ambassador to the EU has suddenly resigned, just weeks after his warning that striking a new trade deal could take a decade sparked a major row.
Sir Ivan Rogers was expected to stay in his post until at least the end of 2017, but has walked out early - leaving officials in shock over the loss of one of Britain's most experienced EU negotiators.
He did not explain the reasons for the move, according to people who have seen his note to diplomatic staff, the Financial Times reported.
However, clear tensions with No.10 were laid bare when he warned it could take until the early mid-2020s for the EU to agree and ratify a comprehensive trade deal with Britain.
The Daily Mail claimed the knives were out for Sir Ivan, with demands for him to be replaced with "a diplomat who is more energetically pro-Brexit".
There was even speculation that his comments were deliberately leaked to the BBC, last month, to undermine his position.
Today, a Government spokesman said: "Sir Ivan has taken this decision now to enable a successor to be appointed before the UK invokes Article 50 by the end of March."
Nevertheless, the loss of Sir Ivan will be seen as a blow to the Treasury and the rest of the Government as it wrestles with what Theresa May has promised will be a "smooth" Brexit.
Hilary Benn, the Labour chairman of the Commons Brexit Committee, told the BBC the resignation was "not a good thing".
Mr Benn said "I think that it means that the Government will have to get its skates on to make sure there is a replacement in place so he or she can work with Sir Ivan in the transition, the handover,"
The United Kingdom Permanent Representation to the European Union (UKRep) is the Government's face in negotiations that take place in Brussels.
Sir Ivan Rogers represented the UK at weekly meetings in the EU Council, dealing largely with political, financial, justice, policing and foreign policy issues.
But, last month, he infuriated Eurosceptics when it emerged he had warned the Government a free-trade deal with the EU could take full decade to achieve.
Publicly, Downing Street insisted the ambassador had simply been communicating the views of some European leaders, rather than giving his own assessment.
But Dominic Raab, a former minister and a Leave campaigner, said Sir Ivan was "scarred by his own pessimistic advice in the past".
A recent book about the EU referendum campaign revealed how some Conservatives blamed Sir Ivan Rogers for preventing David Cameron from demanding more from his EU renegotiation.
What experts have said about Brexit

Show all 11
In 'All Out War', the Sunday Times political editor Tim Shipman quoted one Cameron adviser saying he had been "beholden" to Sir Ivan and his own EU adviser, Tom Scholar.
The extract read: "They were status quo. They were happy to take "No" for an answer, happy to believe things weren't possible when they could be possible.
"I've lost count of the number of times Ivan threatened to resign."
The ambassador was said to have gone over advisers' heads directly to Mr Cameron, after dismissing their arguments.
"He would send emails that were the stuff of legend, saying why didn't we know anything? We were just politicos, we didn't understand," the aide added.
Join our new commenting forum
Join thought-provoking conversations, follow other Independent readers and see their replies