Sketch: Margaret Hodge gets her teeth into former HSBC executives in Public Accounts Committee hearing
'I really do think you should think about resigning and if not, I think the government should  sack you,' Hodge tells BBC chair
Donald Macintyre
Monday 09 March 2015 22:36 Comments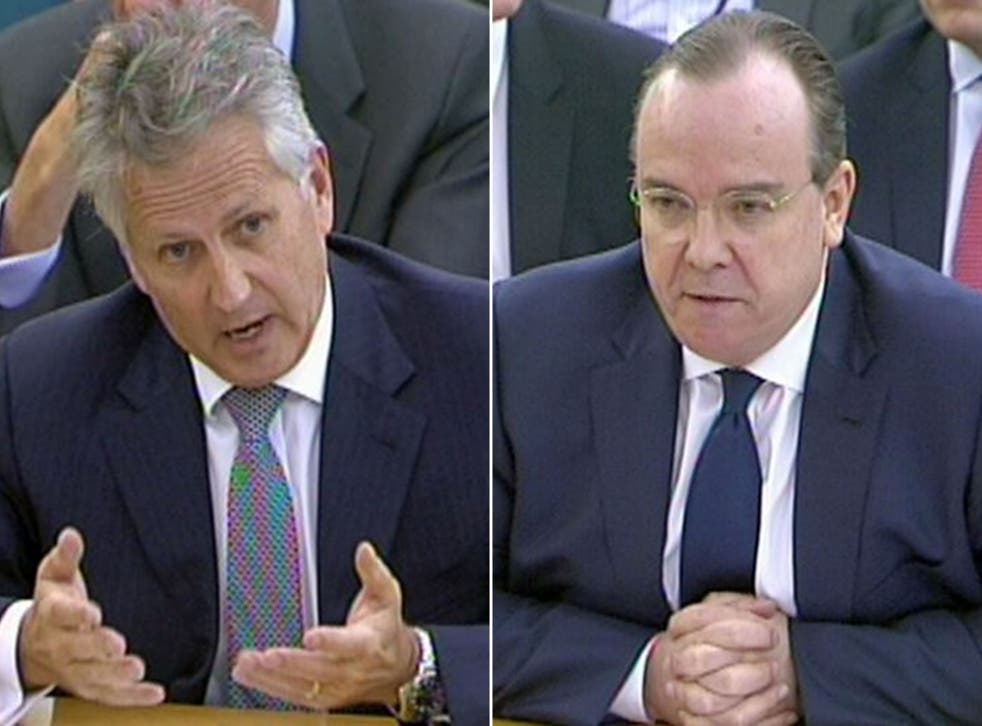 Having seen captains of industry reduced to gibbering imbecility by Margaret Hodge, Rona Fairhead must have been apprehensive about appearing before the Public Accounts Committee today. But this was a train wreck beyond her worst expectations.
In top "Off-with-her-head" form, Hodge told the BBC chair, who was on HSBC's audit committee when the clients of the Bank's Swiss subsidiary were dodging tax "on an industrial scale": "Having watched your performance this afternoon… either you knew, ("I categorically deny that," interjected Ms Fairhead) "Or you didn't know. And in that case you are either incredibly naive or totally incompetent. I don't think… your performance here… gives me the confidence that you should be the guardian of the BBC licence fee payers' money… I really do think you should think about resigning and if not, I think the government should sack you."
The problem for Ms Fairhead and the former HSBC global private banking head (unspoken motto: "Switzerland was a faraway country of which I knew nothing") Chris Meares, who was unsighted on what was going on "because no one flagged it up", was that they never seemed to ask the right questions about just how the Swiss subsidiary was contributing a third of private banking's escalating profits. Or why 14,000 clients had "hold mail" accounts which stipulated that they never got anything in writing.
Sadly for Meares, HSBC CEO Stuart Gulliver – who has subsequently reduced such accounts to 12 – admitted freely that "hold mail" was standard for tax evaders, because the "ruddy evasive" (copyright M Hodge) Meares had given more ingenious explanations, including fear of kidnapping and having "multiple homes."
The Meares/Fairhead defence was that the "policy" was fine. And it was up to relevant executives to bring any malpractice to light. As in "look my chaps are running a fabulous racket in Switzerland. Illegal, I know, but damned profitable." One "policy" seemed to be – contrary to the top brass being paid fabulous salaries for the responsibility – that the further you were away from what Ms Fairhead called the "front line" the less you could be expected to know.
But then we were, as Labour's Anne McGuire said, in a "banking bubble". Mr Gulliver was asked about reports that people had been able to take £5m out in cash without questions being asked, presumably before he curbed such amounts to £250,000. Well. he said, that wasn't "automatically" to evade tax. For the Middle East super-rich that could be "normal". True. It might be just to buy a dozen perfectly innocent ground-to-air missiles.
Register for free to continue reading
Registration is a free and easy way to support our truly independent journalism
By registering, you will also enjoy limited access to Premium articles, exclusive newsletters, commenting, and virtual events with our leading journalists
Already have an account? sign in
Join our new commenting forum
Join thought-provoking conversations, follow other Independent readers and see their replies