Sketch: Jeremy Corbyn talked in a ramble and he dressed like a rambler
The Leader of the Opposition addressed the British Chamber of Commerce in the same room where he was anointed Labour Leader and the best that can be said is that he wasn't wearing a tracksuit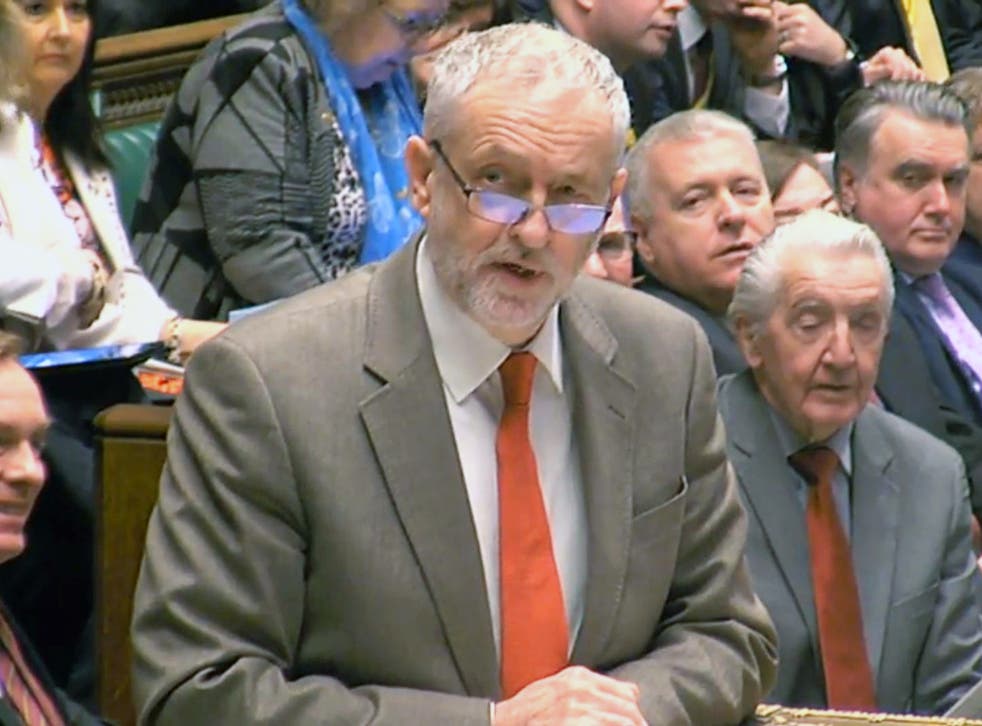 It is now a firmly established principle of political life that a person's suitability for high office is best measured through their capacity to speak without notes. It is only a historical quirk that elections continue to be held at all, and the seals of office not merely handed to whoever can talk for the longest without recourse to a cuecard.
But Jeremy Corbyn is right when he says that it is time for a new kind of politics, and that kind of politics will be one in which it will be required not merely to speak without notes but without pauses.
In theory, Jeremy Corbyn's speech to the Chamber of British Commerce lasted twenty five minutes, but should the entire transcript ever be produced it will pose a significantly higher risk to the structural integrity of the internet than the denuded rump of Kim Kardashian West.
It can only really be described as meandering at high speed. It was as if the entirety of half-baked left-wing economic thought was spread out like the surface of a lake and Corbyn was a lump of sodium cast upon it.
"I stand on a platform made of three pillars of financial ecology," he began, I think. Unfortunately even my dictaphone fell asleep. "Reforming a national investment bank with strong communities and a break from failed orthodoxy and speculative finance with a lopsided economy that understand the importance of innovation and supporting small businesses."
What couldn't be ignored was that this was the very same room where, six months ago, he had formally ascended to the Labour Leadership. "The conveyor belt moves on and I've just been elevated up to here," he said as he took to the lectern, which several people afterwards considered must have been some sort of acknowledgement of that fact, but no one could be fully certain.
It was his first speech to an audience of business people, who are, in general, sceptical as to whether chap four decades into his own personal struggle to overthrow global capitalism is really on their side. If ever a strong message were needed, it was here. "My watchword is this," he told them. "Promotion of human rights and democracy around the world."
He was not the first politician to give a rambling speech. He was arguably the first to do it while actually dressed as a rambler. Corbyn observers have long given up hope of any rapprochement between neck and shirt collar, but never before has the tie been hung so loose around the neck that it is impossible not to consider whether a trap door might swing open beneath him at any point and that be that. (Unfortunately, at least for those with even the vaguest hope that Labour might one day govern again, it didn't happen.)
Pressed at the end, for an 'elevator pitch' on what Labour might do for business, his answer stretched to two and a half minutes. "We're going to shape a new Britain," it began. "It can not only be done by public and private sectors." Just this bit took him far beyond the viewing platforms at the Burj Khalifa. By the time he was on to "the spirit of practical cooperation that drives local chambers of commerce" he was sharing a vegan space lasagne with Captain Tim Peake. Then it was on to "innovative developers in their back gardens with glass ceilings", an idea that once developed had carried him right out into open space, past the monkeys sitting diligently at their typewriters, before landing safely in a distant cosmos on an alternate Earth, where a chap called Jeremy Corbyn is gently but determinedly destroying the Labour Party without so much as a pause for breath.
Register for free to continue reading
Registration is a free and easy way to support our truly independent journalism
By registering, you will also enjoy limited access to Premium articles, exclusive newsletters, commenting, and virtual events with our leading journalists
Already have an account? sign in
Join our new commenting forum
Join thought-provoking conversations, follow other Independent readers and see their replies