Sketch: The longest PMQs ever, but don't bet on it being Jeremy Corbyn's last
It took only the straightforward asking of a straightforward question to leave the Prime Minister floundering like Ronnie Barker in 'Open All Hours', but it wasn't Corbyn who asked it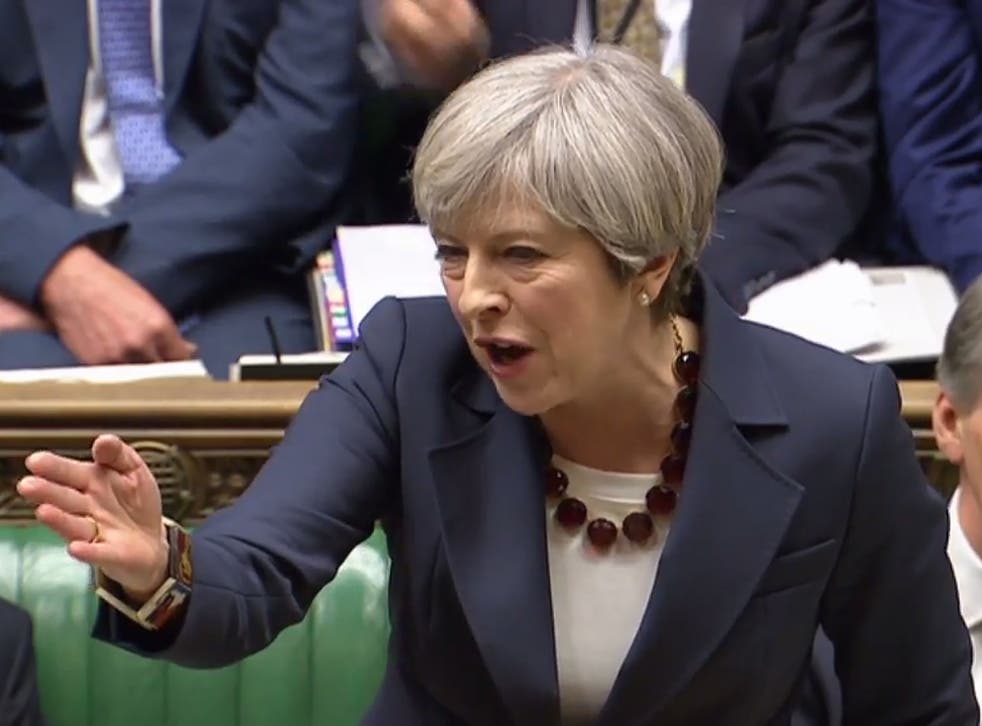 It was testament to Theresa May's attention to detail that, as John Bercow allowed Prime Minister's Questions to extend beyond its now customary nine hours and into a tenth, the Prime Minister was able to tweak as appropriate her farewell thanks to various retiring Tory grandees.
Gerald Howarth was standing down after "34 years of service" nine of which had come during this particular session of PMQs.
Sir Alan Haselhurst was thanks for his "forty-four years of service", having first been elected to the constituency of Saffron Walden during Jeremy Corbyn's second question.
There is an old parliamentary tradition in which speakers are "dragged to the chair", a charming nod to the frequency in bygone years with which they were executed by the monarch. John Bercow will surely be the first to dragged out of it.
Activists who cement themselves in to condemned buildings have been known to show less reluctance to move on.
Whether Mr Bercow's bid for re-election to his position in the next Parliament will be successful is not yet clear, but from the moment at which the SNP's Mhairi Black rose to ask why she is still not yet entitled to a state pension at the age of 76, it became something of a moot point.
An air of anticipation had mysteriously been allowed to build before this, the final Prime Minister's Questions before the election. A thinning band of Labour moderates who still hope for a bright future somewhere beyond Armageddon had allowed themselves to think they might be counting down to the end of Corbyn, in much the same way as half the country spent the last half of last year wanting 2016 to be over, apparently unaware that coming after it would be 2017.
It's possible even Corbyn himself has considered it could be his last, given he marked the occasion by returning for the first time in a while to his presumably still burgeoning postbag.
"What has the Prime Minister got to say to Christopher?" he enquired at one point, stabbing his finger and his eyebrows over the despatch box with admirable symmetry.
"If I was you, I'd listen to what Maureen has to say," he howled later, over the usual noise of backbenchers united in the usual cocktail of uproarious laughter both phony and genuine.
The health service... pensions.... child refugees... the Labour leader took a relaxed meander around some issues where he might hope to make ground, but never managing to escape from the political prison that has always trapped these exchanges: that however useless the Prime Minister might be (and she is), there are so very few people out there who think Jeremy Corbyn would be less so.
The SNP's Angus Robertson gave a taste of what might be to come, if a credible albeit tiny opposition can eventually be pieced together from whatever few uncharred fragments might remain come 9 June.
It only took the straightforward asking of a simple question – will she guarantee the triple lock on pensions will be in the manifesto – to leave this supposedly safe pair of hands, this strong and stable leader, floundering about for an answer like Ronnie Barker in Open All Hours.
"Erm, urr, it's, erm, only the Conservatives that, erm, urr..."
After those long months ruling out a snap election, it was as if the Prime Minister's mouth just refused to be moved into the shapes that would be required for it to say yet another thing that would turn out not to be true.
"In Scotland, the elderly, um, err, strong government, strong economy, erm, err..."
The corners of her mouth moved up and down as if on bits of tight string. Then her eyebrows joined in, perhaps in sympathy, perhaps to distract attention.
It was only the latest very clear indication that she is not up to the job. It might – might – just be that someone from the Labour ranks might yet come along and show how obvious that is.
Register for free to continue reading
Registration is a free and easy way to support our truly independent journalism
By registering, you will also enjoy limited access to Premium articles, exclusive newsletters, commenting, and virtual events with our leading journalists
Already have an account? sign in
Register for free to continue reading
Registration is a free and easy way to support our truly independent journalism
By registering, you will also enjoy limited access to Premium articles, exclusive newsletters, commenting, and virtual events with our leading journalists
Already have an account? sign in
Join our new commenting forum
Join thought-provoking conversations, follow other Independent readers and see their replies