'Slimline' Queen's Speech to push financial reform
Election-year legislative programme to prioritise public debt and social care
Andrew Grice
Friday 13 November 2009 01:00 Comments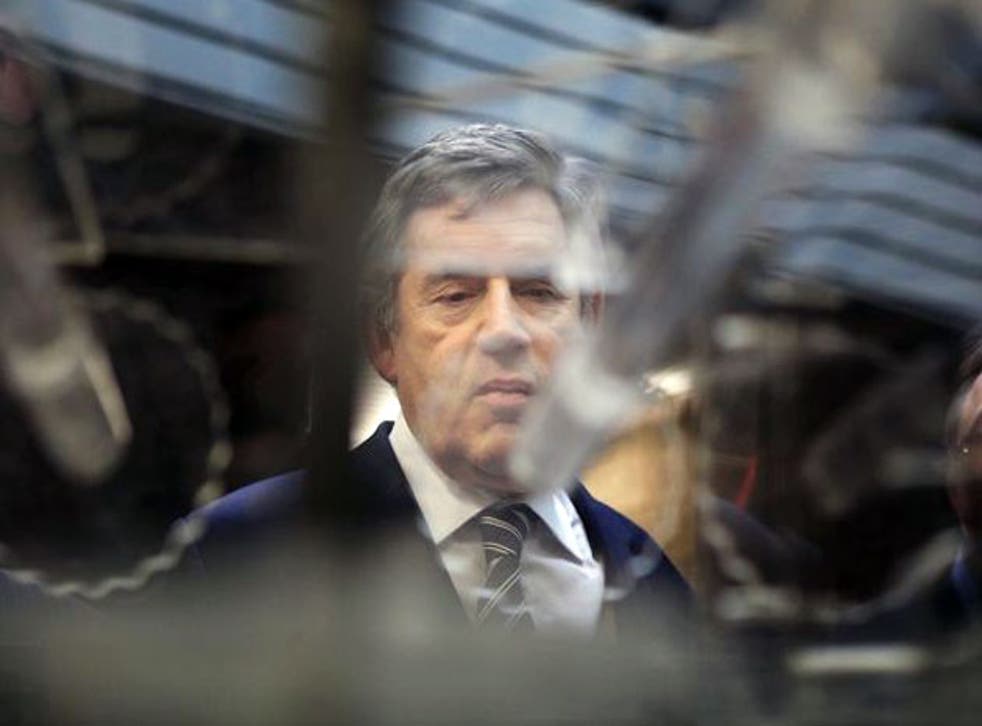 Measures to improve social care for the elderly, create jobs, curb bankers' bonuses and cut the huge public deficit will be included in next Wednesday's final Queen's Speech before the general election.
A Financial Services Bill to learn lessons from the financial crisis will be introduced on Thursday and pushed through Parliament quickly. It will give the Financial Services Authority new powers to limit bankers' remuneration when it judges the economy is being put at risk and will include new powers for individuals or firms to be suspended for misconduct and directors to be disqualified for being negligent in managing risks.
The Treasury will also rush through a Fiscal Responsibility Bill which will commit Labour to halving the deficit in the public finances in four years. Ministers hope the ground-breaking move will reassure the City and put the Tories on the spot. They will challenge David Cameron to say whether he supports the Bill or would cut public spending further and faster.
Unveiling the package, Gordon Brown will present an upbeat picture of an economy moving from recession into recovery. He will argue that Labour's "go for growth" strategy would be put at risk by Tory spending cuts. Close allies said last night that the challenge would be to show the party had not run out of steam after 12 years in power.
Another top priority will be a Social Care Bill to provide free care in their own homes for all elderly people with high needs and abolish means-testing for 350,000 people who currently have to pay for it. Many people with high needs, including those with serious dementia and Alzheimer's, will no longer have to sell their home to pay for care home bills.
The Queen's Speech will include a new wave of public service reforms to give more power to "patients and parents". Entitlements such having an operation within 18 weeks of seeing a GP will be converted into legal rights. There will be parallel moves on education. A Crime and Policing Bill will bring in tougher penalties for knife crime, enable the police to crack down on gangs and target crime "hotspots".
With Parliament likely to sit for about 40 days before an election next May, ministers admit the Queen's Speech will be a "slimline" one and there will not be time to get all the measures on to the statute book before polling day. They say this is normal in an election year and that a re-elected government always brings back unfinished Bills in the next parliament. Some of the proposals will not be formally introduced but will be included in Labour's manifesto. They include a fully elected House of Lords. Draft clauses for a Lords Reform Bill, to be published before the election, will envisage 80 per cent of the second chamber being elected initially, rising to 100 per cent.
Labour's manifesto will also contain a pledge to scrap the first-past-the-post voting system for Westminster with the Australian-style alternative vote, in which people can rank candidates in order of preference. Other measures include a Digital Economy Bill, which will bring in tough penalties for illegal file-sharers. "Internet pirates" could have download caps imposed or have their bandwidth restricted. If that did not prove effective, the Government would consider disconnecting them.
Bills which did not become law in the parliamentary session which ended yesterday will be carried forward. They include the Equality Bill, which will force public bodies with more than 150 workers to report on their "gender pay gap" and contain a power to require companies with 250 or more employees to do so after 2013.
Register for free to continue reading
Registration is a free and easy way to support our truly independent journalism
By registering, you will also enjoy limited access to Premium articles, exclusive newsletters, commenting, and virtual events with our leading journalists
Already have an account? sign in
Join our new commenting forum
Join thought-provoking conversations, follow other Independent readers and see their replies