So is the NHS one of the PM's election priorities? Yes and no
Prime Minister accused of making a swift U-turn
Andrew Grice
Monday 12 January 2015 22:44 Comments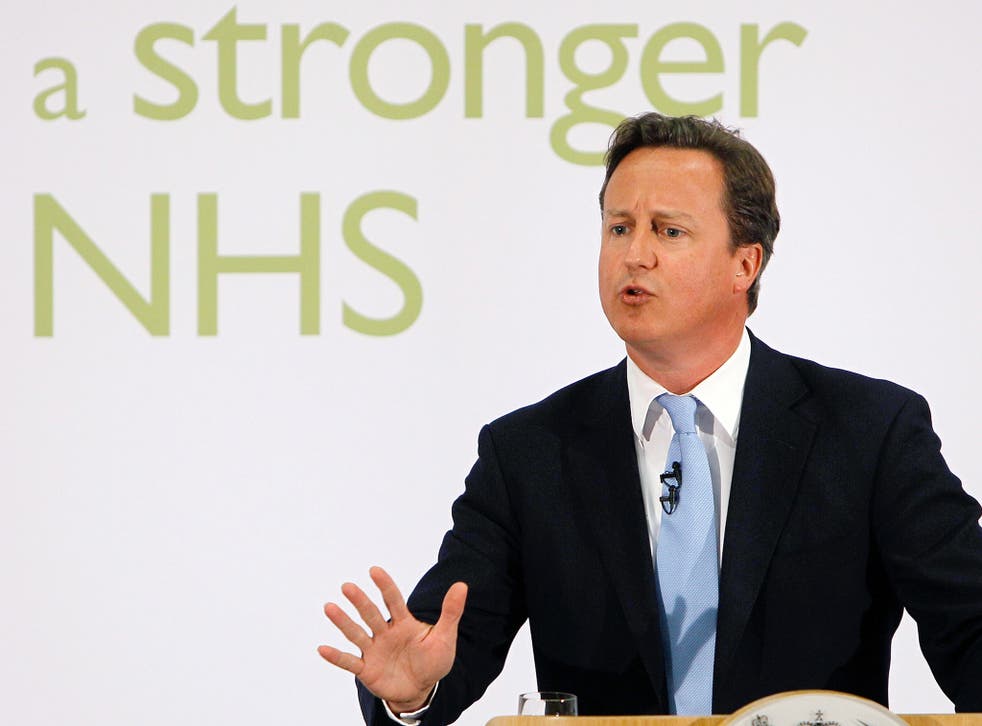 David Cameron insisted that the NHS is one of his top priorities, even though he will not make health one of the six main themes in the Conservatives' general election manifesto.
The Prime Minister was accused of making a swift U-turn after Labour attacked the "staggering omission" of the NHS at a time when it claimed accident and emergency departments were in "crisis".
The advance billing of a speech by Mr Cameron said the six key themes for the Tory manifesto would be the deficit, jobs, taxes, education, home ownership and retirement.
But when he delivered the speech in Nottingham yesterday, Mr Cameron listed protecting the NHS budget as one of the Tories' "five commitments" on the deficit for the next five years. He promised: "Not a penny will be cut from the NHS budget – instead it will carry on rising." Emphasising his personal commitment, he added: "I am a father, a son and a husband who has relied on the NHS many times."
Some Tory MPs compared the initial omission of health with Ed Miliband forgetting to mention the deficit and immigration in the Labour conference speech last September.
Senior Tories pointed the finger of blame at Lynton Crosby, their party's Australian campaign chief, saying he believes talking about the NHS only helps Labour.
Last night a ComRes poll for ITV News found that the NHS has overtaken immigration as the top concern for the public.
Tory officials dismissed as "nonsensical" Labour claims that Mr Cameron had been forced into a U-turn. They insisted the NHS was mentioned in the original draft under the "theme" of deficit-reduction because a strong NHS was only possible with a strong economy.
Mr Cameron challenged Labour to spell out how it would meet the £30bn of savings needed under George Osborne's Charter for Budget Responsibility, which will be supported by the three main parties in a Commons vote today. Mr Osborne told The Independent: "Labour is in a chaotic position. If it votes for the Charter and does accept that £30bn consolidation is required, then it is promising a tax bombshell because it accepts our spending plans. If it votes for the Charter but rejects the £30bn consolidation, then it is just pretending it doesn't want to borrow or spend more when nothing has actually changed. It would be offering up a grand deceit."
The Charter pledges to eradicate the deficit on day-to-day spending on public services in a rolling three-year timescale and to ensure debt is falling as a percentage of gross domestic product (GDP) by 2016/17.
Labour insists this is consistent with its plan to clear the deficit "as soon as possible" but denies it is committed to £30bn of cuts.
The Resolution Foundation think tank said the Charter was unlikely to be a binding constraint on all three parties. Matthew Whittaker, its chief economist, said: "Very large differences remain in their fiscal plans, not to mention their preferred balance between tax rises and spending cuts."
Rival plans
Source: Resolution Foundation
Conservatives
Charter of Budget Responsibility only a "staging post" to balancing overall budget – both day-to-day spending on public services and building projects financed by borrowing. They hope to achieve this by 2018-19.
Labour
Would balance day-to-day spending "as soon as possible" and by 2019-20 "at the latest". A "bust to mini boom" pattern likely, with cuts then real-term rises in the last two years.
Liberal Democrats
Committed to clearing the deficit on day-to-day spending on services by 2017-18. Would target some capital spending while protecting "productive investment". Could result in "bust to mini boom" on spending, similar to Labour's.
Register for free to continue reading
Registration is a free and easy way to support our truly independent journalism
By registering, you will also enjoy limited access to Premium articles, exclusive newsletters, commenting, and virtual events with our leading journalists
Already have an account? sign in
Join our new commenting forum
Join thought-provoking conversations, follow other Independent readers and see their replies