So, just what has Cameron got against the coppers' copper?
Sir Hugh Orde should be hot favourite to become the next Metropolitan Police Commissioner this week – but his outspoken defence of the service has irritated the PM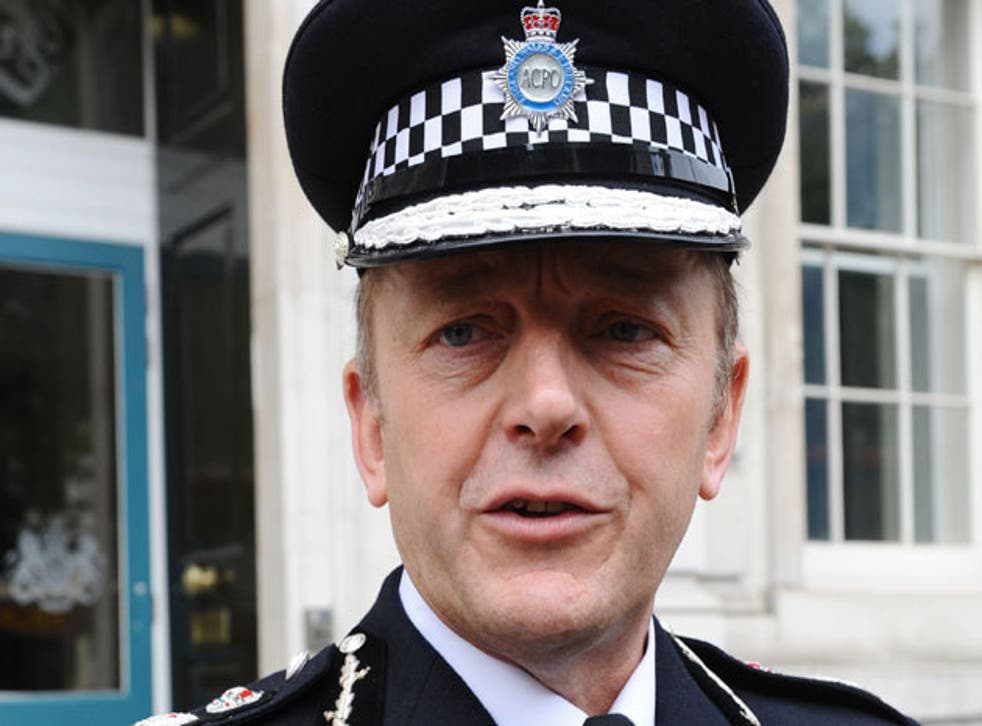 Sir Hugh Orde is, by all professional accounts, one of the most accomplished police officers in the United Kingdom. His suitability for the nation's top policing job is seemingly beyond doubt. Despite this, serious questions are being asked about whether he should be appointed to the role of Commissioner of the Metropolitan Police.
He is one of four candidates who will appear before the Home Secretary, Theresa May, and London's Mayor Boris Johnson to be interviewed for the role of running the country's biggest force. Others applying include Tim Godwin, Scotland Yard's acting commissioner, Bernard Hogan-Howe, the acting deputy, and Strathclyde's chief constable, Stephen House.
Supporters of Sir Hugh insist he is the stand-out candidate for the highest-profile policing job in Britain. Unusually, many of his critics agree too. Few candidates initially came forward to apply for the role, in part because there is widespread recognition of Sir Hugh's superiority. Stephen House, tipped by many as a future commissioner, was invited by the Home Office to apply.
Nevertheless, neither Sir Hugh nor the Home Office is said to be confident his qualities will succeed. The reason is believed to be prime ministerial antipathy towards him. One police source familiar with the process noted: "Hugh is the best candidate by a country mile, but I don't think he'll get it. He's far too outspoken, and No 10 thinks he called the Prime Minister stupid."
The source described David Cameron's comments about police corruption as "one of the most shaming things I've ever heard from a Tory PM about the police". The source continued: "It was a naked attempt to distract attention from his problems with [Andy] Coulson. I've never seen a PM, let alone a Tory one, dump on the police as he did. It was quite shocking." Many senior officers canvassed by The Independent on Sunday concurred. One senior source put it bluntly: "It's pure pique. Cameron doesn't like being challenged."
Senior Home Office figures insisted no decision had yet been made, but they remained certain that Sir Hugh would not survive beyond the interview stage. "He has some support here," one insider said, "because he has always shown himself to be very competent – and helpful when the department has been under the cosh. It is clear, though, that whatever he does, his face doesn't fit with Downing Street. I'm not really sure why."
It was at the height of this summer's riots that Mr Cameron's opposition to Sir Hugh hardened. His criticism – in The IoS – of the PM's decision to appoint the former US police chief Bill Bratton to examine the policing issues raised by the disturbances did not help his case. But it appears the Government is now using a more tenuous justification for its aversion to giving the job to the most senior policeman in the country and the president of the Association of Chief Police Officers (Acpo).
"It is the Northern Ireland thing," the Home Office source explained, referring to Sir Hugh's former leadership of the Police Service of Northern Ireland. "They now say that, while he was effective over there, giving the job to someone who made his name in charge of a force engaged in handling public disturbances every day would look like panic. It would send out the wrong message – that the Met was now some paramilitary organisation and it needed an experienced hand in charge. It's a pretty lame excuse, but when you would prefer to give the job to almost anyone else, it is the sort of reasoning that helps your case."
The appointment's sensitivity may account for a sudden last-minute change in procedures last week. A shortlist of two was expected to have been drawn up by the Metropolitan Police Authority after the initial interviews. Mr Johnson and Ms May would then select a successor to Sir Paul Stephenson. But Mr Johnson now wants to speak to all four candidates, who will see him and the Home Secretary tomorrow. Sir Hugh and Mr Hogan-Howe are believed to have particularly impressed in the initial stage.
Mr Johnson, having seen two previous commissioners depart, is anxious to be able to work with the new appointment. Sir Hugh is thought to be a favourite of Mr Johnson, a fact which may count against him at No 10 because of the rivalry between the two politicians.
Policing London is problematical. The role requires dealing with London's areas as well as international issues, such as Olympic security and counter-terrorism. The loss of a third London police chief would prompt political furore, and both the Mayor and the Government are anxious to get it right.
The Labour MP Keith Vaz, chair of the home affairs select committee, said: "Whoever is appointed needs to be someone who commands the confidence of the police force but also has the breadth of experience to deal with what are going to be enormous challenges for London." Lib Dem mayoral candidate Brian Paddick, a former colleague of Sir Hugh, has already endorsed him, saying: "We cannot afford to have a weak commissioner. Sir Hugh Orde would be best candidate."
Register for free to continue reading
Registration is a free and easy way to support our truly independent journalism
By registering, you will also enjoy limited access to Premium articles, exclusive newsletters, commenting, and virtual events with our leading journalists
Already have an account? sign in
Register for free to continue reading
Registration is a free and easy way to support our truly independent journalism
By registering, you will also enjoy limited access to Premium articles, exclusive newsletters, commenting, and virtual events with our leading journalists
Already have an account? sign in