So what will we wake up to on Friday morning? One of the below
Following a campaign that, with your help, could change the face of British politics for ever <b>Nigel Morris</b> analyses eight possible post-election scenarios
Thursday 06 May 2010 00:00 Comments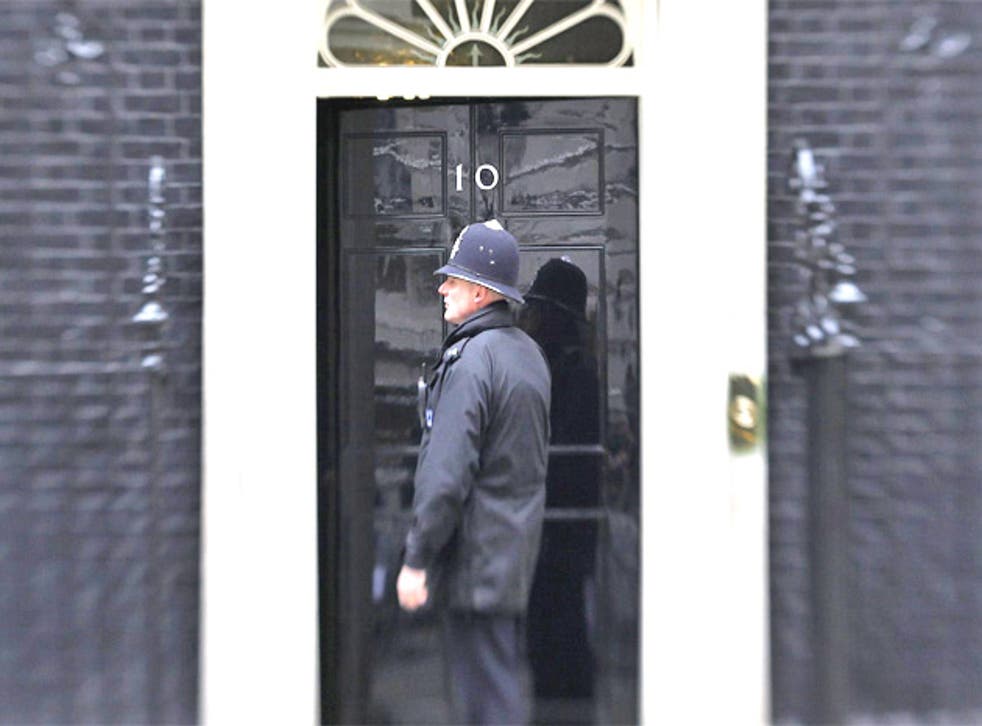 The scenarios:
David Cameron wins an overall majority
Huge sighs of relief echo round Tory high command as the victory – which seemed unlikely hours earlier – is confirmed.
David Cameron moves into Downing Street and immediately announces the make-up of his Cabinet: William Hague is confirmed as Foreign Secretary, George Osborne as Chancellor, Michael Gove as Schools Secretary and Andrew Lansley as Health Secretary. But there is disappointment for Chris Grayling, who had hoped of becoming Home Secretary; the job goes to Jeremy Hunt.
In a downbeat speech Mr Cameron warns of deep public spending cuts ahead, confirming that an austerity Budget will take place within 50 days; does that mean the rate of VAT will rise? The National Security Council meets to discuss the Afghanistan war.
The Queen's Speech on 25 May includes moves to set up "free" schools, scrap identity cards and regional assemblies, and impose a public sector pay freeze for a year.
Gordon Brown announces his resignation as Labour leader. David Miliband and Alan Johnson are first out of the traps to succeed him; Ed Balls is conspicuously absent, having lost his seat. The number of Liberal Democrat seats increases only slightly: Nick Clegg can only promise a breakthrough at the next election.
The Tories fall just short of a majority
Gordon Brown moves out of Downing Street and is replaced by David Cameron. The new Prime Minister announces he will govern as head of a minority administration and set out his programme in May and budget in June.
He warns the other parties that a new general election will be held if they club together to defeat either measure. A formal deal with the Liberal Democrats is impossible because of Nick Clegg's insistence on holding a referendum on electoral reform; there is little common ground with the Scottish National Party or Plaid Cymru.
Mr Cameron holds talks with the Democratic Unionist Party's nine MPs over an informal deal. Their price is a promise to cushion Northern Ireland from spending cuts.
Mr Brown announces he will step down at the Labour conference. Jockeying for position to succeed him begins.
The Tories have the most votes and seats, with Labour second and the Liberal Democrats third
David Cameron tops the poll after the anti-Tory vote divides the electorate. Labour squeezes ahead of the Liberal Democrats.
The Tory leader declares he has won a moral victory and tells Gordon Brown to pack his bags. But the Prime Minister has other ideas and is advised by the Cabinet Secretary, Sir Gus O'Donnell, that he is entitled to try to form an administration.
Because Labour is well short of the finishing post, he is forced to go cap in hand to Nick Clegg. The Liberal Democrat leader drops his demand for Mr Brown's resignation. The cost of his support is a referendum on full-blown electoral reform and Cabinet seats for himself, Vince Cable, David Laws and Chris Huhne.
The Labour and Lib Dem grassroots are in uproar over sharing power with the other, but their leaders sell it to them as the price of dealing with the economic crisis.
Mr Cameron occupies the high moral ground, condemning the deal, but faces flak from the Tory Right after failing to deliver victory.
The Tories are the biggest party and the Liberal Democrats win more votes than Labour
Although Labour is not too far behind the Tories in terms of seats, coming third in the popular vote is a shattering psychological blow for the party. A dejected Gordon Brown realises it is unrealistic to try and hang on and resigns.
David Cameron declares victory but faces an uphill struggle to negotiate a stable accommodation with the resurgent Liberal Democrats. The two parties agree there is too little common ground for a formal deal. Instead they reach a "supply and confidence" agreement under which the Liberal Democrats back the Tories in major votes.
In return Mr Cameron has to design policies with an orange tinge: income tax thresholds are raised and voting reform promised for all but Westminster elections.
Labour turns in on itself, with David Miliband, Ed Balls, Alan Johnson and Harriet Harman slugging it out. Ed Miliband emerges as the dark horse candidate.
Labour has most MPs, but is second in the popular vote behind the Tories
The old survivor Gordon Brown declares himself the winner and, buoyed by the advice of Sir Gus O'Donnell, the Cabinet Secretary, says he will be staying on.
Labour strategists are relieved after a traumatic election campaign, but even harder work lies ahead of them. Negotiations with the Liberal Democrats are tortuous. Nick Clegg says it is not for him to interfere in selecting the Labour leader, so Mr Brown's position is safe. But Mr Clegg drives a hard bargain for propping up the Brown government: a referendum on fully-fledged electoral reform, ID cards are scrapped and more money pumped into primary schools in deprived areas.
Labour comes third in the popular vote, but has most MPs
The first-past-the-post voting system is fatally discredited as the nightmare scenario dreaded by all parties comes true.
Gordon Brown insists he wants to stay on, but immediately faces huge recriminations. David Cameron demands his resignation, Nick Clegg makes clear he will not throw a lifeline to a rejected Prime Minister and several Cabinet ministers concede his days are numbered. Mr Brown walks and the Cabinet invokes the Labour rulebook to anoint Alan Johnson as acting leader (although Harriet Harman would fight hard for the job) pending a formal election.
Mr Clegg negotiates a deal with Labour, including a referendum on proportional representation and several Cabinet posts, justifying the move to his activists on the grounds of the economic crisis.
Tories begin to come round to the merits of electoral reform.
Labour falls just short of winning a majority
Gordon Brown announces he has secured a historic fourth consecutive election victory.
He says he will appoint a new Cabinet, will set out his agenda in the Queen's Speech on 25 May and announce his new government's spending plans in the autumn. Alistair Darling, Lord Mandelson, Alan Johnson and Ed Balls are all confirmed in their jobs.
There is still the practical problem of his lack of a parliamentary majority. Mr Brown ostentatiously ignores the "Liberals" and promises the SNP, Plaid Cymru and the Democratic Unionist Party that Scotland, Wales and Northern Ireland will receive sympathetic treatment.
The Liberal Democrats are deflated after only a marginal rise in numbers of MPs, while David Cameron faces a right-wing backlash at his failure to deliver power. He tells his critics that Labour's precarious position means another election could happen soon.
Gordon Brown wins an overall majority
Eight days after he insulted Labour voter Gillian Duffy, Mr Brown pulls off the most remarkable political comeback in recent times.
Buoyed by the result, he reshuffles his Cabinet to make his protégé, Ed Balls, Chancellor and promotes Ed Miliband as Home Secretary. The Queen's Speech includes referendums on the alternative vote system and reforming the House of Lords, while the comprehensive spending review in the autumn includes heavy cuts to transport, housing and social security.
The Liberal Democrats lapse into soul-searching, while David Cameron faces insurrection. David Davis and Edward Leigh demand his resignation and, after a futile attempt to cling on, Mr Cameron is replaced by Liam Fox.
Register for free to continue reading
Registration is a free and easy way to support our truly independent journalism
By registering, you will also enjoy limited access to Premium articles, exclusive newsletters, commenting, and virtual events with our leading journalists
Already have an account? sign in
Join our new commenting forum
Join thought-provoking conversations, follow other Independent readers and see their replies