Special report: Theresa May is on manoeuvres, but she must conquer the Eurosceptics if she is to reach the top
Only Boris Johnson scores higher in a poll that boosts the Home Secretary's chances of taking over the party leadership
Jane Merrick
Saturday 13 July 2013 23:37 Comments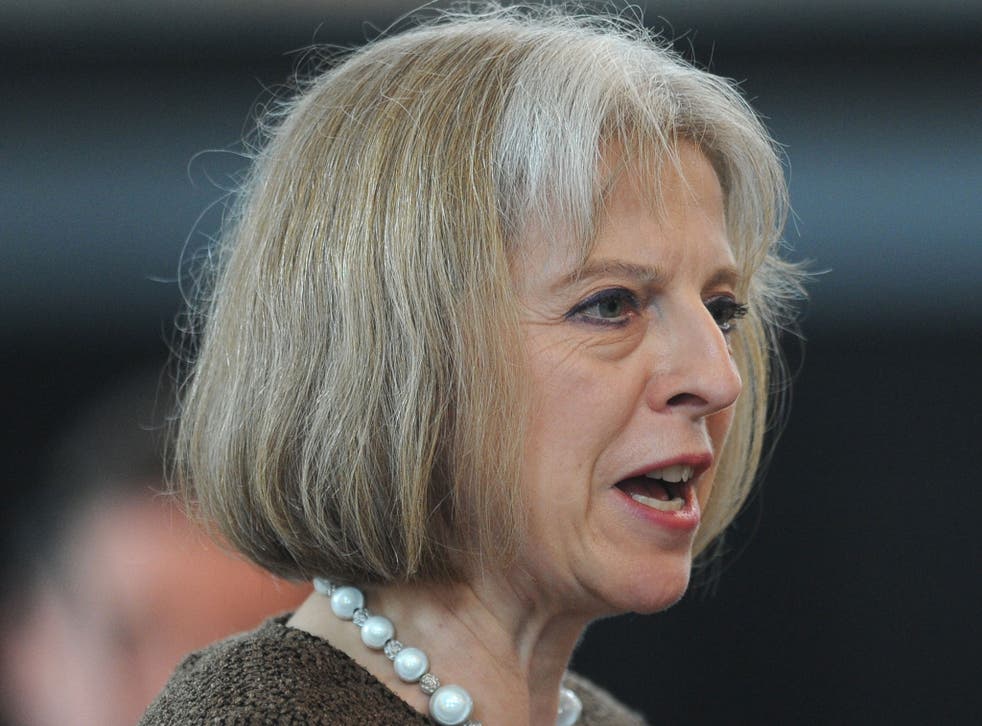 Theresa May's chances of becoming Conservative leader are boosted today with a poll showing that she is becoming more popular with voters. The ComRes survey for The Independent on Sunday reveals that the Home Secretary is trailing behind only Boris Johnson in the eyes of the public.
Some 30 per cent of people believe Mrs May is doing a good job, and while 34 per cent think she is performing badly, her overall rating of minus 4 is the second best in a table of politicians. Only the London Mayor enjoys a positive net rating – of plus 25.
Speculation that the Home Secretary could become a leading contender to take over from David Cameron has been growing for months, with her assured ministerial performance together with key achievements, including the deportation of Abu Qatada last week, delighting the Tory back benches.
However, Mrs May is desperately trying to head off a rebellion from Conservative MPs over Britain's European Union opt-out of justice and home affairs. Last week, Mrs May announced an opt-out of nearly 100 EU measures. The Government would then opt back into 35, including the European arrest warrant and Europol. In a Commons vote tomorrow, the Government could be defeated if Tory rebels and Labour and Lib Dem MPs join together to block the move, a possibility with all sides unhappy at the plans.
Mrs May tried to placate backbench Eurosceptics by retabling the Government motion in a watered-down form. But Tory MPs led by Christopher Chope want the Government to leave the door open to opting out of all co-operation on police and legal issues, including the European arrest warrant and Europol.
The likely defeat could come in a vote on an amendment by a cross-party group of select committee chairmen, who want the Government to provide more time to scrutinise the measures the Home Secretary wants to keep.
While mired in technicality, the Commons vote is a key test of nerves for both the Prime Minister and Mrs May as they try to balance a resurgent Eurosceptic parliamentary party – boosted by the clean-sweep vote on a referendum bill earlier this month – with remaining serious players in Europe. In any future leadership contest, Mrs May and any other candidate will need to burnish their Eurosceptic credentials among MPs.
Britain has just one opportunity to opt out of justice and home affairs before May 2014, the time of the European elections, when Ukip is expected to scoop up Tory votes.
With the Commons rising for summer recess on Thursday, there is speculation this weekend that the Prime Minister could announce an end-of-term reshuffle, which could be the last before the election. Advisers have been told to prepare for the effective start of an election campaign in September with an 18-month battle on the cards before polling day in May 2015. While a September reshuffle is still thought to be Mr Cameron's likeliest choice, rumours swept Westminster on Friday that he could bring it forward so that new ministers can read in to their new briefs over the summer before hitting the ground running in September. The sense of electioneering began on Thursday, when George Osborne announced the Tories would not raise taxes if elected in 2015.
The ComRes poll gives Labour an eight-point lead, up one point on 36 per cent, ahead of the Tories on 28 per cent, who are up two points from last month. Ukip have fallen back by one point to 18 per cent, while the Lib Dems are down two to just 8 per cent. If replicated on election day, the results would give Labour an outright majority of 90 seats. Another poll published today puts the Conservatives 11 points behind Labour, with the Lib Dems down as low as six per cent.
Of the politicians rated in our poll, Mr Johnson comes out on top, with half the public thinking he is performing well, compared to 25 per cent who think he is performing badly, a net rating of plus 25. Next comes Mrs May, while Mr Cameron is third with an overall rating of minus 21.
Mr Osborne and Michael Gove, the two Cabinet heavyweights who could rival Mrs May in a leadership contest, are trailing on minus 29 and minus 30 respectively.
Jeremy Hunt, the Health Secretary, fares marginally better than the Chancellor or Education Secretary with a net rating of minus 26. However, only 10 per cent of people think he is doing a good job, with the vast majority saying they don't know how well he is performing.
Despite signs of improvement in the economy, half of voters are less optimistic about the direction of the country than they were a year ago; only 28 per cent are more optimistic, while 22 per cent don't know.
With all parties moving on to an election footing, Nick Clegg will declare tomorrow that the economy is showing signs of life as Britain is "finally turning a page on the mess we inherited".
In a speech to the CBI, the Deputy Prime Minister will insist that the Lib Dems remain committed to the coalition's deficit-reduction programme despite a warning from Vince Cable, the Business Secretary, that "Tory dogma" on cuts is costing the UK jobs.
In what will be interpreted as a riposte to Mr Cable, Mr Clegg will tell business leaders: "You asked us for a credible plan – to tackle the deficit and reduce government debt. And told us to stick to the plan when we made it. We did: reducing the deficit by a third as a percentage of GDP. Believe me, it isn't easy. These are difficult choices to make. But there can be no turning back. In the past, people may have doubted whether the Liberal Democrats would step up to the line in government. We have. We've put the economy before politics."
Register for free to continue reading
Registration is a free and easy way to support our truly independent journalism
By registering, you will also enjoy limited access to Premium articles, exclusive newsletters, commenting, and virtual events with our leading journalists
Already have an account? sign in
Join our new commenting forum
Join thought-provoking conversations, follow other Independent readers and see their replies