Autumn Statement: From the NHS to the environment, here's what to expect
Bad news is set to be delivered on welfare and policing cuts
Oliver Wright
Political Editor
Tuesday 24 November 2015 18:14 Comments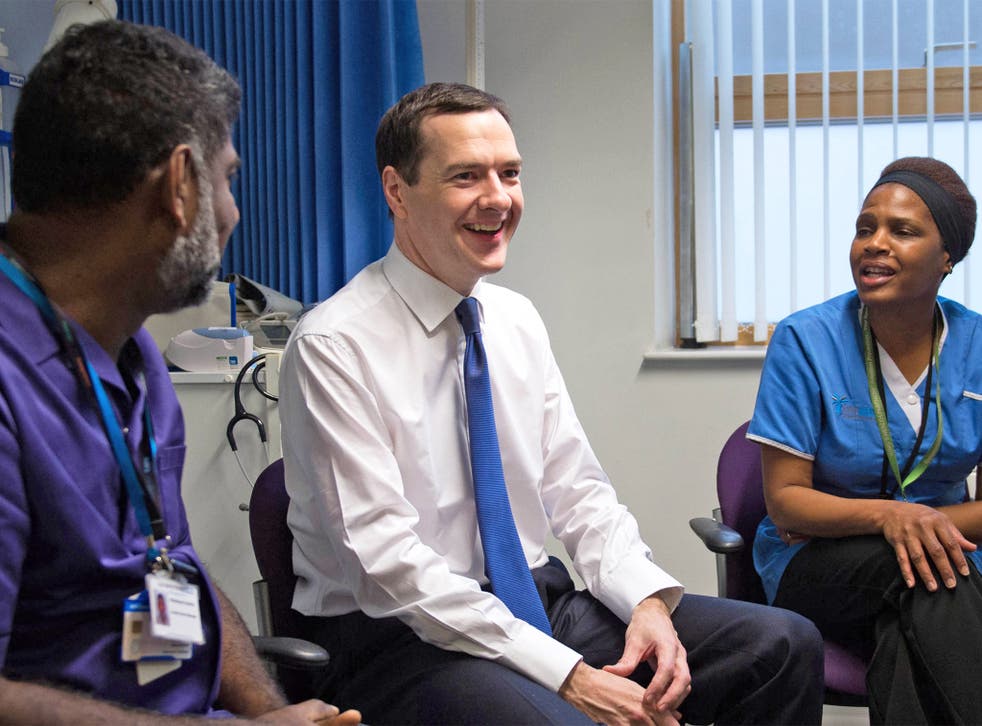 Health
The NHS will be given an additional £4 billion next year as an 'advance' on the £8 billion spending increase that the Government has promised health service by 2020. But the money will only be for so called 'frontline services' like hospitals. Other parts of the health budget that pay for things like nurse training, hospital inspections and some aspects of public health could face cuts. But that will be in the small print and will only become apparent when the full spending review documents are scrutinised.
Welfare
George Osborne will use the spending review to announce a climb down on plans to reduce Government's spending on tax credits by £4.3 billion. While the Chancellor will not scrap the plan entirely he is almost certain to delay it until rises to the new national minimum wage take effect. But to pay for this savings will have to be found from elsewhere. It is possible that there will be further housing benefit cuts and that the level at which the new Universal Credit gets withdrawn as family income increases will be changed to save the Government money.
UK news in pictures

Show all 50
Education
Education spending for children up to the age of 16 has been ring-fenced. But 6th form colleges are not included and many fear they will face significant cuts in their budgets which could force some to merge or close altogether. The other uncertainty is whether the Conservatives will dump the Coalition's policy of paying for free hot lunches for primary school children. The policy was championed by the Lib Dems but the Education Secretary Nicky Morgan is keen to divert the spending into other areas.
Police
Despite intense and very public lobbying from police forces who claim that cuts will impact on the fight against terror police budgets will still be a target for cuts. But George Osborne has indicated he intends to push ahead with savings in this area. Police forces will be told that they must merge back office functions and some specialist units to save money. But the Chancellor will be keen to emphasise that the cuts will not impact on the fight against terrorism and has already announced that the anti-terror budget will rise 30 per cent to £15.1 billion.
Local Councils
Local authorities will again be a target for cuts of around 25 per cent over four years as part of the spending review. It is possible the George Osborne may try and ease some of the pressure by allowing local authorities that provide social care to increase council tax by an additional two per cent to fund this.
Business
Grants currently available to small business and entrepreneurs is likely to be replaced by repayable loans while the £6.4 billion budget for science and technology may also be in the firing line. The Business Secretary Sajid Javid was apparently so keen to show his cost cutting credentials to the Chancellor that the Treasury actually has to scale back his plans for cuts.
Quangos
Mr Osborne will certainly announce the full or part merger of a number of Government arms lengths body in a bid to save money. Some, like the science and research councils, will be told to combine back office functions while others will under-go a full-scale mergers.
Higher Education
Universities £4.6 billion research budget is expected to be cut while Disabled Students' Allowances that cost £127 million could also be scaled back or means tested.
Privatisation
George Osborne can't just save money in the spending review he also needs to raise it as well to balance the books. So most people are expecting some high profile sell-offs to be included in his announcement today. Among the potential targets are Channel 4, the Met Office, Ordinance Survey and even the Royal Mint. It is possible that some of these will be mutualised – with the Government retaining a significant stake - to off-set criticism.
Justice
Michael Gove has announced an ambitious plan to reform the justice system – building new prisons and selling off the old Victorian prison estate. But his department will still have to find significant saving. Expect ambitious plans to digitalise the court service to cut costs and the greater use of community sentences.
Climate Change
Decc actually has a very small administration budget – so if Mr Osborne wants to make any significant savings here he will have to cut the £7.5 billion budget for nuclear decommissioning. This would be highly controversial but experts believe by pushing back non-essential work until the next decade it is possible to find savings here.
Property
The Government's property portfolio is another big area for potential savings. MI5 and MI6 could be forced to move from their current locations and move in with another Government department while the MoD will also have to sell off some of the huge tracts of land it owns across the UK.
Culture, Media and Sport
There has been speculation that around £320m a year of lottery money that currently goes to fund charities could be diverted to pay for the arts, heritage and sport. This would be very controversial. However arts funding has already been significantly squeezed and is likely to face further cuts so a move of this kind is highly possible.
Register for free to continue reading
Registration is a free and easy way to support our truly independent journalism
By registering, you will also enjoy limited access to Premium articles, exclusive newsletters, commenting, and virtual events with our leading journalists
Already have an account? sign in
Join our new commenting forum
Join thought-provoking conversations, follow other Independent readers and see their replies